Despite easing family planning polices, China's fertility rate is decreasing. Some local authorities have rolled out policies to counteract the population crisis, but is it too little, too late?
S
ong Limin, an assistant researcher with the Institute of Population Research, Liaoning University, was 41 years old on the first day of 2016 when China's controversial one-child policy officially came to an end. Despite being exactly the sort of person targeted by the government's new policy, which encourages married couples to have two children, she says she will not do so. "If the policy was announced 10 years earlier, I might have taken it into consideration. But I don't have the capacity or energy to have a second child now." 
According to statistics released by the National Health and Family Planning Commission, 17.86 million Chinese babies were born in 2016, a 7.9 percent rise on the year before, and about 45 percent of them were not a first child. However the moderate spike was short-lived: only 17.23 million were born in 2017, a decrease of 3.5 percent.  
While some had worried the new policy would trigger a sudden population explosion, the inclination of Chinese families to have more children has proved far less than expected. Statistics from the All-China Women's Federation indicated that in 2016, only 20.5 percent of families wanted a second, while 53.3 percent were unwilling to have more than one child.  
The percentage is far higher in Northeast China's Liaoning Province, where Song Limin lives. There, more than 80 percent do not want a second child.  
When the one-child policy was still in effect, Liaoning's fertility rate in 2010 was 0.74, compared with the national rate of 1.18. A rating of 1 means on average, every woman of childbearing age has one child. In 2015 the Liaoning figure was 0.9, compared to the national level of 1.05. 
By the measure of birth rate, which plots the number of live births per 1,000 people in the country, Liaoning saw the worst performance in China over the two years since the two-child policy came into effect: with 6.6 per 1,000 for 2016 and 6.49 per 1,000 population for 2017. That's roughly half China's general birth rate.  
Song Limin told NewsChina that once the fertility rate drops below 1.5, it is very difficult to reverse the trend, and it becomes likely a nation will fall into a low fertility trap.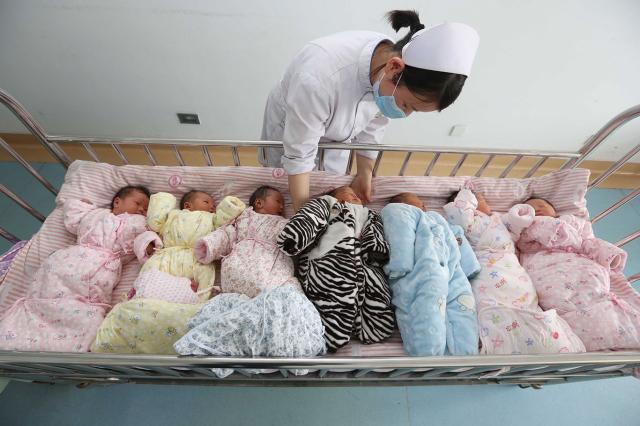 A nurse tends to newborns in a hospital
Reluctant Generation
Among the over 17 million newborns in 2017, around half were a second child, while the number of first children accounted for just over a quarter. Compared to 2016, the number of second child newborns increased by 1.62 million, while the number of first child newborns decreased by 2.49 million.  
According to Professor Su Jian from Peking University School of Economics, the recent boom of second child newborns is down mostly to those born in the 1970s and 1980s who were nearing the end of their biological capacity to have children. "This indicates the younger generation's overall reluctance to have children," Su added. "In addition, the population of women of childbearing age is shrinking significantly, which implies that under China's current planning policy, the population is no longer self-sustaining, and the number of future newborns will continue to dwindle." 
A number of experts echo Professor Su's opinion, agreeing the 2016 hike will be temporary, and predicting the number of second children born could soon drop markedly.  
Wang Guangzhou, a researcher at the Institute of Population and Labor Economics, Chinese Academy of Social Sciences, who has been leading a national project to predict the impact of the two-child policy, told NewsChina: "Since the policy was adopted, the real number of newborn second children has been successfully projected. However, the overall number of newborns was lower than expected."
The main reason, Wang said, was that the fertility rate for first children dropped. "Overall, the increase in newborn second children balanced out the reduction in new first borns, dampening the increase in the total fertility rate. " 
That the fertility rate has wound up so much lower than predicted has taken most policymakers by surprise. "We did not expect society would age so quickly, and the reality is much worse than our prediction," said Lu Jiehua, a professor at Peking University's Department of Sociology. "The disconnect between policymakers and groups targeted by the policy is the primary cause of this gap."  
According to Lu, 40 years of reform and opening-up has resulted in people changing their minds about having children. The young do not subscribe to the mentality of their parents' generation that having as many children as possible is desirable, but are more open to different types of family unit: single child families, remaining unmarried, entering so-called "naked marriages" (a more frugal way of tying the knot) as well as being in homosexual relationships. 
Professor Lu believes that as China's socioeconomic development has matured, the benefits of having children became outnumbered by costs. "For example, the increasing cost of raising a child and the spiraling house prices in big cities have become insurmountable obstacles. Young people lead more diverse lifestyles and do not necessarily follow the traditional path to have children," Lu said. "Gradual improvements to the social security system have also weakened the old Chinese mentality of raising children to provide against old age." 
Wang Guangzhou believes society's increasing reluctance to have children has a number of causes – including increased access to higher education for women and the high costs of raising children due to housing and education costs. He points out that lower fertility rates are a natural consequence of social development. "But this will lead to faster movement toward an aging society, and China's demographic dividend has been disappearing in recent years."  
"Thus we urgently need to formulate policies that are adapted to the social development situation." 
A senior tries out an electric wheelchair at an Expo aimed at senior consumers
Local Incentives
The aging issue showed up in Liaoning as early as the mid-1990s. As defined by the United Nations, an aging society is one where 10 percent of the population is older than 60 or seven percent is older than 65. The proportion of over-65s in Liaoning hit 7.02 percent in 1995 – five years earlier than China as a whole. According to official statistics, the population of permanent residents in Liaoning was reduced over three consecutive years, and for the past six years, the natural population growth rate has been negative.  
In the face of this looming demographic crisis, Song Chunli said that in Liaoning, the retired population has soared in the past decade. By 2017, the proportion of locals over 60 went up to 22.65 percent. From 2015 to 2020, the annual increase is expected to track at around 0.7 percent, and by 2030, the proportion of over-65s is set to rise to 26.9 percent. The peak is projected to come in 2039, 10 years earlier than the national high.  
That's why Liaoning's provincial government has started exploring policies to tackle the problem, Song says. Real planning started last year and according to a government official from Liaoning provincial Development and Reform Committee, the Liaoning Provincial Population Development Plan (2016-2030), which was finalized in June 2018, included stimulation policies for childbirth, such as simplified registration for births, integrating maternity insurance into the healthcare insurance system and improving policies for maternity leave and spousal leave for newborns.  
When it released the plan on July 5, Liaoning became the first province in China to roll out concrete policies to encourage families to have a second child. The aim is to increase the fertility rate from 0.9 in 2015 to 1.4 by 2020 and to an ambitious 1.8 by 2030. However, experts said the question was more about when detailed plans of bonuses will be given to families, and  
whether the subsidies would offset the cost of having more children. 
Liaoning Social Sciences Academy Vice President Liang Qidong said incentives must be substantial and detail exactly how financial subsidies would be allocated in different situations, how many days would be allowed for extra maternity leave, and whether husbands could access spousal leave too.  
"If the descriptions in the official policy document are well fleshed out, the policy could have a real effect," Liang said.  
In response to this query, a government official from Liaoning Development and Reform Commission conceded that the new incentive plan was a framework that required different government departments to coordinate in setting out detailed policies in the long term.  
In Song Limin's opinion, Liaoning Province's recent plan indicates the government has finally dropped the mindset that they need birth restrictions, so the next step is to turn the plan into practical measures and then implement them.  
Liang Qidong insisted the way to encourage an increase in births is to completely abandon the nation's birth control policies, allowing the public real freedom to choose how many children to have. "I believe, within five years, the policy will be completely relaxed," Liang said.  
Way Forward
Some experts predict that as the fertility rate continues to dwindle, more provinces will follow Liaoning and enact incentive measures. A common conclusion has been that a smaller population will directly threaten economic growth as well as the provision of pensions, healthcare and social services. 
Before Liaoning announced incentive policies in July, a number of local governments at the city level had rolled out their own measures. 
Tianjin municipal government implemented an additional 30 days of maternity leave for families with a second child; Xiantao city in Hubei Province started to provide free basic maternity care services in addition to an extra 1,200 yuan (US$174.4) bonus. Shihezi, a city in the Xinjiang Uyghur Autonomous Region went even further to encourage the second-child policy. In June, it implemented five new policies which improve the length of and bonuses for maternity leave for a second child, as well as offering breastfeeding leave (which allows mothers to return home during the work day to feed their children) of three months up to one year. Before these, Shihezi had already provided tangible financial support for families with a second child, such as subsidies for childbirth and childcare until the age of three.  
According to a local government official from Shihezi Population and Family Planning Commission, local families in Shihezi can access free services and special care before and after baby delivery up until children reach primary school age. "These policies are to release those parents' burden in having a second child," the official told local media in Xinjiang.  
At present, the National Health Commission has organized an expert team to study the implementation of incentive policies to stimulate the fertility rate and to evaluate their effectiveness. NewsChina understands that the research is scheduled to conclude by the end of this year. 
Professor Liang Jianzhang from Peking University's Guanghua School of Management said that ordinary Chinese families were unlikely to regain their willingness to have more children without substantial financial subsidies.  
According to Professor Liang, there is a positive correlation between a country's fertility rate and the amount of subsidies for childbirth. "A common childbirth incentive practiced in some countries is to give one to five percent of the total GDP to families to pay for services to support families. The proportion in northern European countries is five percent. If China could use 2-5 percent of the country's total GDP to encourage childbirth, it would improve the fertility rate." 
In China that sounds like a huge amount – five percent of China's current GDP is four trillion yuan (US$584b). But if the figure is divided among the 200 million children in China, each would get no more than 10,000 yuan (US$1,460) annually. "We all know that in big cities in China, the annual spending on a child is much higher than this amount, so we can only reverse the present demographic crisis when we devote a huge amount of financial support to fulfill the mission." 
Individual income tax discounts are another policy some experts back as an effective incentive. Professor Yuan Xin from the Institute of Population and Development at Nankai University told NewsChina it would be an effective policy if personal income tax was collected based on a whole family's income level rather than individually. "For example, in a family of four with two children where the wife does not work, the husband's monthly salary, say 20,000 yuan (US$2,917)is the family's only income," Yuan said. "So when 20,000 is divided by four to 5,000 yuan (US$ 729) each, it falls below the individual income tax threshold, so the family should not need to pay tax." 
Others call for family planning policies to be scrapped entirely to endow real freedom of childbirth. Zhang Juwei, director of the Institute of Population and Labor Economics, Chinese Academy of Social Sciences, said that when China was mapping out its one-child family policy decades ago, authorities only considered controlling the increasing population, and did not envision the advent of an aging society, so from a policymaking perspective, China should reflect upon its previous hasty national political decisions.  
"I remain confident that the first thing to do is grant complete childbirth freedom to people to see what the fertility rate would be like before the country makes further plans," Zhang said. "It is complete nonsense to encourage you to have more children on one hand, but restrict you to two at the same time!"