A
fter one year of restoration, Gan Ying Hall, a run-down century-old Hakka "Circled Dragon House" built around 1910 in Meizhou, a city in the southeastern province of Guangdong, has recovered its past splendor. Circled Dragon Houses (Weilong Wu), a unique dwelling common to Meizhou, are large, walled multi-family communal living structures that are typically designed for defensive purposes. They were constructed by the Hakka people of southern China, a subset of the larger Han majority ethnicity. The building complex has a semi-circular elevated sloping ground in the inner part of the building behind the main hall – an open-air, enclosed area known as the huatai, which supposedly represents the womb and helps make for a fertile household.  
The house once belonged to Zhang Rongxuan (1850-1911), a renowned overseas Chinese business tycoon who spent most of his life in Medan, the capital of North Sumatra province in Indonesia. Zhang served as the consul for the Qing Dynasty (1644-1911) in Penang, Malaysia, and was also an investor in the "Chao-Shan" railway, the first private railway to be entirely owned by Chinese merchants. As a Confucian businessman who was keen on spreading culture, Zhang compiled and wrote two book series (10 volumes in total) on the geography, culture, customs and diplomacy of Southeast Asia. Zhang also financed writers and poets and helped publish local poetry anthologies.  
Zhang and his brother Zhang Yaoxuan built many public facilities in their hometown of Meizhou, and stayed in Gan Ying Hall when they visited the town themselves.
The house was dilapidated after being exposed to harsh weather and had been infested by termites and mice for years. Fortunately, one year ago, Zhang Rongxuan's descendant Zhang Hongjun and his spouse personally financed the repair of this culturally and historically significant Hakka dwelling. Through the yearlong restoration process, the once decrepit house has been rejuvenated. The most important part of the process was to repair massive painted murals and restore clay and ceramic sculptures as well as woodcarvings. Thanks to efforts of skilled craftsmen, the century-old mansion is now showing its past grandeur again.  
The restored house will become a memorial and museum for Zhang Rongxuan, celebrating his role as an overseas entrepreneur and hometown benefactor.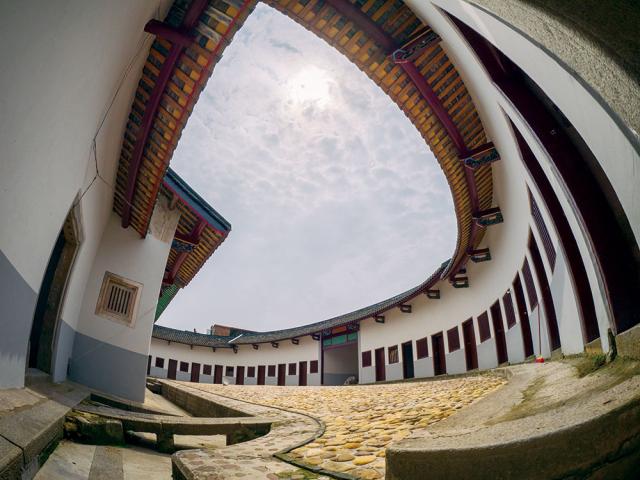 Through restoration, the huatai section of the Hakka "Circled Dragon House" takes on a new look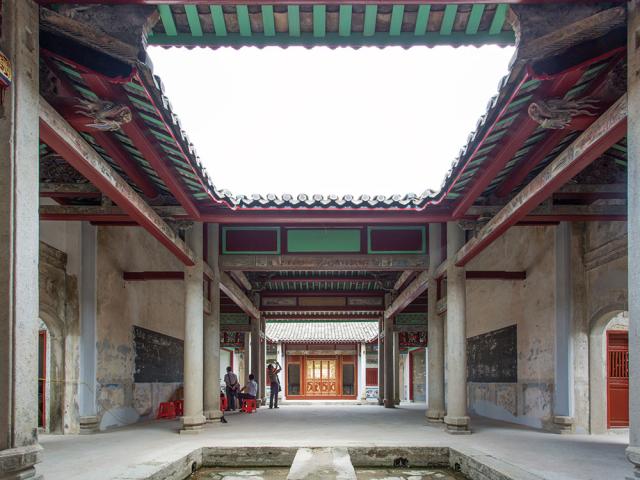 Roof repairs of Zhang Rongxuan's former residence were finished in April 2016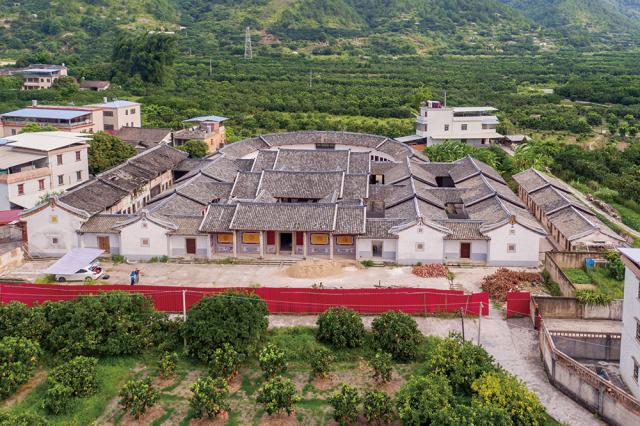 Looking down on the repaired Gan Ying Hall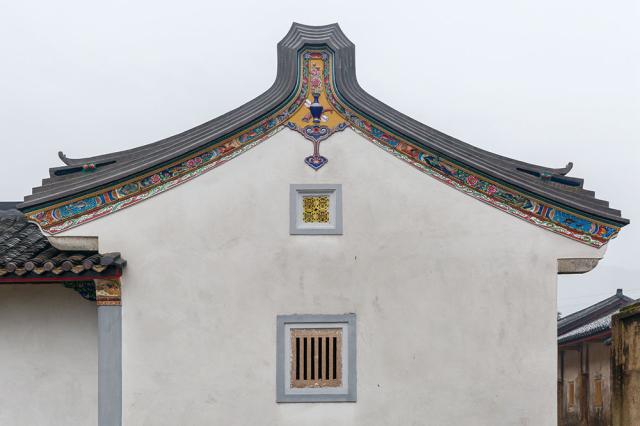 The repaired flush gable roof, contrasting with the painted carved clay window, creates a stately aesthetic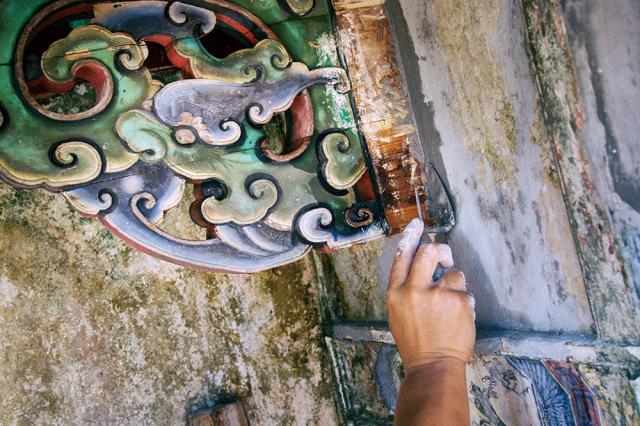 Experienced artisans work on restoring the murals under the building's eaves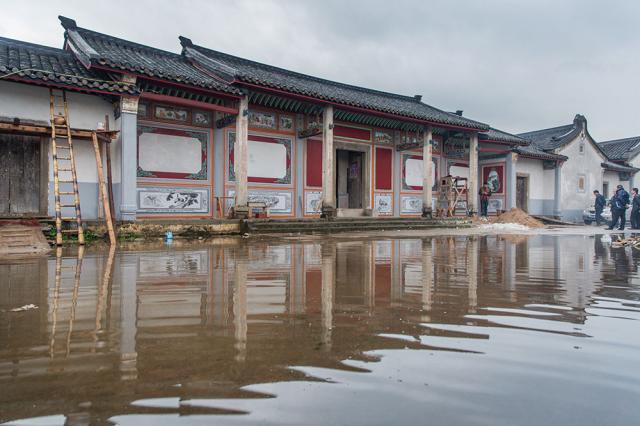 The restored front gate of Gan Ying Hall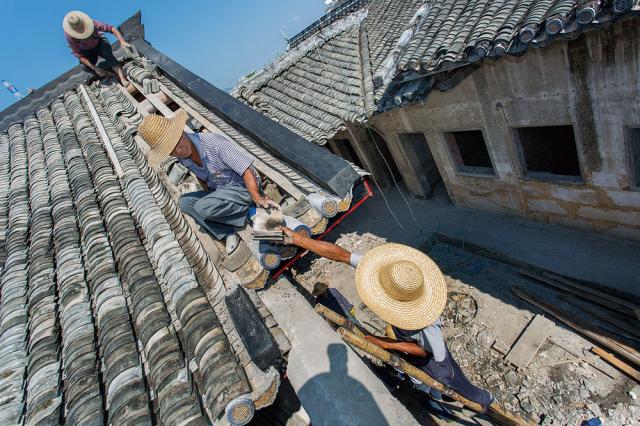 Artisans stick new tiles onto the century-old roof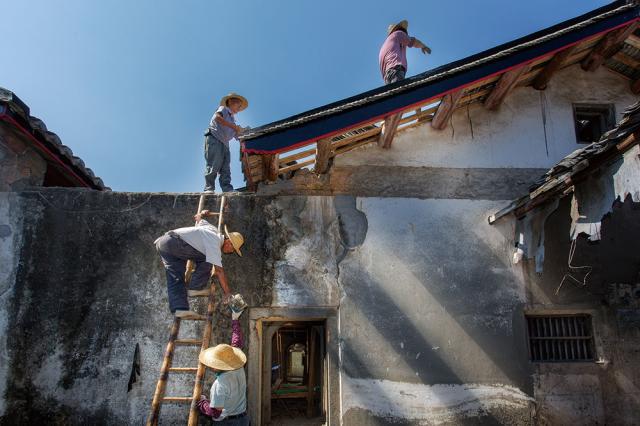 Artisans pass tiles as they repair the roof of Gan Ying Hall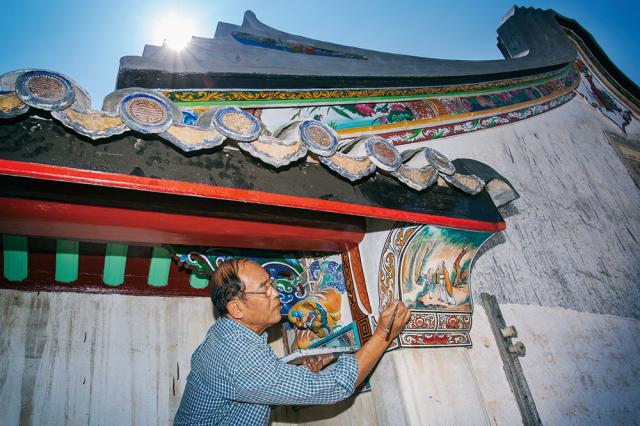 An artisan works on restoring a decorative clay fixture on the front gate of the old house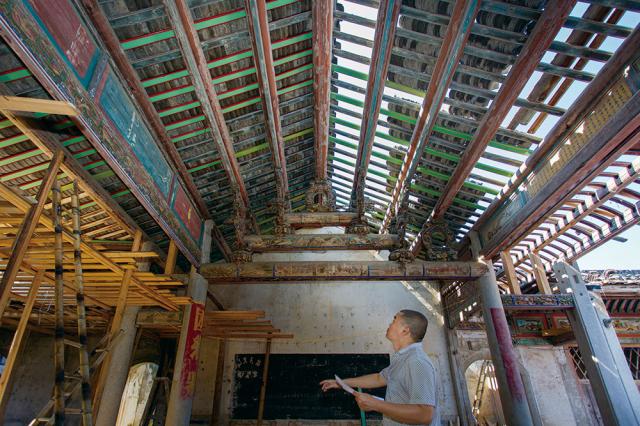 A craftsman examines the repairs on the house's middle hall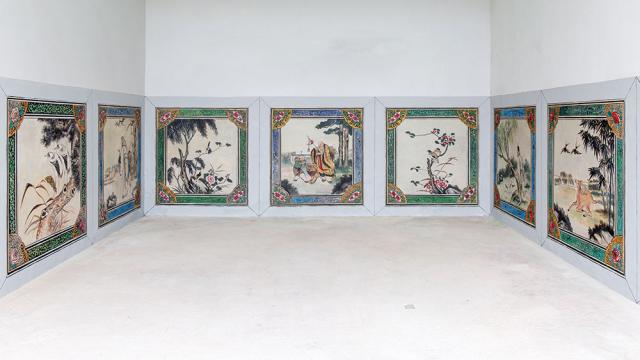 Painted murals are the most significant artistic element of the house