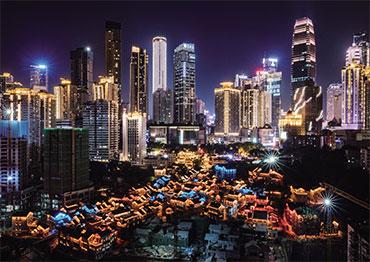 On July 28, 2021, a light show is held in the old community of Shibati, Yuzhong District, Chongqing, creating a beautiful night scene
C
hongqing is the only city I've been to where "up" and "down" are as common as "right" and "left." Actually a municipality, China's fourth, as you traipse around, you'll often be told that the place you're looking for is up, left, down, then right, as walkways, bridges and alleys snake through the countless hills that this buzzing megacity clings to.  
This off-kilter geography allows Chongqing to be an especially surprising and striking place to wander through, as views and buildings suddenly pop into view and vast infrastructure strains to keep it all together. St Joseph's Cathedral, a 19th century French church, sits snugly a few steps down from a busy road, nearly hidden from view. After a cab ride up a winding, quiet road lined by thick vegetation you suddenly burst into a hectic neighborhood of beer, carousing and late-night spicy pig brain (which you should absolutely get).  
A good way to experience this vertical vibe is the "Shanchengbudao," or "Mountain City Footpath." From a riverside start, stairs climb up the steep hillside.  
The left-hand path offers river views, small shops to snack in while you catch your breath, and preserved old buildings, including several more built by the French. One old school courtyard we popped into to nose around advertised the imminent opening of a craft beer bar.  
Heading straight up from the bottom, you don't get a river view but you do get a sliceof-local-life walk through a closely packedin residential area, with elderly folk whiling away the afternoon, kids racing past playing games and people eating their lunch on tables so inclined it's a wonder the plates don't slide off. The two paths connect at bottom and top, so you can walk up one and down the other.  
The top of the footpath is at the heart of the city's Yuzhong District. Take the short walk over to the Tongyuanmen City Wall Relic Park to see the only remaining piece of the great barrier built over 600 years ago during the rule of the founding Ming Hongwu Emperor, and the warring statues which commemorate the city's brutal conquest in a 17th century peasant revolt. From there, tourist signposts point the way to the area's many buildings of historic interest, including the aforementioned St Joseph's Cathedral and the former home of the government of the Republic of Korea – one of several relics of the city's stint as the Republic of China's wartime capital.  
Another key element of Chongqing's geography, and really the reason for its existence, are the rivers. Downtown is where the Jialing River feeds into the vast Yangtze. You can get a panoramic view at the soaring glass bridge which connects the towers of the Raffles City complex. To get a closer look, you can take an evening river cruise from Chaotianmen dock near Raffles City – the city's clustered skyscrapers are brightly lit after dark with the characteristic multicolored lights of a modern Chinese metropolis. Another option is simply to ride the subway – several of the city's lines will take you on a bridge across the river and give decent views. But the most unique way to do it is the majestic Yangtze River Ropeway, a cable car that will ferry you from a rather unassuming spot in Nan'an District a kilometer across the river into Yuzhong, crammed in with other tourists and people with a particularly interesting commute. It's worth noting that a ride in the cable car in summer is quite a sweltering experience, even at just four minutes. It drops you off near the Shanchengbudao, so it makes sense to combine the two.  
Not far from where the Ropeway sets you down is Jiujiu Douhuaguan, a rather popular if rundown restaurant where you can sample small plates of local specialties – a hungry diner might be able to eat 10, if they believe in themselves – such as the eponymous douhua sauce-smothered tofu, a wide variety of pickled veg, and a hearty bowl of pig intestine with beans. The cuisine at Jiujiu is also less spicy than much of the other local fare a tourist is likely to seek out, so a lunch here can be a pleasant rest after a few dinners chasing fiery Chongqing hotpot with the respectably swiggable Chongqing beer (always pick it over the Snow).  
If you'd like to drink something other than beer, you can check out the bar that's taken over the former Sino-UK Liaison Office Building, a short walk away from the famous Liberation Monument in the commercial center. When we visited, the mixologist was off and therefore so was the flavor of our cocktails, but the effort they've put into preserving an early 20th century vibe makes it worth a visit regardless of how your Long Island Iced Tea tastes.  
Another famous landmark is the misnamed Hongya Cave. Its not actually a cave, but an example of the city's traditional stilted architecture. Its dozen or so stories cling to a riverside cliff and the upper and lower reaches are reachable by two different streets. I wouldn't particularly recommend paying the entrance fee, as the inside is a bit of a tourist trap. Walk past, take a nighttime photo when it's lit up, then trek up the nearby steps and then enjoy a bowl of sugary, gloopy jello-like bingfen while watching the river.  
Chongqing, perhaps due to its inland location, is a criminally underrated destination. It has great food, remarkable views, and a frenetic energy. It well deserves a place near the top of your China travel agenda.  
The city's urban core is perfect for a long weekend, or as a stop along a broader exploration of China's Southwest, with high-speed rail links to Chengdu to the west and Guiyang to the south.
Given that the municipality is so large, it can also easily take a week of tourism itself, with a few days given to downtown before venturing further afield to take in the two UNESCO World Heritage sites within daytrip range – the vast collection of ancient Buddhist sculptures that make up the Dazu Rock Carvings site, some 50,000 in total, and the Wolong Karst section of the South China Karst heritage site.  
For those without their own car, both Dazu and Wolong are reachable by public transport, which will first take you into their respective district seats and then on to the attractions. As major tourist sites, your hotel should also be able to recommend an organized day trip also.