The ongoing health crisis caused by the raging coronavirus epidemic is set to have a lasting impact on China's economy and beyond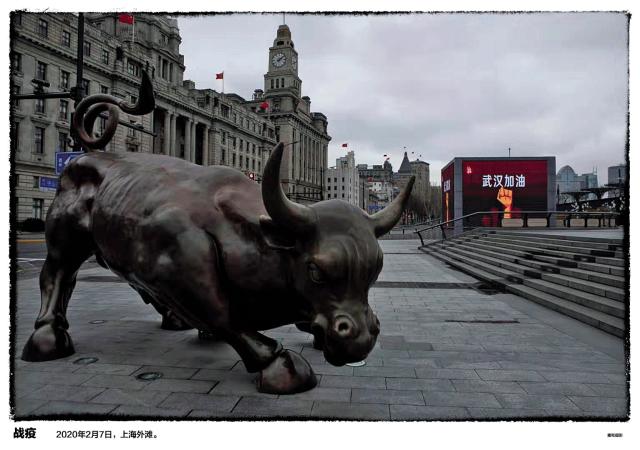 "Go China!" reads a display screen in the Bund, normally Shanghai's most populous location, February 7, 2020.
B
I
U
C
X
↑
↓
✎
At time of publication, the disease caused by the novel coronavirus, now officially named Covid-19 by the World Health Organization (WHO), had infected more than 77,041 people and killed more than 2,445, the vast majority in the Chinese mainland. The disease has spread to more than 30 countries. Given the scale of the epidemic and the possibility that it could drag on for months, it is set to have a significant and lasting impact on China's economy, if not the global economy.
Since China on January 23 locked down Wuhan, capital of Hubei Province and epicenter of the Covid-19 outbreak, cities across China have taken similar measures to restrict population flow and curb the spread of the highly contagious virus.  
 
While the quarantine measures have kept people at home, they have dealt a heavy blow to industries from tourism and hospitality to aviation and entertainment, which usually enjoy a boom during the Chinese New Year holiday period.  
 
The tourism industry alone is estimated to have suffered a 550 billion yuan (US$80b) loss in revenue over the holiday as some 400 million people canceled their travel plans.  
 
According to a survey by the Tsinghua University School of Economics and Management 58 percent of entrepreneurs from 212 enterprises covering 12 industries said that the coronavirus outbreak has caused "serious" or "very serious" consequences for their enterprises, while 75 percent said the crisis has had a serious impact on China's economy.  
 
According to Zheng Shilin, an associate researcher at the National School of Development of Peking University, the Covid-19 crisis has most affected the service sector.  
 
Comparing the Covid-19 outbreak with the SARS crisis in 2003, Zheng said that the service sector suffered a revenue loss of 21.9 percent back then. As the ratio of the service sector in China's economy has increased from 32.3 percent in 2003 to 53.9 percent in 2019, the coronavirus outbreak, which may last longer than SARS, will have a greater impact.
BIUCX↑↓✎While the service sector appears to be the most impacted in the short term, what worries authorities most is the crisis' long-term impact on China's manufacturing sector. "It poses a major threat to the health of China's macro-economy, as many manufacturing companies are hanging by a thread," Liu Shangxi, president of the Chinese Academy of Fiscal Science (CAFS) told NewsChina.  
 
Liu said that the health crisis poses challenges to manufacturing. Many workers returned to their hometowns over the Chinese New Year holiday, which was extended in many provinces. Now they are coming back, most are subject to quarantines imposed by local authorities, which means most factories have had to suspend production for at least a month, if not longer.  
 
Also, because shipping and logistic industries are subject to restrictions, companies are finding it difficult to obtain raw materials. And given the fixed costs and potential financial losses incurred by delayed fulfillment of existing contracts, the biggest problem for many companies is cash flow, Liu told NewsChina.  
 
On February 1, the People's Bank of China (PBoC), China's central bank, pledged to "maintain reasonable and sufficient liquidity" in the financial market, injecting 1.2 trilion yuan (US$173b) into money markets through reverse bond repurchase agreements. On February 17, the PBoC announced a cut in interest rates on its medium-term lending to lower borrowing costs and ease financial strains on companies hit by the virus epidemic.  
 
The government also released policies including tax relief for businesses hit by the coronavirus outbreak. While these measures have helped China's stock market to rally, they may not be enough, given the scale and severity of the problem, especially for hard-hit small- and medium-sized enterprises. According to Liu, the government should make more detailed and tailored plans to offer direct subsidies to key industries and enterprises.
As many countries have imposed restrictions on travel to and from China since the Covid-19 outbreak, there has also been talk of its speeding up so-called decoupling between the US and China. The issue dominated headlines in 2019 as the two countries engaged in a protracted trade war. As the coronavirus outbreak disrupted the global supply chain and international firms like Apple and Honda shut down their China factories, the issue has resurfaced. Some US officials, such as Secretary of Commerce Wilbur Ross, openly talked about how the crisis would help bring jobs back to the US.  
 
According to Zhu Caihua, deputy director of the Chinese Academy of International Trade and Economic Cooperation, a think tank under the Ministry of Commerce, the issue will depend on how long the crisis persists. Zhu said that if the coronavirus outbreak can be brought under control in the first quarter, its impact on China's economy would be limited.  
 
"Chinese suppliers may have to postpone delivery of their orders, but it won't have a serious long-term impact as suppliers in other countries won't be able to replace China's production capacity that quickly," Zhu said. "It will be similar to SARS in 2003, when it only had a temporary impact."  
 
But he warned if the crisis lasts more than six months, it could lead to some "irreversible" and "unpredictable" consequences for China and the global economy, as well as China's status in the global supply chain. Not only would some manufacturing businesses leave China permanently, some countries may also impose new import restrictions on Chinese goods, Zhu said.  
 
Zhu said the Chinese government must carefully balance its efforts to contain the coronavirus outbreak with resuming industrial production. Following the decline in new infections outside Hubei Province in mid-February, many cities are now contemplating loosening restrictions on production. Zhu said that authorities should still prioritize the fight against the coronavirus.  
 
Yan Se, deputy director of the Institute of Economic Policy Research of Peking University, agreed. Yan told NewsChina that China should take an incremental approach to prevent further complications in the coronavirus outbreak. He estimated that only one-third of manufacturing enterprises could resume production in February.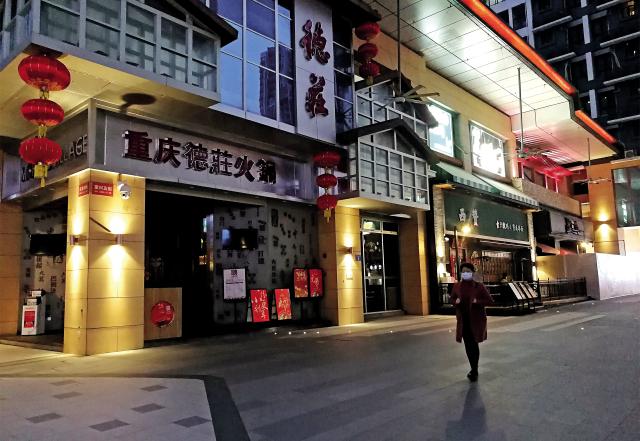 Popular restaurants lie dormant during the coronavirus outbreak at Clifford Estates in the Panyu District of Guangzhou, capital of South China's Guangdong Province, February 5, 2020
B
I
U
C
X
↑
↓
✎
B
I
U
C
X
↑
↓
✎
Given the size of the Chinese economy and its ties with the world, other countries, especially those in Asia, have started to feel the chill.   
In Thailand, where Chinese tourists make up the largest single group of visitors – more than 10 million visits were made in 2019 alone – authorities estimate the coronavirus epidemic will result in losses of 300 billion baht (US$9.6b) in the first half of the year, provided the outbreak is  
contained by the end of March.   
Some countries have started adjusting their economic projections for 2020. Singapore, for example, warned that it could experience a recession in 2020 and downgraded its economic growth forecast to between -0.5 and 1.5 percent from its earlier forecast of 0.5 and 2.5 percent.  
The city-state, another favorite tourist destination – 3.4 million Chinese tourists visited the island in 2018 – has had 86 confirmed coronavirus cases. In late January, Singapore imposed a travel ban on anyone who had traveled to the Chinese mainland in the last 14 days.   
With a similar travel ban in place, Australia is another country that economists believe could plunge into recession – its first in three decades.   
China had set its target growth rate for 2020 at 6 percent, with many hoping that a trade war truce with the US, which went into effect February 14, would provide a period of relief and recovery.   
Goldman Sachs predicts that China's growth rate will drop to 5.5 percent for 2020, from 6.1 percent in 2019, while others estimate the growth rate could fall below 5 percent.   
But according to Chen Daofu, deputy director of the Research Institute of Finance, Development Research Center of the State Council, specific growth rates are among the least concerns of Chinese decision-makers. "The key focus for the Chinese government now is how to ensure the smooth functioning of the entire economy."