Amid the ongoing lockdown, volunteers in Wuhan are finding ways to help one another and keep their communities functioning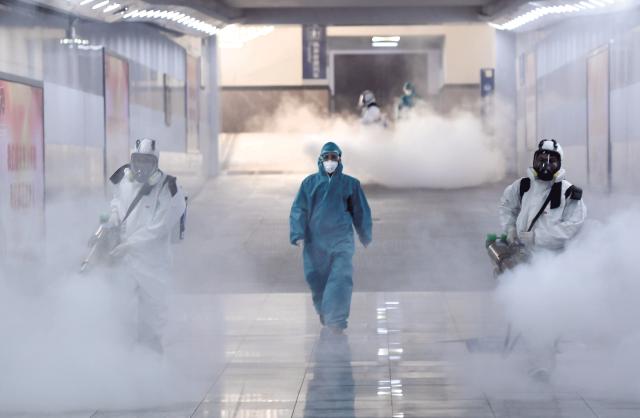 Volunteers from Blue Sky Rescue, China's largest non-profit civilian rescue organization, carry heavy disinfection equipment to sterilize Changsha Railway Station, Changsha, Hunan Province, on February 4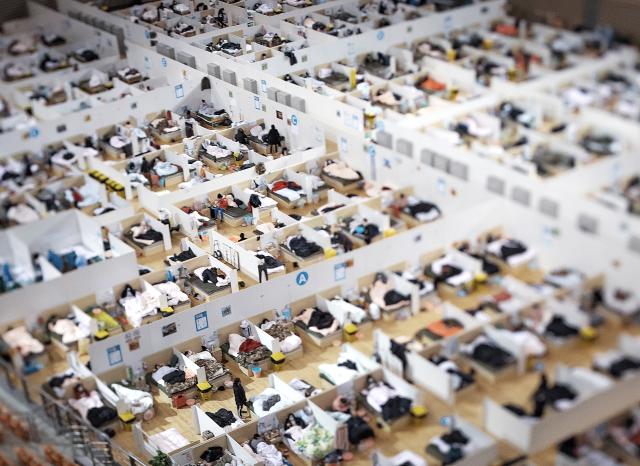 Patients lie in beds in a quarantine center on February 17. The makeshift hospital was transformed from the gymnasium of Wuhan Sports Center, providing 1,100 beds for confirmed patients with mild symptoms of Covid-19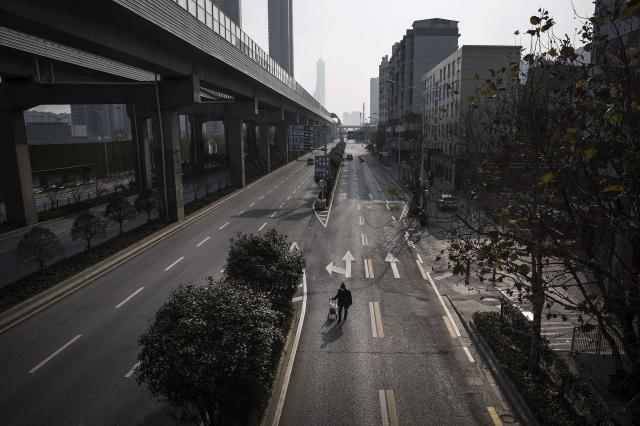 A man drags a shopping cart along a deserted street in Wuhan, which was put into lockdown on January 23
A
s train passengers arrived at Wuhan's stations in mid-January, conductors announced in a stern tone: "Once you exit the station, you won't be able to leave the city for a period."    
With a population of more than 11 million, Wuhan is at the confluence of the Yangtze River and its largest tributary, the Han River. The capital of Central China's Hubei Province has long been an important shipping and transport hub.    
When the Covid-19 epidemic officially broke out on January 23, China imposed a lockdown in Wuhan to stop the virus from spreading. Authorities placed travel restrictions on Wuhan and neighboring cities. Private vehicles were banned in the downtown area. Highway exits were blocked. Residents could not leave the city.    
But not everyone was quarantined at home. An army of volunteers including doctors, nurses, drivers, supply delivery teams, pet rescuers and psychiatrists stepped up to help their hometown during the crisis.
Community Driver: Chen Fei
When the epidemic broke out, Chen Fei's family hid his car keys. He works as a part-time ride share driver in Wuhan, and they didn't want him going out for work. But over the following days, Chen left home earlier and returned later than usual. He was volunteering as a much-needed driver.    
"People in Wuhan didn't have any experience [in fighting a virus] before. Some friends working in hospitals warned me how serious the situation was, but we were so careless at first that we didn't wear masks," Chen told NewsChina.    
Chen said a short video shot in a local hospital showing exhausted doctors and nurses sleeping on the ground in rows inspired him to help. He joined a group offering free rides to medical workers in the city's Qingshan District.    
Mei Yi, a nurse at the China Resource & WISCO General Hospital in Wuhan, left a deep impression on Chen. On January 25, Chinese New Year's Day, Mei left her hometown for Wuhan to work. More than 100 kilometers away in the city of Huanggang, Mei paid a driver 1,000 yuan (US$143) to take her to Wuhan's city limits. There, Chen Fei picked her up and drove her to the hospital for free.    
"She wept after getting in the car," Chen said. "She told me that her family strongly disapproved of her decision to go back to Wuhan. She was under a lot of pressure but still insisted on going." Mei told him that a colleague and her roommate who returned to work several days earlier had been infected, which added to her sorrow and fears.    
The Wuhan government banned non-essential vehicles in downtown areas to contain the virus outbreak on January 26. To help residents gain access to daily necessities, authorities recruited 6,000 taxi and ride-share drivers to serve 1,159 communities in Wuhan. They allotted each community a minimum of four cars.    
Chen would leave home at 7am to bring medical personnel to work and then return to help residents of the Dongshanting community.    
The team of volunteer drivers expanded daily. They formed groups on WeChat. Chen joined three groups, which already had 1,000 volunteer drivers.    
Every time he dropped someone off, Chen disinfected his car carefully with medicinal-grade alcohol.    
Among the more than 30 volunteer drivers in one of Chen's groups, two became infected. All Chen could do was self-quarantine when not volunteering. Every night when he returned home, Chen maintained a distance from his family members, ate alone and locked himself in his bedroom.
Delivery Organizer: Xue Qing
While Chen and others transported people, others concentrated on supplies. A volunteer team of more than 500 cars, pickups and large trucks was working to distribute donations of medical supplies from around the country to hospitals in Wuhan.   
"We hope to guarantee the protection of frontline health workers so they can safely fight the battle," Xue Qing, organizer of the supply delivery team, told NewsChina.   
"Because of the extreme lack of medical supplies, many doctors are reluctant to dispose of their protective clothing and wear them as long as possible. So they force themselves not to drink a drop of water to avoid going to the toilet," Xue said.   
Some doctors and nurses resorted to covering their shoes with regular plastic bags, he added.   
More than 20 hospitals in Wuhan solicited medical supplies such as protective suits and masks from the public on January 23. Individuals, businesses and civil institutions responded. But the lockdown paralyzed shipments from entering the city.   
To solve the problem, Xue and his friends organized a delivery car team and recruited volunteer drivers. He coordinated with authorities to allow the team to move about the city. Volunteer drivers would meet to pick up donated supplies at highway exits and distribute them to hospitals.   
"Every hospital is seeking supplies to protect their health workers. But they are also very considerate of other hospitals' needs," Xue said.   
For example, Xue's team brought supplies to Wuhan Puai Hospital. However, after learning that another hospital desperately needed medical supplies, Wuhan Puai Hospital had the delivery redirected.   
To help hospitals low on food, local suppliers volunteered to donate fresh vegetables. Accordingly, Xue's team organized a vegetable supply group on January 26 to relieve the food shortages challenging hospitals.   
"We still face severe supply shortages. Every day, I remind every volunteer to put on protective clothing and take care of themselves well. Many of our volunteers focus on helping others so much that they forget to protect themselves," Xue told NewsChina.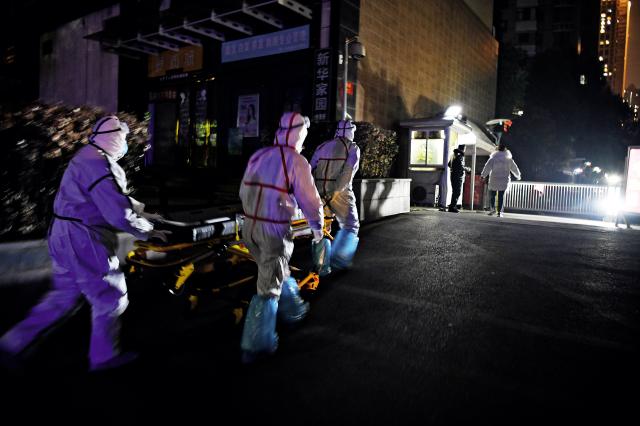 Paramedics rush to get a patient at Xinhua Jiayuan Community in Wuhan on the evening of January 29
More than five million people left Wuhan before the Spring Festival. With the city on lockdown indefinitely, it was still unclear when authorities would allow them to return.    
As a result, tens of thousands of pets were left in apartments to starve. Someone was determined to save them.    
Lao Man has been rescuing Wuhan's stray cats for 13 years. In 2007, Lao opened the first cat rescue center in Wuhan where he cares for more than 100 homeless cats.    
On January 25, Lao took to WeChat offering to help people care for their left-behind cats. Within hours, hundreds of cat owners contacted him for help. So far he has received more than 1,700 requests.    
Lao first coordinates with the owner to get a spare key. If there was none available, Lao gets the owner to call a locksmith.    
Most of the homes he entered were a mess of overturned furniture and trash. "A cat's IQ is roughly equivalent to that of a 2-year-old child. So, stressed by hunger and anxiety, they let out their feelings," Lao told NewsChina. He explained that many were dehydrated and developed fatty liver and gastrointestinal dysfunction. Some showed signs of psychological trauma.    
Lao contacts cat owners through video chat from their homes. After making sure the cat was safe, he leaves a large basin of water and a onemonth supply of cat food.    
Some asked Lao to foster their cats. At his rescue center, cats are kept in separate cages for safety reasons. "To prevent cross-infections, we make sure they are isolated and each has its own litter tray," he said.    
Every day from 8am to 12pm, Lao drives across different districts to rescue cats. Usually he rescues 20 a day.    
Lao said he could not shake the fear of driving through the city. "I have never seen Wuhan in such a state before: so empty, so quiet. You hardly see any pedestrians or cars on the street. It's like living in the world of Resident Evil," Lao said.    
But he was determined despite the risks. "After all, cats matter to me," he said.
After the lockdown, the streets of Wuhan were empty. Shops and restaurants were closed. Pedestrians were nowhere to be seen. Only a few clinics kept their doors open. Feelings of depression permeated the city.   
As a psychiatrist, Yang Ying has connected with people in different corners of the city on the phone and online.   
"I stayed calm and control my emotions during this period. But on the second day after the lockdown, I couldn't help crying when I woke up. Then I thought there must be a lot of other people eager for an outlet," Yang told NewsChina.   
On January 24, Yang and her colleagues opened the Spiritual Company Hotline to bring comfort to those in need. Their social media poster read: "We will get through this together." Hundreds of calls came in the first two weeks.   
"My wife will have her baby soon. What should we do?" a husband asked Yang. He was concerned about getting an ambulance when the time came and that his wife would get infected in hospital.   
Yang also recalled talking to a foreign student named Martin who said he couldn't sleep for three days. He seemed not fully aware of the epidemic, but his anxiety and nervousness had manifested physically. "Why is it so scary outside?" he asked Yang.   
Some contacted her asking if she would call and check on their elderly parents who lived alone.   
Over the first few days, most callers talked about their anxiety and fears over the lockdown. But recently, people have been sharing tragic experiences.   
"There was a girl whose parents were both infected," Yang said. "She broke down in tears when she narrated the moment her father drove to the hospital alone after her mother was hospitalized," the psychiatrist said.   
"The bitterest story came from a family in Hanyang District," Yang said. "The caller was a girl who had already been infected along with her parents, elder brother and sister-in-law. Two days ago, she contacted me in tears saying that she suspected her mother, who was already in the ICU, had died."   
The next day Yang not only learned the girl's mother had died, but her father had become gravely ill. Yang helped the girl call an ambulance to take her father to hospital. But since the hospital lacked beds, they sent him back home. He hadn't eaten the entire day.   
Yang said she remains calm while on the phone, but her emotions flood to the surface once she hangs up.   
"[After each call] I always wanted to put on a protective suit and a pair of safety goggles and run in the streets and cry out to everyone how grave the situation was," she told NewsChina.   
With the escalating number of confirmed cases, rumors prevailing on social media and discrimination from people in other provinces, the besieged people of Wuhan feel extremely anxious, depressed and helpless.   
"What worries me most is those infected and the thousands of families on the brink of falling apart because of the epidemic," she said.
Health workers take the belongings of patients confirmed to have Covid-19 to the isolation wards of Huoshenshan Hospital in Wuhan on February 4