Despite rapid expansion, China's ICU wards are falling short of demand. The prescribed solution, however, will take more than extra beds
M
ost of the patients in the ICU (Intensive Care Unit) were either in a coma or under sedative. Those who were conscious lay in bed, expressionless. Dressed in hospital gowns with tubes in their noses, many were unaware if it was day or night. Some were tied to their beds to prevent them from tearing at the tubes in a fit of delirium or anger.  
It seemed status and gender mean nothing at the ICU of The First People's Hospital of Shangqiu (FPHS) in Central China's Henan Province.  
"I wanna go home," one patient mumbled. No one responded. 
Chinese authorities require that three nurses attend to a single ICU patient. ICU nurses at FPHS care for three patients each. They're charged with jobs like checking vitals to cleaning bedpans and turning patients to prevent bedsores.  
The heavy workload and long hours take a physical toll on nurses, and also can wear on their compassion for patients.  
The current ward has 20 beds. A second ICU set to open soon will push the total number to 48. However, the hospital still cannot meet demand, which doctors say reaches 80 patients during peak periods.  
"The ICU gets like a vegetable market," a FPHS nurse on her usual 12-hour shift told NewsChina. 
But experts warned the planned increase at FHPS, reflecting a similar trend at other hospitals, threatens to stretch staff even farther, posing risks to both nurses and patients.
Fast Expansion 
In 2009, China for the first time required second-tier hospitals and above to have at least one ICU ward, a time when demand had not reached current levels.  
Liu Xiaojun, director of ICU at Second Affiliate Hospital of Zhengzhou University (SAHZU), a top-tier hospital in Henan Province, recalled how his hospital only had eight ICU beds when he took the position in 2009. Many of them were often unoccupied.  
SAHZU stood in sharp contrast to the overcrowded ICUs of a bigger hospital in the province, whose beds numbered in the hundreds. 
To invigorate the department, Liu visited all the county-level hospitals in Henan to promote their ICU ward. He managed to make SAHZU the first choice for county-level hospitals transferring critical patients.  
SAHZU's ICU now has seven ambulances that transport an average 200 patients from county-level hospitals a month. The department has expanded every two years since, and in 2014 moved to a new, larger section of the hospital. 
However, a greater motivation for the rapid development of critical care medicine is the prestige it brings to a hospital. "In recent years, ICUs are developing at a faster rate than the hospitals they're in," Du Bing, director of the Critical Care Association under the Chinese Medical Association and ICU director of Peking Union Medical College Hospital, told NewsChina.  
Shu Jing, a professor and physician at Zhejiang Sian International Hospital, said her hospital's ICU expanded from 12 to 30 beds and added a separate ICU ward for respiratory medicine. "Every municipal and even top hospital follows the same path: adding ICU beds and setting up separate wards for other departments. Many hospitals expand their ICU once they move to a new location," she said.  
"I believe the ICU will become the biggest department for general hospitals," Zhan Yuanqing, director of respiratory medicine and critical care at the China-Japan Friendship Hospital(CJFH), told NewsChina. "As the government promotes its hierarchical medical system, what will bigger hospitals survive on? Treating serious diseases, big operations and critical care," he said.  
Liu Xiaojun agreed. "The government requires county-level hospitals to handle most serious diseases. In many rural areas, the number of local patients transferred from county or town hospitals have fallen below 5 percent. In that case, bed space for all departments in big hospitals will drop, except for ICUs," he said.
Coming Up Short 
However, expanded ICUs do not always meet demand. In his study published in the Chinese Journal of Medicine in 2015, Xi Xiuming, president of Fu Xing Hospital, Capital Medical University, found that 83 percent of the 330 ICU physicians he interviewed said that their ICU departments had refused patients because of bed shortages.  
According to a report by Du and his colleagues published in journal Critical Care in 2010, ICU beds in 19,700 hospitals across China only made up 1.8 percent of the total beds, or an average of 3.91 beds per 100,000 people, far behind the US and leading Western European countries.  That gap in supply threatens to increase as China's elder population (those aged 60 or above) prepares to reach 20 percent of the total by 2024, according to professor Zhan Zhenwu from the Population and Development Institute, the Renmin University of China.  
"Most patients in ICUs are elderly, we even say those below 90 years old are young or middle-aged," Zhan told NewsChina. "Given that old people are more vulnerable to critical diseases, ICUs will definitely see bigger shortages as the population grays," he said.  
Guidelines released in 2009 recommend maintaining an ICU occupancy rate of around 75 percent. However, NewsChina found that most hospitals are at full occupancy, not only because they cannot turn away patients in need of emergency care, but also ICU patients bring in more money.  
ICU fees are generally much higher than other departments, making treatment affordable only to the wealthy able to pay for stays that could last months and even longer. At CJFH, for example, a 91-year-old patient in a coma has occupied a bed for four years.  
"Nearly every ICU takes patients like that," said Du, referring to patients who are paralyzed or in long-term comas. Many are forced to live on life support. 
But this goes against the purpose of ICUs. According to a document by China's former Ministry of Health, ICUs are reserved for short-term critical care patients and life-or-death emergencies, such as car accident victims. According to this definition, those suffering from chronic or terminal diseases should not qualify for ICU care.  
In another report, Xi Xiuming said that determining a patient's need for critical care treatment boils down to how it would benefit them overall. In theory, patients with long-term illness or conditions that would not see a significant improvement in quality of life from ICU treatment should be moved elsewhere.  
But making that call poses an ethical conundrum. Such is the case for the 91-year-old patient mentioned above. Comatose and dependent on life support for years, he would die almost immediately if removed from the ICU. So for him and his family, ICU treatment is of vital importance.  
While many developed countries encourage doctors and families to respect a dying patient's decisions regarding treatment, Chinese social values often lead families to keep a relative alive at any cost.  
Another major reason behind ICU overuse is that families have no other options for professional care. In 2012, physician Li Jie of Beijing Chaoyang Hospital, Capital Medical University and his team conducted a survey of ICU patients at 22 top-tier hospitals in Beijing. They found that 26 percent had been in the ICU for over 21 days, with five years the longest stay. According to Li, lack of professional care is a leading reason for families to keep relatives in an ICU, especially when money is not an issue.  
Yet, many interviewed physicians and experts call such long-term occupancy a waste of medical resources, and more importantly, unfair to patients in need of urgent care. However, as other wards in Chinese hospitals generally lack respirators and other necessary life-sustaining machines, doctors and families are reluctant to move long-term ICU patients.  
Experts believe this dilemma comes from a failure to differentiate acute and chronic diseases, especially in critical and intensive care. "Treatment and medical services for chronic diseases lag far behind those of acute diseases," Ma Xiaowei, minister of China's National Health Commission, said during the two sessions held this March. "Demand for chronic disease treatment and care will definitely multiply as China's population continues to age, so it is urgent to separate treatment for acute chronic diseases," he warned.  
Several hospitals have tried. In 2013, for example, Beijing's Xuanwu Hospital, Capital Medical University and Peking University International Hospital established a rehab center for ICU patients relying on life support, only to find that nobody was willing to move them out of the ICU ward. Besides inadequate publicity, another reason was that fees at the new treatment center were not covered by public medical insurance.  
CJFH also made attempts. Zhan said his hospital is cooperating with a community-level hospital to set up a 22-bed high dependency unit (HDU) that would be covered by public medical insurance. Originating in the UK, HDUs are designed to serve late-stage cancer patients and those living on life support. HDUs require less equipment and personnel than ICUs, and some have proven more suited to treating chronic disease.  
Lack of Talent
However, these solutions require adequate personnel. China's ICU guidelines require a minimum doctor-patient ratio of 0.8 doctors to a patient and three nurses to a patient. However, according to Du Bing, many hospitals in China have at most two nurses per patient. Many experts said hospitals are struggling to meet the required ratio of ICU beds to nurses, let alone physicians.  Liu Xiaojun said his ICU department once saw more than 70 patients during peak hours, forcing them to call in ICU nurses on leave and transfer another 30 from other departments. Many nurses, Liu said, suffered from swollen feet after one day of work.  
"The main problem is how to prevent ICU physicians and nurses from working themselves to death," Shu Jing wrote in an article on her WeChat account. She revealed that four ICU physicians at her hospital had quit within two years. Their absence put a strain on the remaining staff, leading some to also consider resigning. 
Du warned that such strains put the ward and patients at risk. "For example, the reason we assign 10 beds rather than 20 for a ICU ward is because the number of beds should match the available human resources. When we accept more than 10 patients, or even double the number, can we guarantee their safety 100 percent?" he asked.  
Du attributed the overload to an imbalance in medical resources. "Think about why some hospitals' ICUs are overcrowded and some others are nearly empty. Why are people flooding those top hospitals? This is the problem decision-makers should truly care about," he said.  
As experts have warned, talent shortages and over-centralized resources in top hospitals are the biggest obstacles to China's hierarchical medical system. Liu revealed that once he visited a local county-level hospital and found the ICU ward almost deserted. A physician there told Liu that few physicians at the hospital were trained in critical care and had to transfer patients to higher-level hospitals.  
"Many county-level hospitals in Henan Province set up ICU wards to apply for a second-tier hospital rating, but at least one-third of them are far short on the physicians and nurses they need," Liu told NewsChina. A local hospital in Dancheng County, for example, only has four physicians working in the 11-bed ICU, three of whom have no experience or background in critical care medicine.  
"In Zhejiang Province, many county-level hospitals can afford the world's most advanced life-sustaining technology such as ECMO (Extra-Corporeal Membrane Oxygenation), but they still lag far behind higher-level hospitals in medical staff," Hu Mahong, ICU director of Tongde Hospital of Zhejiang Province, told NewsChina.  
Standardized treatment is widely believed to be a mark of mature medicine. For example, heart attacks should be treated the same way no matter the location. However, that is not the case in China. "There's a sharp difference between hospitals," Du said. "Not by their equipment or technology but physicians' skills and knowledge," he added.  
Experts said the problem is that on-the-job training, is not standardized and varies in quality according to different regions. "The increase in ICU beds does not mean higher quality medical treatment and care," Du told NewsChina. "It'll be very hard to develop critical care medicine without addressing the shortages and uneven distribution of needed professionals," he added.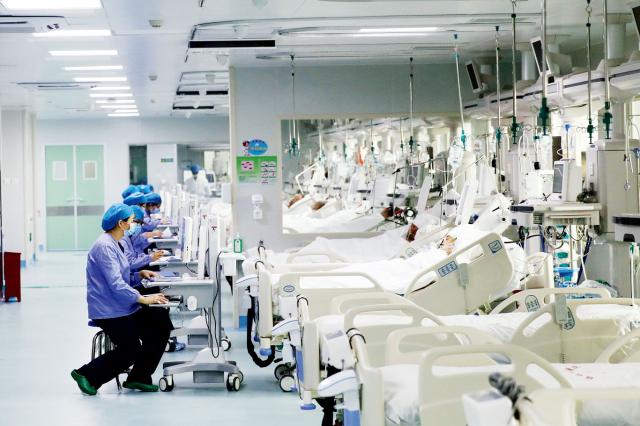 An ICU ward in Zhaotong, Yunnan Province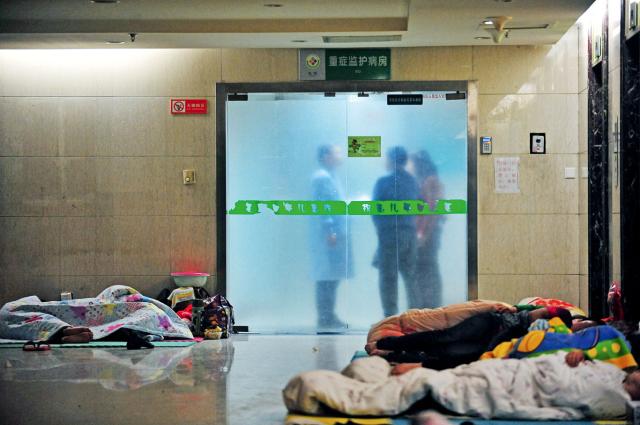 Family members sleep outside an ICU ward