In a culture where continuing the family line is of paramount importance, Chinese parents are starting to come to terms with their children's sexuality
Parents in China are keen to help their unmarried sons and daughters find a spouse. The People's Park in Shanghai is famous for its "marriage market," a corner where each weekend a great many parents gather to display the vital statistics of their marriageable children – their age, height, salary, level of education and house and car ownership. Sexuality, of course, is not included.  

On May 20, to mark "5/20" (Lover's Day in China), this Shanghai marriage market witnessed the first time that parents of gay children advertised their gay sons and daughters. With a row of rainbow umbrellas lined up in front, eleven mothers carried signs that read "I hope my son can find his beloved boy," "I love my daughter and her future wife," and also, "A rainbow life is a different way of life. I hope my son can find a boy and they share a colorful life together."  

The event was coordinated by PFLAG China – Parents, Friends and Families of Gays and Lesbians, a Guangzhou-based NGO formed by LGBT individuals, their parents, friends and supporters – and Rela, an app for lesbians which was shut down after the marriage market took place.  

In a culture where having offspring is held as the greatest joy in life, for Chinese parents, discovering their son or daughter is gay is seen as a huge blow, even a catastrophe, for the entire family. China's one-child policy further complicates matters. Having a gay child is seen as ending the possibility of having grandchildren, and can stigmatize the whole family.  

Support groups formed by organizations such as PFLAG help Chinese parents handle the uncertainty and fear and repair rifts in parent-child relationships.  

Why Does It Have to Be a 'She'? 

The group of mothers at the People's Park drew a crowd of passersby and were confronted with intolerant protestors who called their children "abnormal" and also asked inappropriate questions about how they have sex. 

"LGBT issues shouldn't be on display in public. Their choice is wrong and it's against Chinese values," one man said shortly after the women set up their stalls. "They are out of their minds," another man said angrily.  

"If parents of straight people can be here, parents of gay people can also be here. We have every right to be here – I'm here to find a boyfriend for my son," one mother from Shenzhen told the angry crowd.  

Security officers later ousted the mothers with the excuse that their pro-LGBT event constituted an "advertisement" because educational flyers with logos were also being handed out. Under Chinese law all public events require police registration in advance.  

The activity stirred up a debate on social media, with a great many Internet users expressing their support: "These moms are great!" "Every mother loves her child. They just want their children to be happy. There's nothing wrong with it. Everyone deserves to be treated equally," were some of the comments.  

Some netizens voiced their disapproval of discussing LGBT issues in public. "I don't discriminate against gays. But don't promote it to the public," one Internet user commented.  

"Xiaotao Mama" (pseudonym, meaning 'Xiaotao's mother') stood among the eleven mothers at the People's Park. As an experienced volunteer at PFLAG, she was one of the organizers of the activity.  

Xiaotao Mama did not need to help her gay son find a potential boyfriend, because Xiaotao had already married his partner in the US two years previously.  

"I was doing it because I wanted to speak for the LGBT community," Xiaotao Mama told NewsChina. "I hope the public can form a closer understanding of this community and learn that these kids are neither 'abnormal' nor 'just going for a sort of trendy lifestyle'."  

Seven years ago, in 2010, when the then 28-year-old Xiaotao came out to her, she was not as understanding and tolerant as she is today. Before learning of her son's sexuality, Xiaotao Mama had been troubled for years, wondering why on earth he showed no interest in finding a girlfriend and why none of the blind dates she arranged had worked out. "If you don't tell me the real reason, my eyes won't close at the moment when I die," she used to threaten.  

The huge pressure from his family forced Xiaotao to come out. He spent half a year planning it, while gathering LGBT-related videos and books to help his parents get their heads around the issue.  

"Why does it have to be a 'she'?" were the words Xiaotao used, in a raised voice, to finally silence years of interrogation. His mother instantly broke down in tears.  

"I was extremely upset," Xiaotao Mama recalled. Having a gay son was far beyond her life experience. "Opposites attract – that's what people always say, isn't it? How come everything went wrong when it came to my son? I couldn't accept that."  

For most Chinese parents of gay children, discovering their children's sexuality is a tremendous challenge to their long-held values. Many, after the initial shock, start to seek answers from books on sexology, anthropology and psychology.  

Xiaotao Mama likewise did a great deal of research on LGBT issues after her son came out. She read the books by famous sexologists Zhang Beichuan and Li Yinhe, and watched documentaries on the gay community, including In the Name of Life, a documentary for CCTV's "News Probe" program.  

She joined PFLAG China several years ago, and after receiving training, has become an experienced volunteer who provides support and psychological counseling to the parents of gay children.  

Skeleton in the Closet
PFLAG China is a non-profit organization which aims to provide help and support to LGBT individuals and their families. It was co-founded by Ah Qiang (pseudonym) and Wu Youjian on June 28, 2008, coinciding with the date of the famous LGBT community Stonewall's 1969 uprising in the US. Wu, 70, is a well-known pro-LGBT writer and editor. In 2005 she became the first woman in China to publicly support the gay community as the mother of a gay son.  

Ah Qiang came from a poor village in the west of China's central Anhui Province. Deeply troubled by his sexual identity, Ah Qiang faced a difficult journey to rebuild his sense of self-esteem. He was sexually premature and felt a faint affection for the same sex before primary school and had a clear awareness of his sexual preference at puberty.  

As a village teenager in the mid-1990s, before the Internet became widely available, Ah Qiang believed everything written in printed publications. "I read a magazine article saying homosexuality was perverse, and I believed that. So I had no choice but to suppress myself. I felt myself thrown into utter darkness, as if I was the only homosexual in the world and completely alone," Ah Qiang told NewsChina.  

Towards the end of the 90s, through accessing the Internet, Ah Qiang learned that he was just one of the 50 million gay people in China. But he felt desperate about the fact that no gay celebrity or government official would come out and speak for the community. He felt that in a world where heterosexuals have absolute power in social discourse, the LGBT community had been heavily misunderstood and antagonized.  

"It could be said that all the reports about LGBT people at that time [the late 1990s and early 2000s] were 100 percent negative, full of violence and AIDS," Ah Qiang said. As he recalled, some spas in Guangzhou would put "Homosexuals Not Allowed" signs at the door, which made him feel extremely discriminated against.  

The primary purpose of establishing PFLAG, Ah Qiang said, was to "improve communication between LGBT individuals and their families so as to help them have a life with more freedom."
After nine years, PFLAG China has developed into a mature organization with eight full-time staff, over 2,000 trained volunteers and 100,000 members. The organization has toured 50 provinces and districts to hold activities and found support groups.  

According to PFLAG's statistics, there are currently about 70 million "LGBT families" in China.
Through operating PFLAG, Ah Qiang has had contact with a great number of LGBT people and their families.  

Ah Qiang told NewsChina that for quite a long period, the relationship between LGBT Chinese people and their parents was just how it was portrayed in the groundbreaking novel Crystal Boys (literally meaning "unworthy descendents"), the first overtly gay-themed work in Chinese literature, by renowned author Pai Hsien-yung and published in 1983.  

Similar to the descriptions in the novel, many Chinese LGBT youths have a patriarchal father, who stands for justice, authority, and a powerful but unchangeable tradition, and a caring-but-ignorant mother. Gay children usually have no choice but to run away from home, or at least move far away, and wander into a hidden world like outcasts with no way back, believes Ah Qiang.  

"It's just like 'the skeleton in the closet.' When the closet opens, the skeleton inside will fall out. The proverb exactly describes LGBT people's families," Ah Qiang told NewsChina.  

Family life in China is cherished. The cultural concept of "continuing the bloodline" is of paramount importance. The statement of ancient Chinese philosopher Mencius – "There are three ways a son can be disloyal to his parents, the worst is to have no offspring" – has become deeply rooted in the Chinese psyche. 

Even though there is no religious condemnation and relatively less intense anti-gay violence in China, LGBT Chinese have to face tremendous family pressure, which forces them to hide their sexuality and enter into heterosexual marriages or "cooperative marriages." The latter, in Chinese called "xinghun," is essentially a sham marriage between a gay man and a lesbian woman, and both husband and wife may continue to live with their same-sex partner after marriage.  

Ah Qiang pointed out that many LGBT people who tied the knot with the opposite sex find married life "excruciating": "Many of them have a kind of better-being-dead-than-being-alive feeling."  

He told NewsChina that personally his greatest regret was that he hid his secret from his mother her whole life. "I hid my biggest secret even as I bid farewell to the dearest person in my life."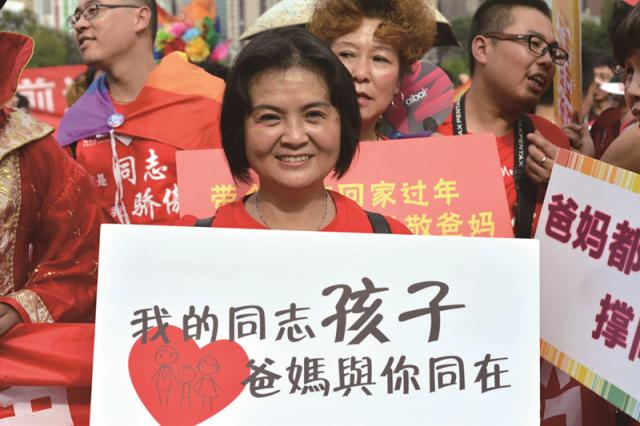 The mother of a gay child holds up a slogan with the words 'My gay child, your parents will always be with you' during a gay pride parade in Hong Kong
Slow Progress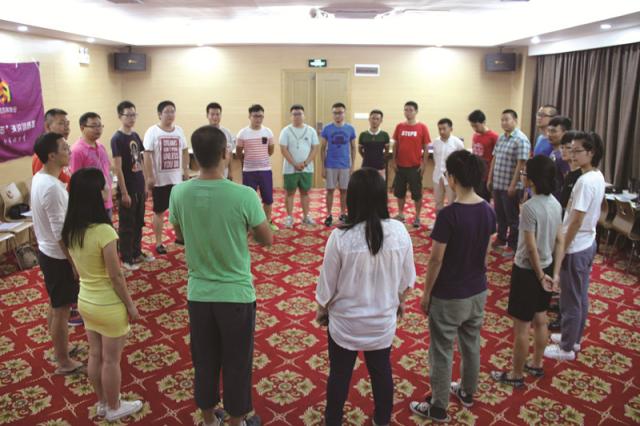 Young gay people take part in a communication exercise
China's LGBT community continues to face challenges 20 years after homosexuality was decriminalized as part of the Chinese government's abolition of the law on hooliganism in 1997.
It was excluded from the official list of mental illnesses in 2001.  

According to a 2016 survey by the UN Development Programme, only approximately five percent of the LGBT population in China are open about their sexuality at school or work, and 17 percent are out to their families.  

China has not made any legislative efforts to recognize the rights of its LGBT population, which is estimated to be approximately 65 million. In April 2016, a court in the city of Changsha, capital of central Hunan Province, ruled against a gay couple in China's first same-sex marriage case. 

One traditional family value – "bringing up children for the purpose of being looked after in one's old age" – has long been embedded in Chinese thinking. Being childless is usually thought to mean a miserable old age with no one to look after you and little help in terms of social welfare. Such a fear is even more acute among the LGBT community and their parents. 

Without the legal recognition of same-sex partnerships, adoption and surrogacy by gay couples, even the most open-minded parents of LGBT children in China will remain anxious about their children's future and later years.  

"My son is so young that he doesn't realize how harsh it might be in the future. Without a partner and children, how will he manage when he gets old?" Xiaoliang Mama, an experienced volunteer at PFLAG said to our reporter. Xiaoliang Mama puts almost all her time and energy into volunteer work at PFLAG, giving advice to a number of troubled parents of gay children via a hotline or online.  

Xiaoliang Mama told NewsChina that Chinese parents of straight children may also have similar anxieties if their son or daughter prefers not to have children or remain single. "But the distinction between those parents and us is that they can complain to anyone about their worries, but we don't have the courage," she said.  

Legal issues aside, China's one-child policy, which was implemented in 1979, makes it harder for the LGBT community to gain the support of family and society in general. The one-child policy strictly stipulated that couples of the Han ethnic majority living in urban areas have no more than one child, which means many families have to rely on their only child to continue the family bloodline. A gay couple, in the eyes of many parents, will bring two family lines to an end.  

Social acceptance and tolerance of homosexuality in China is slowly on the rise with the country's flourishing urban youth culture, and a growing and thriving LGBT community has been developing in cyberspace. However, more recently, the leeway for the community has been tightened.  

In May, an LGBT conference in the city of Xi'an was canceled when the organizers, the gay rights group Speak Out, were told by police that LGBT events were not welcome in the city. At least 400 people had been expected to attend the conference to discuss discrimination against the LGBT community in China.  

On June 30, a new regulation, enforced by the China Netcasting Services Association, has banned LGBT-related visual and audio content from cyberspace. The rules require all Internet service providers to censor any online audiovisual content that displays "abnormal sexual behavior" such as incest, sexual perversion, sexual assault, sexual abuse and sexual violence, but also including same-sex relationships.  

On July 1, the online video platform Youku and online radio station Ximalaya FM deleted all the episodes of a pro-LGBT radio program "Guest Tonight," with staff of Ximalaya FM responding to a complaint that, "any homosexuality-related content is pornography."  

Li Yinhe, one of China's most famous sexologists and sociologists, condemned the move. "Trying to regulate and censor people's desires is as absurd as trying to regulate and censor people's appetites," Li said in a Weibo post.  

Gay Voice, a Chinese-language LGBT non-profit magazine, said in a statement that homosexuality is normal and should not be treated differently. "The false information in these regulations has already caused harm to the Chinese LGBT community, who are already subjected to prejudice and discrimination," it said.