After a brief honeymoon, Sino-Indian relations are back in the doldrums – and New Delhi is stuck in the past
On the sidelines of the G20 summit held in Hamburg, Germany on July 7, Chinese President Xi Jinping met with Indian Prime Minister Narendra Modi for a brief moment. The awkward encounter took place while tensions were running high amid the worst border stand-off for years between the two nations. As of going to press, there was no resolution to the dispute.  

According to Indian External Affairs Ministry spokesperson Gopal Baglay, Modi and Xi discussed "a range of issues." By contrast, Chinese Foreign Ministry Spokesperson Geng Shuang only acknowledged that the two leaders were present at the BRICS Leaders' Informal Meeting hosted by China, and said that they did not hold "a bilateral meeting." 

As the border dispute dominates the relationship between the two Asian giants once again, it may mark the end of a short period of mutual overtures following Xi's visit to India in 2014 and Modi's reciprocal visit to China in 2015, when the two leaders vowed to take the bilateral ties to "new heights."  

During this period, China and India did in fact increase economic cooperation. India joined the China-led Asian Infrastructure Investment Bank and the BRICS Development Bank, now officially known as the New Development Bank. India was also seen as taking a restrained position on the South China Sea issue.  

For some time, there was hope that Xi and Modi, both seen as strong leaders at home, would have the power to steer the bilateral relationship in a new direction. But if there was any genuine optimism about the future of the bilateral relationship, it proved to be short-lived. As grievances emerged in a variety of new areas, further complicating old disputes, the mood of bilateral relations has now swung back to suspicion and hostility.  

China's Belt and Road 

Under the leadership of President Xi Jinping, China's flagship initiative in the last couple of years has been the Belt and Road Initiative (BRI), an ambitious project to boost economic cooperation and connectivity between Asia, Europe and even Africa. 

China has repeatedly called for India to cooperate with China on these projects, arguing that improved economic cooperation and interdependence create a win-win situation that would help to address the region's security issues.  

But it is China's overreach in the Indian sub-continent and beyond that has deepened India's security concerns over China's strategic intentions in the region. A major point of objection for India is the "China-Pakistan Economic Corridor" (CPEC), a sub-project under the Belt and Road Initiative.  

China's "all-weather" friendship with Pakistan, with which India has fought three major wars since 1947, has long been a sticking point in China-India ties. New Delhi complains that as the CPEC passed through the Pakistan-administrated areas of Kashmir, where both India and Pakistan claim territory and have been locked in border conflicts, the project indicates Beijing's support for Pakistan's territorial claim and violates Indian sovereignty.  

Also in June 2016, China, alongside seven other countries, blocked India's entry into the Nuclear Suppliers Group (NSG), a group that controls transfer of nuclear technology worldwide. While Beijing argues that it cannot bend the rules for India since it has not joined the Non-Proliferation Treaty (NPT) – no country has joined the NSG without signing the NPT first – New Delhi has interpreted it as an effort by Beijing to undermine its nuclear power status and to indirectly support Pakistan, also a nuclear power that has not joined the NSG.  

Beside these issues, the basic concept of China's Belt and Road Initiative with its primary focus on infrastructure building has an entirely different connotation for India. In past decades, China's rapid economic growth has been characterized by an infrastructure boom involving the mass construction of railways and highways, not only in China's prosperous coastal area, but also its border regions including the Himalayan frontier. 

While India has also increased its infrastructure investment, it has lagged far behind China in what many call an"infrastructure race" between the two countries. India has long been concerned that China's stronger infrastructure on its side of the Himalayan frontiers could give China a logistical advantage in the event of military conflict with India.  

Thanks to the BRI, India also has to worry about China's increasing ability to project its power in the South Asian sub-continent and its rising influence over India's neighbors.  

When India closed its major border pass to Nepal in late 2015 in response to Nepal's constitutional amendment which refused to allow the Madhesi, an ethnic group of Indian origin, to form their own province, effectively imposing a road blockade and leading to a shortage of fuel and medicine in the land-locked Himalayan country, Kathmandu turned to China to meet some of its supply needs. 

Although Nepal eventually had to concede to Indian pressure by tabling the constitutional amendment, improved infrastructure connecting China and Nepal in the future could greatly reduce India's traditional influence over smaller neighbors like Nepal. It is not a surprise that recent reports that Nepal will soon get its Internet service from China as early as August, have again become an issue for concern in India about losing its monopoly over the country's online services.  

Besides the overland Silk Road Economic Belt (the Belt), China's 21st Century Maritime Silk Road initiative (the Road), is perceived to pose a similar, if not greater threat to India. China's investment and presence in ports across the Indian Ocean in Sri Lanka, Pakistan, Myanmar and Bangladesh, dubbed the "string of pearls" by many Indian strategists, are often seen as a plan to "encircle" India.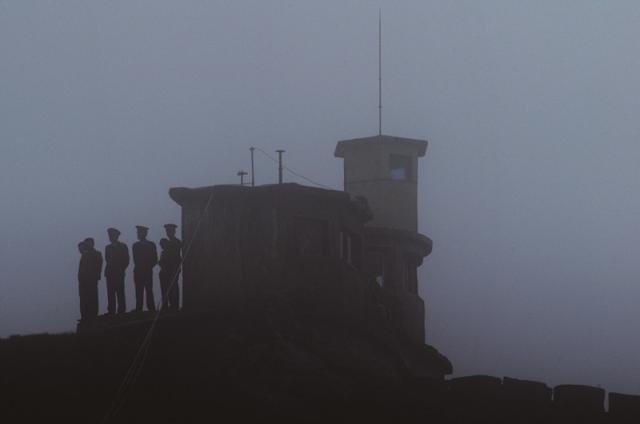 Chinese soldiers stand at a post on the Chinese side of the border at Nathu La pass, July 5, 2006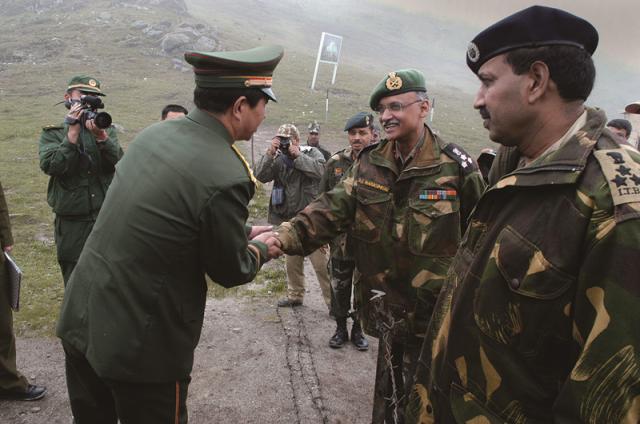 Chinese and Indian army officers shake hands over the border at the Nathu La pass, July 5, 2006
In response, India has launched its own connectivity and cooperation initiatives, such as the "Act East" strategy, which New Delhi said aims at developing close economic synergies with Southeastern Asian countries and East Asia. But rather than linking with China's Belt and Road initiative, as some Chinese experts have called for, India's "Act East" strategy is more about competition and counter-reaction to China's moves in South Asia.  

For example, India has spent over US$1.75 billion in grants and credit to Myanmar, a major competition ground between the two after democratization led to a decrease in China's influence. Amid the ongoing border confrontation, New Delhi rolled out the red carpet for Myanmar's military chief Min Aung Hlaing on July 8 – "with one eye firmly on China," according to Indian media. 

The only regional project discussed between China and India is the Bangladesh-China-India-Myanmar Economic Corridor (BCIM-EC). The four countries have formed a study group to push forward the project. But even within the initiative, cooperation between China and India has been complicated by a competition for leadership, as India objects to China portraying the project as part of the BRI. Instead, India argues that New Delhi first formulated the concept of the project, and that the four countries involved should have an "equal" role.  

In the meantime, India is growing closer to the US. On July 10, India held a set of joint naval exercises known as the Malabar series with Japan and the US in the Indian Ocean. With a focus on anti-submarine operations, the exercise is widely seen as a warning to China.  

Earlier in June, the Indian Navy announced a plan to permanently station warships to monitor movement through the Strait of Malacca. The move is interpreted as an adjustment to India's policy of disengagement from South China Sea issues.  

As the developments coincide with perceived provocation on the border area, many Chinese analysts suspect coordination between India, Japan and US. India's army chief General Bipin Rawat's assertion that India can fight and win on "two and a half" fronts simultaneously, made less than two weeks prior to the border standoff, also alarmed Beijing.  

Defensive or Hegemonic?
According to Sudha Ramachandran, a researcher and journalist based in Bengaluru, India, India's security concerns about China stem from a "defensive" strategic mindset. In a 2016 article published by the Jamestown Foundation, Ramachandran said that "India's humiliating defeat in the 1962 war with China left a deep impact on its national psyche that is reflected in its defense and nuclear policies." 

What many India analysts like Ramachandran consider as a "defensive" mentality, Chinese experts see as a "hegemonic" mentality. In an article published in the People's Daily, Sun Hongnian, a researcher with the Chinese Academy of Social Sciences said India's urge to impose "imperialist protection" upon its neighbors in South Asia stems from a desire to inherit Great Britain's colonial heritage and to maintain its "hegemony" in the subcontinent.  

In another editorial published by the Global Times on March 21, titled "India over-sensitive on China's engagement in South Asia," the paper criticized India for "treating South Asia and the Indian Ocean as its backyard."  

"Whenever a top leader from those [South Asian] countries visits China, the Indian media would hype the idea that India is losing them or China's emerging weight in South Asia will be New Delhi's new threat," reads the editorial, "Even if they are trying to balance between the two giant neighbors, New Delhi still regards their neutrality as a pro-Beijing policy." 

Stressing that "India's peripheral countries are also Beijing's neighbors," the article warned that China will have to fight back if India continues its hard-line policies. Unfortunately, as sentiment runs high on both sides, the situation has taken a turn for the worse in the following months.  
In early April, the Indian government arranged for the Dalai Lama to visit the disputed territory on South Tiber / Arunachal Pradesh in the eastern part of China-Indian border. This was perceived as a major provocation at the border region by Beijing, which warned New Delhi of "retaliatory measures." 

Also around the same time, New Delhi unveiled plans to build three railway lines in the disputed territory and has commenced survey work. The Indian government has appropriated US$900 million for road construction in the disputed area, a five-fold increase from the previous two years. And for much of 2017, Indian workers have been building a 55-kilometer-long road to reach the Chinese sides of the line of actual control (LAC) in the disputed territory.  

China's recent road construction in the Doklam region, to which New Delhi reacted by sending its troops and criticized for posing security threats to India may well be a tit-for-tat reaction to India's road construction in the disputed area of South Tibet/Arunachal Pradesh. 

In a commentary published in the South China Morning Post on July 15, 2017, Neville Maxwell, the author of India's China War, who covered the 1962 China-India border war as the South Asia correspondent for The Times, argued that a major problem for the China-India relationship is that India has never recovered pyschologically from its defeat in the 1962 war.  

With the "myth of an 'unprovoked Chinese aggression' in 1962, Maxwell said that there has been "a false sense of national oppression" by China among generations of the Indian public, which has "fermented in India a persistent longing for revenge." 