A new standoff between Indian and Chinese troops in the tri-junction area near Bhutan has produced a volatile border dispute
It has been more than a month since the confrontation between Indian and Chinese troops started on June 16 along the Sikkim-Tibet border. Indian border troops put a stop to road construction work on the Chinese side of the Doklam region, triggering a diplomatic row between Beijing and New Delhi. As both countries have sent about 3,000 soldiers to the remote mountain region, there are fears that the crisis could escalate to an armed conflict.  

China and India have an ongoing border dispute along the Himalayas, the cause of a bloody border war in 1962. There have been repeated stand-offs in recent years in the high mountains. But the recent confrontation could represent a major escalation of disputes between the two countries.  

Sikkim-Tibet Border 

Currently, border disputes between China and India involve two major territories along the approximately 3,000-kilometer frontier. In the west, China controls Aksai Chin as part of its Xinjiang region, which India claims as part of its Ladakh region. In the east lies a large territory which India controls as the state of Arunachal Pradesh but which is claimed by China as the region of South Tibet. In between the two major disputed territories lie two smaller disputed areas which are close to the Aksai Chin area.  

The 220-kilometer-long segment between India's Sikkim and Tibet of China was previously considered the only settled border between the two countries. Both countries have accepted the validity of the Convention between Great Britain and China Relating to Sikkim and Tibet signed in 1890, that delineated the border.  

On March 22, 1959, Indian Prime Minister Jawaharlal Nehru wrote to his Chinese counterpart that "the boundary of Sikkim, a protectorate of India, with the Tibet Region of China was defined in the Anglo Chinese Convention of 1890 and jointly demarcated on the ground."  
Later that year, China responded in a written statement that the boundary "has long been formally delimited and there is neither any discrepancy between the maps nor any disputes in practice."  

Despite the ugly 1962 border war and a couple of skirmishes along the Sikkim-Tibet border in 1967, neither India nor China have retracted their official acceptance of the Anglo-Chinese convention of 1890, nor have they made alternative territorial claims regarding this segment of the border.  

This is not to say that China and India had no disputes over Sikkim. China refused to accept India's authority over Sikkim, which was once a semi-autonomous Tibetan kingdom that later became a protectorate of Great Britain and then of India. After India officially annexed Sikkim in 1975, China continued to refuse to acknowledge Sikkim as part of India. Only after 2003, when India acknowledged that Tibet was part of China, did China start to acknowledge Sikkim as part of India.  

In recent years, while there have been numerous confrontations between border troops from the two countries in disputed territories in other regions, the Sikkim-Tibet border has been relatively quiet. Thanks to the relative stability in the region, China and India agreed to reopen the Nathu La pass along the Sikkim-Tibet border in 2006.  

But in the wake of the recent standoff, China has responded by closing the pass, stopping 57 Indian pilgrims who were on their way to the Manas Sarovar Lake in Tibet.  

Mutual Accusations
According to China's Foreign Ministry, Indian troops crossed the "mutually recognized" border line and trespassed into Chinese territory. Citing the Anglo-China Convention of 1890, which states that the boundary of Sikkim and Tibet will be set by the watershed mountain ranges that "commences at Mount Gipmochi on the Bhutan frontier," Lu Kang, a spokesperson of China's Foreign Ministry, said in a press conference held on June 29, 2017 that Indian troops had entered Chinese territory.  

Lu also showed the media a map with the borders demarcated and a couple of photos showing Indian troops and vehicles on the Chinese side of the watershed range. Later in an interview with the Press Trust of India (PTI) held on July 4, Chinese ambassador to India Luo Zhaohui said that the recent standoff is "the first time that Indian troops have crossed the mutually recognized boundary," which is "different in nature from the previous frictions between the two sides at the undefined sections of the China-India boundary." 

In response to India's concerns that China's activities in the Doklam region pose a security threat to its vulnerable Siliguri Corridor, a 20km wide corridor known as the "Chicken's Neck" that links its northeastern region to the Indian mainland, Luo said that "India cannot encroach upon the territory of other countries on the grounds of its 'security concerns' … Otherwise, the world would be in chaos."  

In a statement released on June 30, India's Ministry of External Affairs offered its own narrative of the dispute. Without denying India's action in the Doklam region, the statement made no direct counter argument to China's interpretation of the Sikkim-Tibet border, nor did it reject the validity of the Anglo-China Convention of 1890.  

Instead, New Delhi argued that the issue was a trilateral matter, involving not only India and China, but Bhutan as well. Citing a brief statement released by Bhutan's Foreign Affairs Ministry, which claimed that China's road construction was "inside Bhutanese territory" and that it violated agreements between Bhutan and China to maintain the status quo in border areas, India argued that its actions were taken on behalf of Bhutan.  

Beijing later responded that its road construction is in areas that are "totally under the jurisdiction of China" and "on the Chinese side of the China-Bhutan traditional customary line," which is neither a breach of the agreement nor damages the status quo.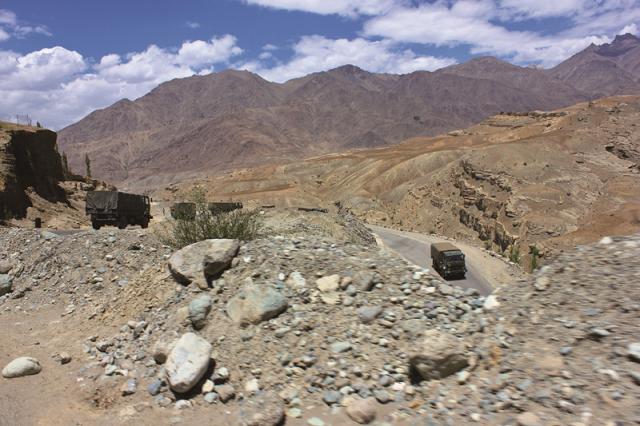 An Indian army convoy moves towards the border in Pangong, a disputed territory between India and China, Ladakh, Indian-administered Kashmir, August 2, 2012
Bhutan's Role
Although Bhutan was referred to as a major stakeholder in the border dispute, the leadership in Thimphu has been rather quiet as Beijing and New Delhi exchanged mutual accusations. Other than the brief statement cited by New Delhi, Thimphu has made no further comments on the issue. For example, Thimphu didn't clarify whether it was consulted by India before its troops crossed the border, which New Delhi said yes but Beijing said no.  

According to Wangcha Sangley, a political analyst based in Thimphu, as a small kingdom caught between its two giant neighbors, Bhutan was in an impossible position to make decisions based on its own interests. 

Bhutan has long been dependent on India both economically, politically and diplomatically. A Buddhist Kingdom with strong ties with Tibet, Bhutan became a protectorate of Great Britain in 1910, and of India after India's independence in 1947. In 1949, Bhutan signed a friendship treaty with India that required Bhutan's external relations to be "guided" by India. 

In a widely-cited blog post, Sangley said India had tried to deal with China regarding the Bhutan-China border demarcation in the 1960s and 1970s, and it was as a result of China's insistence to deal with Bhutan directly that India allowed Bhutan to have direct border talks with China in the 1980s, though India was kept in the loop by Bhutan in the process.  

Since then, China and Bhutan have conducted 24 rounds of annual border talks and no formal agreement has been reached so far. According to China's Foreign Ministry, the two sides have "a basic consensus on the situation on the ground in the border areas and the boundary alignment," but neither China nor Bhutan have released details of the talks.  

In an article published on January 1, 2013, Govinda Rizal, a contributing editor to the Bhutan News Service, said that during the 10th border talks held in 1996, China offered to give up its claim to 495 square kilometers of disputed territories in the north of Bhutan in exchange for 269 square kilometers of territory in the Doklam region in west Bhutan. Rizal said the BBC initially reported that Bhutan had accepted the proposal, but it was unable to make the final decision given India's objection. 

In 2007, Bhutan signed a new friendship treaty with India, which removed the clause about India's "guidance" over Bhutan's foreign policy. Since then, Bhutan has pursued a more active and independent foreign policy. Within 10 years, Thimphu had established diplomatic relationship with 31 countries. By comparison, Bhutan had diplomatic ties with only 21 countries plus the European Union prior to 2007.  

But so far, Bhutan remains the only UN member to have no formal diplomatic relationship with all five permanent members of the UN Security Council. It is also the only country among China's 14 land neighbors that has no formal diplomatic relations with Beijing. 

In 2011, under Prime Minister Jigmi Thinley, Bhutan made its first bid – though an unsuccessful one – for a non-permanent seat on the UN Security Council. Later that year, Bhutan managed to get the UN General Assembly to unanimously adopt a resolution placing "happiness" on the global agenda, promoting the country's notion of a "National Happiness Index," as the best measure of development. 

It was against this background Bhutan and China resumed their rapprochement. In June of 2012, Thinley met with then Chinese Premier Wen Jiabao on the sidelines of an international summit, which marks the first-ever meeting between the heads of government of the two countries. The meeting was later followed by a visit made in August that year by China's former deputy minister of foreign affairs Fu Ying to Thimphu to discuss the establishment of diplomatic relations. 

But the development aroused alarm in New Delhi, which intervened in Bhutan's election in 2013. After Thinley's party took a lead in the first round of the election, India unexpectedly announced the withdrawal of its subsidies on gas and kerosene supplies to Bhutan, which resulted in a doubling of fuel prices and widespread anxiety over the country's financial situation. While leading to a strained relationship with Thimphu, the move left Thinley under fire for his failure to secure India's support to Bhutan, which eventually cost him and his party the election.  

After Indian Prime Minister Narendra Modi assumed power in 2014, he chose Bhutan as the destination for his first foreign visit. To remedy the strained ties, Modi announced a 50 percent increase in India's annual aid to Bhutan to $970 million. 

In return, Bhutan's new prime minister, Tshering Tobgay, assured Modi that "there is no question" of allowing China to open an embassy in Thimphu. The two sides also signed a new agreement that promises neither side will allow their territory to be used for "interests inimical to each other," which is widely considered to refer to Bhutan's relationship with China.  

Escalation?
Many Chinese experts believe the goal of India's policy in the region is to keep the border disputes between Bhutan and China going in perpetuity to maximize India's strategic interests in the region. The issue was a major topic raised by ambassador Luo Zhaohui during his interview with the PTI new agency, who stressed that India has no right to interfere with the China-Bhutan boundary talks, nor is it entitled to make territorial claims on behalf of Bhutan. 

In a commentary published on July 10 by People' Daily, the flagship newspaper of China's ruling communist party, Sun Hongnian, a researcher at the Center for China's Borderland History and Geography Research under the Chinese Academy of Social Sciences, warned that India's recent actions stem from its pursuit of the "absolute security" of its Siliguri Corridor. By sending its troops across the border, Sun said India aims to create a new "disputed area" along the Sikkim-Tibet border, with an eye to the long-term occupation of entire watershed ranges.
 
Such suspicions are augmented by the strategic importance attached by many Indian strategists to this segment of the India-China border. Retired Maj-Gen Gaganjit Singh, a former commander of India's border troops, for example, told the BBC that the Sikkim-Tibet border is the only stretch of the India-China border where Indian troops have a terrain and tactical advantage. While India enjoys the higher ground, the Chinese positions are on lower ground squeezed between India and Bhutan, said Singh.  

As India has refused to pull out its troops, Chinese officials and state media have toughened their rhetoric. In its latest editorial published on July 14 editorial, Xinhua News Agency, China's official state media, warned that if India turns a deaf ear to China's call for pulling its troops from the Doklam region, it would "put itself further into embarrassment." Reiterating China's position that it considers the incident cross-border trespassing and more severe than previous incidents, it says that there is no room for negotiations.  

So far, both Beijing and New Delhi have refrained from further hostility. But as the two sides have opened a new front along their Himalayan border, the crisis is set to inject new volatility into the already complicated border disputes and the tricky relations between the world's two most populous countries in the long term.