Babies and toddlers in China's poor rural areas are badly in need of early intervention programs. But can such schemes deliver on the national level?
"Everyone loves clean apples. I will wash my hands before I have candy!" giggled Rao Yue, a toddler coming up to her third birthday, in a village in Huachi county, Gansu Province in China's underdeveloped northwest, on June 14. Rao's mother gave her candy and words of praise for learning the lesson of "cleanliness" from the story she had just been told.  

For Chinese – or Western – middle-class parents living in cities, this kind of interaction is normal. Research has repeatedly shown talking, playing, and reading with kids is vital to their emotional and cognitive development. But poorer parents are less likely to interact with their children – not out of a lack of love, but out of heavier time commitments, greater stress, and most of all, without the access to knowledge of feeding and parenting. Their expectations for children are as high as those of their urban peers, but rural children are much more likely to have cognitive problems, language issues, or stunted social and economic development. In a tough society, they may be losing at the starting line. That casts a shadow not only over their future, but also over China's ambitions of escaping the "middle-income trap" that catches so many nations.  

Rao is taking part in one of a series of pilot programs that launched three years ago to improve rural parenting. Her mother had been taught the story she told Rao by a parenting trainer earlier that day. Such early intervention programs can yield enormous returns – both for the families and for the country. China saw 51 million births between 2014 and 2016, the majority of them to families holding rural hukou (residence permits), even though 56 percent of Chinese now live in urban areas. But while thousands of poor rural families are benefitting from such programs, millions more don't have the chance – and only a national intervention can help them.  

Invisible Crisis
In October 2016, The Lancet, the world's premier medical journal, updated its series "Advancing Early Childhood from Science to Scale," which warned that an estimated 43 per cent, or 249 million, of children under five in low-and middle-income countries face an elevated risk of falling short of their development potential.  

This risk is evident in China. In May, at a forum in Tsinghua University on China's left-behind children, whose parents are working in cities and leave them in the care of rural grandparents or other relatives, Lu Mai, secretary-general of the China Development Research Foundation (CDRF), noted that they found that five year olds in the Yunnan countryside lagged behind even three-year old-children in Shanghai. Between 2013 and 2015, the Rural Education Action Program (REAP) team jointly established by Stanford University and the Center for Chinese Agricultural Policy of the Chinese Academy of Sciences, conducted a Bayley Scale Test, an internationally-accepted test of infants' development, on 1,800 babies and toddlers in poor rural areas in Shaanxi Province in China's northwest. 53 percent of those at the age of 24 to 30 months had low cognitive development, up from 28 percent when they were six to 12 months old, 32 percent at 12 to 18 months, and 41 percent at 18 to 24 months. The problems worsened as the children grew older. In a joint survey in September and October 2015 by Save the Children in China, REAP and the China National Health and Family Planning Commission (NHFPC), about 47 percent of the 448 babies and toddlers tested in poor rural areas in Yunnan and Hebei provinces scored below the average level in the cognitive portion of the Bayley test, and 53 percent in the social-emotional portion.  

About one-third of China's future population, or about 440 million, are "in danger of being permanently handicapped (cognitively)," stressed Professor Scott Rozelle, co-director of REAP in his speech at the Stanford Center at Peking University on June 2. He described it as China's "invisible crisis" which would hamper expectation of those rural parents and China's growth prospects.  

The crisis is already visible. In 2015, only 24 percent of China's migrant labor force had completed a high school education, the lowest among major middle-income countries, including Mexico, Turkey and Thailand, according to estimates based on official data in research by Chinese and US scholars, including Rozelle, published in the winter issue of the Journal of Economic Perspectives, a publication of the American Economic Association. The latest figure is that only 25 percent of China's migrant workers held a high school diploma or above in 2016, according to the annual report on China's migrant workers released by China's National Bureau of Statistics.  

Besides the poor quality of elementary schools, competitive entrance exams and the high cost of high school education, developmental impairment is believed to be a significant factor. In the Wechsler Intelligence Scale for Children, an IQ test, administered on 2,500 Grade 8 students in 100 rural schools in Shaanxi and Gansu in September 2016, 47 percent of the of Shaanxi students and 49 percent of Gansu students had an IQ below the norm, according to REAP. In the past few years, various studies by Chinese scholars and the REAP team have shown the real dropout rate of China's rural junior high schools is much higher than the official data. Many students leave school but remain officially registered there, as dropout out of compulsory education is illegal. For more than a decade, the help from REAP, including providing eyeglasses, teacher incentives and computer-aided studies, all worked in elementary schools, but did not work on junior high school students. "We think it is related to the low IQ of a large share of junior high students who cannot keep up with the fast pace curriculum in Chinese junior high schools," Rozelle told NewsChina. 

"The urban-rural gap is the biggest challenge for China to improve the quality of the whole country's human capital," said Professor Shi Yaojiang, director of Center for Experimental Economics in Education of Shaanxi Normal University and education director of REAP, in an interview with the Chinese edition of NewsChina.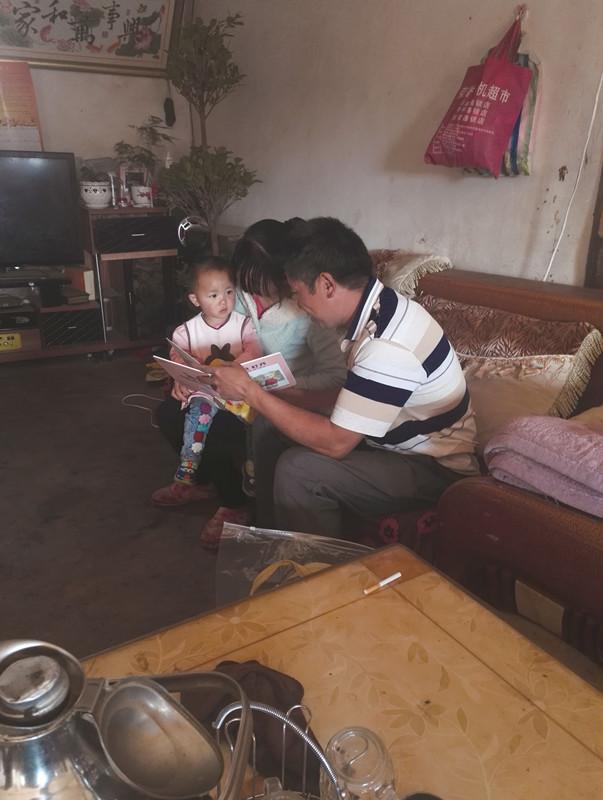 In an in-home visit, a village parenting trainer (the man in the photo) shows the parent and the 16-month-old baby a way to play and read together as part of a Save the Children in China project, Zhanyi district, Qujing City, Yunnan Province, April 2017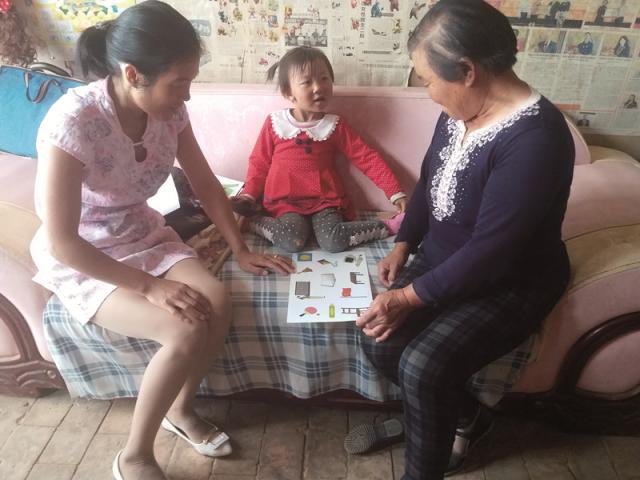 Three-and-a-half-year-old Zhang Zihan plays at home with her grandma and their parenting trainer Zhang Yalan, Huachi county, Qingyang City, Gansu Province, June 15, 2017. The program was initiated by the China Development Research Foundation in September 2015. Zhang's parents work in Xinjiang Uygur Autonomous Region. "The desk can be used as a place for a computer!" the little girl said when she saw a desk in the picture. In their regular video dialogue via a smartphone, her parents were very happy to see their daughter learn a lot from the program, her grandma told NewsChina
Poor Feeding and Parenting
"Historically, early childhood interventions have focused on children of preschool age. But we now know that interventions encompassing the period before conception through the first two years of life can greatly reduce adverse growth and health outcomes, and help ensure young children reach their full developmental potential," said Professor Stephen Lye of the University of Toronto, in the World Health Organization's (WHO) news release about The Lancet series he co-authored. 

Developmental delays or stunts of infants in poorer areas can be traced to nutrition and parenting problems, including those in China. The WHO, World Bank and UNICEF, which provided contributions and guidelines to The Lancet series, have called for a global commitment on providing proper nutrition, responsive care-giving and protection for the first 1,000 days of life for children in those countries, the most critical for brain development.  

Various studies of babies in China's less-developed northwest and southwest counties have detected a high ratio of malnutrition, including anemia and intestinal worms. Lack of interaction between caregivers and their babies is common. Their studies show that this is largely caused by caregivers' ignorance and heavy workloads.  

During their research in rural areas in China's southwest and northwest, Liu Peng and her colleagues at CDRF saw many caregivers there, particularly grandmothers, carry their babies all day on their backs, or tie their babies to the cradle so that they can work on farming or housekeeping. This traditional practice deprives the babies of the chance to explore the world through touch and exercising motor skills. The lack of interaction with caregivers with this practice also leaves them bereft of the stimulus they need for neural development. Some toddlers Liu and her colleagues visited responded with only "empty eyes" to toys given to them, Liu told NewsChina.  

Save the Children and NHFPC also found 64 percent of the 448 babies in their survey had anemia due to insufficient micronutrients and improper feeding practices, including being weaned off breastfeeding too early. Not many caregivers had read, sang to or played with their babies the day before the survey. A REAP survey of more than 1,800 babies aged six to 12 months in poor villages in Shaanxi in 2013 found that many parents knew more about the importance of micronutrients for their pigs than for their infants. The babies received sufficient food – but not the right food.  

Actions
Both Chinese and international institutions have been working on improving infant development through better nutrition and parenting instructions. The CDRF is cooperating with the Bill & Melinda Gates Foundation on promoting breastfeeding in China through nationwide research, building communication platforms for all stakeholders, putting forward public policy proposals and intensifying public advocacy. The aim is to increase breastfeeding for Chinese infants up to six months to 50 percent by 2020, or even 60 to 70 percent in rural areas, from the national average of 20 percent now, noted Lu Mai in his Tsinghua speech. In their pilot projects, rural mothers are paid to be trained in breastfeeding. For babies and toddlers between six and 24 months in some rural areas, organizations including CDRF and REAP, with the support of China's government agencies, have been giving them "nutrition packets" of vitamins and minerals. Save the Children is planning to offer packaged nutrient supplements in their project after realizing feeding courses alone are not enough. The Chinese government is doing the same in some poor rural areas.  

More difficult trials have been conducted on parenting training. The program Rao Yue's mother joined is China Rural Education and Child Health (REACH) sponsored by the CDRF in partnership with the local network of public health care centers for women and children. About 1,600 babies between six and 36 months old are divided into a treatment group and a control group for comparison for the parenting training, though both groups receive nutrient packages.  

Since the program began in September 2015, parenting trainers had paid 44,200 visits to families in 56 villages by the end of May 2017, according to Zhang Yongli, county supervisor in Huachi. In September 2014, REAP launched its parenting training program for 275 intervention households and 425 control households in Shaanxi Province. During the 26-week program, 70 parenting trainers provided a once-a-week curriculum for children 18-42 months of age.  

During the hour-long training, held weekly, trainer Zhang Lili checked how well Rao's mother had played with her using the lessons taught the week before, and suggested new stories, games and songs for the next week. This is standard practice in the program, which uses locally-recruited trainers, mostly drawn from the ranks of mothers and housewives looking for extra income and the chance to help other children. They are trained by supervisors who are typically local medical graduates or village doctors, who in turn have been trained by international experts.  

Save the Children and the NHFPC launched a project in January 2015. The four-year action has designed 124 games based on REAP's proposals and a number of picture books for interaction between more than 700 babies and their caregivers in poor areas of Hebei and Yunnan provinces. They visit the families once a fortnight. In the 40 to 50 minutes of each visit, they assess the child-caring progress of parents, and babies' physical development, and show caregivers how to play with babies.  

In an earlier program started by Save the Children in partnership with the NHFPC in 2014, families in a rural county in Xinjiang Uygur Autonomous Region were put in groups. A volunteer family organized regular gatherings of the group where children and parents in the group played together in a way they have learned from the parenting course.  

Lifetime Impact
The efforts have paid off. The CDRF concluded in 2016 that the "nutrition packet" project in partnership with Chinese Center for Disease Control and Prevention for 3,800 six-to-24-month-olds between 2009 and 2012 in Qinghai Province had produced a much lower incidence of anemia, diarrhea and fever, and much better motor and adaptive development, compared both with conditions before the intervention and with the control group.  

In October 2016, a mid-term survey on the Huachi project in Gansu was completed by CDRF and the National Survey Research Center at Renmin University of China. The result was the proportion of "borderline" and "abnormal" results in the Denver-II test, another international exam, being about 10 percent lower in the treatment group than in the control group. The improvement was particularly evident in verbal development. In the program by Save the Children, babies and toddlers in the intervention group performed better than those in the control group in terms of cognitive development in the Barley III test one year after the intervention. 

Organizers of the programs found that babies loved the games and toys brought by parenting trainers. Visible progress in their children's development is an important motivator for parents who welcome this program. Parenting trainers in the CDRF and Save the Children projects we have interviewed said infants who had received the intervention typically knew the names of more plants and animals, and were more active in front of visitors. 

Parenting behaviors and family environment saw more significant progress than babies' development. CDRF's Huachi mid-term survey found that home environments, parenting behaviors and childcare patterns in the treatment group had improved significantly after about 10 months. Statistics from Save the Children show that caregivers were more engaged with their babies and toddlers by telling stories, singing songs and playing with toys more frequently, and enjoyed doing so more than those in the control group.  

The REAP team reviewed their results six months into the program. They found parents in the intervention group communicated much more frequently by reading, singing and playing with toys than those in the control group.  

As Liu Peng with CDRF has stressed, the purpose of the program is more to improve the parenting environment for children's development with lasting positive impacts on their future life and career, than to make an immediate big difference to children's development. Wang Chao, director of Save the Children in China, noted to NewsChina that international experience has already proved a positive life-time impact of proper parenting on child development. 

Mountainous Routes
All the efforts are difficult, and challenges abound. The attitude of caregivers still needs to improve. In our interview with several parenting trainers and township supervisors in Huachi, they found it normally takes two weeks to two months for children to begin to enjoy toys and games brought once a week by trainers. However, it takes longer, up to six months in some cases, for caregivers to have a positive attitude towards the program. There are various reasons, according to the CDRF and REAP teams. Caregivers are busy with their farming and housekeeping. They are upset about being told by others to do something they find strange at the beginning. Zhang Yongli told NewsChina that as many households are scattered and isolated, the in-home visits can hardly help solve the lack of social activities, which is also important for children's early development.  

Grandmas, who are often poorly educated and tire more easily, tend to have to try harder to accept the ideas. However, "Some grandmas even do better than some mothers," a parenting trainer in Huachi told NewsChina, adding that some moms are glued to their smartphones during the weekly training sessions.  

Liu Peng is concerned about the stability of the trainers' team. Parenting trainers often have to travel a long distance to families scattered around the mountainous villages of Huachi. Their salaries are low, and they do not have a stable expectation for their future in two or three years, at the end of the program. It is difficult to find women who hold at least the junior high school diploma required by the program and who stay home, as people with better education are more likely to work in cities. 

As parenting trainers in Save the Children projects are community-based family planning officers, the team is basically stable. However, the mountainous areas in Yunnan are also a problem. Wang said some parenting trainers had to make fewer home visits. This could affect the extent of the program. Their mid-term assessment shows that the more visits are made, the bigger the improvements observed in babies' cognitive development.  

REAP is building 50 village parenting centers where caregivers and babies can play and learn parenting skills together. Their trainers are also local family planning officers. Its supercenter for children of new residents who have moved from other places in Shaanxi will start operations soon. All this is designed to solve the problem of the high cost of in-home visits in mountainous areas and depressed, lonely caregivers. CDRF also plans to conduct similar activities which facilitate gatherings of families in their newly-launched project in Xinjiang. 

Extended Efforts
All the institutions have highlighted that attention cannot be solely focused on left-behind children. REAP studies found that left-behind children performed better than those living with their parents in terms of nutrition, and did better in school when older, except emotionally.
Rozelle stressed that left-behind children do not need special treatment, and all poor rural children need help. Lu Mai with the CDRF noted that it was not appropriate to label left-behind children as a group with emotional problems, and thus the key at least for now was to have a caregiver, no matter who it is, who can look after them properly.  

Researchers have been calling for a national policy to provide early development for babies and toddlers. Nutrition is likely to be the first area to see breakthroughs. On June 30, the State Council declared a national nutrition plan, including goals for breastfeeding, pregnant women's nutrition and health indicators for children below five years old.  

The road towards a national intervention on early education for babies and toddlers looks long and hard. The awareness of the public, even among urban elites, needs to be improved. REAP suggested that all parents be required to finish a course on feeding and parenting before getting the official birth certificate. Wang hopes the public-facing campaign can contribute to improving public awareness, which is more important than the success of the pilot projects. A leader of a children's service organization was surprised to hear of the urgency and importance of early education for poor children under three years old, he told NewsChina. It is not easy to persuade Chinese donors to support projects like this about which they have little understanding and for where it takes long time to see visible results, Liu Peng said.  

For local governments and their agencies, it costs money that local governments, stricken with debt already, may not have. In addition, local governments do not have the experience of providing early education services for babies and toddlers as education normally starts at the kindergarten level, Liu Peng said.  

At the annual economic meeting at the end of 2014, the Central Committee of the Communist Party of China (CPC) decided not to "let [poor] children lose at the very starting point of life." Pre-school children's education for poor families has been included in all road maps on poverty alleviation by the central government and the CPC central committee since 2016. Wang thinks this is a big step forward compared with the previous policies focusing on kids already in compulsory education. 

However, a policy of supporting zero to three-year-old children has yet to be laid out in specific terms, including which agency is responsible and what public resources can be invested, he added. REAP has long been advocating to decentralize college education but centralizing the early education of babies and toddlers. REAP estimated that US$3 billion would be needed to build 300,000 village parenting centers around China, and US$4 billion to operate them per year. The total of US$7 billion is only 0.1 percent of China's total public spending on education in 2016. Rozelle has repeatedly stressed China has no problem affording this.  

Best practices are needed before this is realized. Wang said that they have been seeking the best practice for such interventions as a crucial part of empirical studies to facilitate national policy making. CDRF, REAP and Save the Children have all been quite cautious about concluding what the best practice is, before their final assessment is conducted. 

For millions of babies born in poor rural areas each year in China, the brief window of early intervention is passing day by day. For their parents and the country, letting this window close now is a cost that will incur a steep toll in the future.