China's biggest e-commerce company and biggest courier company are fighting over big data – but consumers have got caught in the middle
"Some courier information is difficult to access, and delivery of fresh agricultural products like cherries, lychees, waxberry and mangos has been affected," China's State Post Bureau warned online shoppers on June 1, 2017. The reason, it explained, was that Cainiao, a logistics information provider controlled by the world's largest e-commerce platform Alibaba, and SF, China's largest courier company, had shut off the data flow between the two firms.  

The duel between the giants immediately spread to a public confrontation between both camps. So far Alibaba's major competitors on big data or e-commerce, including Tencent, JD and Netease, have chosen to stay on SF's side, while SF's competitors either supported Alibaba or remained silent.  

The standoff lasted only 48 hours. The State Post Bureau, the logistics regulatory body, declared that executives of SF and Cainiao had been called in to Beijing to solve the dispute with the help of the regulator, and finally agreed to resume their data flow by noon on June 3.  
Few in the industry believe that the business partnership between the two giants will return to being as solid as it was. The fight is widely regarded as just the beginning of a race toward dominance in reshaping the whole supply chain of e-commerce. In this game, while business players are fighting and realigning to secure their profits, consumers' interests and rights seem to have been ignored.
Showdown 

The data was cut off first at Hive Box – self-help collection lockers in which SF has heavily invested – in order to avoid the problem of consumers not being at home when their online shopping parcels arrive and ensure that they don't have to wait in the whole day for their deliveries. Under the Hive Box system, a courier can put a package into a locker and scan the delivery order on the package. Then the Cainiao network automatically texts a pin to the customer's phone. The customer then opens the locker with the pin at their convenience. Hive Box then notifies Cainiao of this step. This is a very efficient way of improving delivery services, but its disruption as a result of the recent disputes has caused a lot of trouble. Couriers had to type customers' phone numbers in themselves, which took many precious seconds longer than scanning them. 

Worse still, SF suspended sharing all its delivery information involving purchases from Alibaba's online retail platform Taobao. Buyers and sellers were unable to track their packages via Taobao. Meanwhile, Alibaba removed SF from the list of courier options on its retailing platforms. Sellers were told to immediately change their couriers. Buyers whose packages were already on the way to SF's network had to ask sellers for the courier code to track their packs at SF's website.  

During the dispute, SF and Cainiao accused each other of cutting off the data flow first, either abusing or requiring access to information of the other's customers. Both defended their own behavior as efforts to protect consumers' information security.  

Business has since returned to normal after the regulator stepped in. However, as data, the core of any Internet-based industry, was the epicenter of the dispute, analysts believe the end of the battle marks the beginning of an even fiercer war.  

Unhappy Marriage 

The match between Cainiao and courier companies looked like a perfect one in the early days. "We will not compete with couriers; Alibaba will never engage in the courier business," pledged Jack Ma, founder and chairman of Alibaba at the inauguration of Cainiao in Shenzhen in May 2013. He described Cainiao as an "idealist" venture. Ma explained that Cainiao would help couriers deliver packages to online buyers anywhere in about 2,000 cities around China within 24 hours at lower costs. He estimated 200 million packages would be delivered daily within a decade. On its website, Cainiao claims that it is a "data-driven social coordination platform," which processes nine trillion data entries daily and runs 70 percent of China's package delivery. The model is the same as Taobao, which provides services for numerous outlets, but does not own or run a single store for them. 

This is why SF, along with many other courier companies and e-commerce platforms, partnered with Cainiao to benefit from this service. Indeed, all the five major privately owned courier companies in China, including SF, are small shareholders in Cainiao.  

The collaboration started out well. According to Cainiao's figures, it took nine days for couriers to deliver 100 million parcels for the annual Single's Day online shopping frenzy in 2013. The time shortened to 6 days in 2014, four days in 2015 and 3.5 days in 2016.  

This relationship began to turn sour when both cast eyes on the other's turf. Cainiao has built its own warehousing and distribution centers in major cities, including Beijing, Shanghai, Wuhan and Guangzhou. The location and products of the warehouses are based on Alibaba's analysis of online consumption data. In this way, these products can get as close to their potential buyers as possible. Cainiao's action was widely described by the media as building a "network on the ground" to complement its "network in the sky," referring to Alibaba's big data platform underlying all Alibaba business.  

The question whether Cainiao was planning a move into logistics business was raised by the media. In June 2015, Cainiao publicly confirmed an even more ambitious plan than was speculated by the market. It would piece together its three networks – the sky, on the ground and through people. The third functions in a similar way to Hive Box. The difference is that it includes not only lockers, but also drop offs at convenience or grocery stores. Alibaba has even invested in several logistics companies, including some of the big four courier companies, beyond SF. In this way, Alibaba has gained large sway in the logistics business, not only through its advantage in big data gathered from e-commerce operation, but also through its own logistics infrastructure.  

SF is not happy. The media has already noted the absence of SF's representatives at several of Cainiao's important events, including its anniversary celebrations. SF stopped providing a delivery service for some low-value Taobao parcels. In an interview with China Central Television in July 2016, Liu Qiangdong, founder of JD.com, one of Alibaba's major competitors in China, warned that Cainiao's real purpose was to build a data system based on the courier companies that would end up with most of their profits siphoned off by Cainiao's own logistics system. "Only SF is refusing [to give up its data resources]; I believe only SF can hold out as an independent courier company," he added. A year later, his forecast has been quoted by nearly all the analysts who study the data flow dispute between SF and Cainiao.
 
Analysts have given several reasons why SF is the only courier company ready to challenge Alibaba. Firstly, SF is also ambitious about developing its own e-commerce supply chain. It has launched several e-commerce websites. It uses big data and cloud technology to provide warehousing, marketing forecasts and settlement services for sellers. Secondly, SF is much less dependent on Alibaba's courier orders and much better at logistics networks than any other courier company.  

Liu Jianxin, vice secretary general of China Communication and Transportation Association Express Service Committee, told NewsChina that Taobao and Tmall accounted for no more than 20 percent of SF's parcels, but 70 to 80 percent of parcels for the other four big couriers.
Thirdly, unlike the other four, which franchise their brands, SF runs its own teams and much larger logistics fleets. According to its annual report, the company had bought 36 cargo airplanes and nearly 16,000 vehicles by the end of 2016. It also had 15 chartered airplanes and cold storage chains. All this makes SF the first choice for clients who are willing to pay higher prices for reliable and fast delivery of business documents and fresh fruits alike.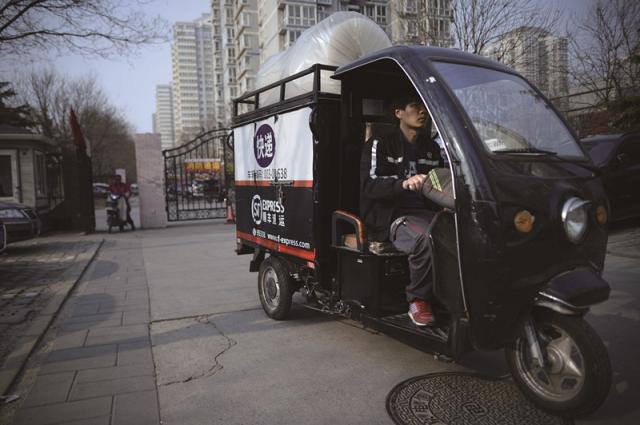 Express delivery tricycles are a common sight in almost all cities in China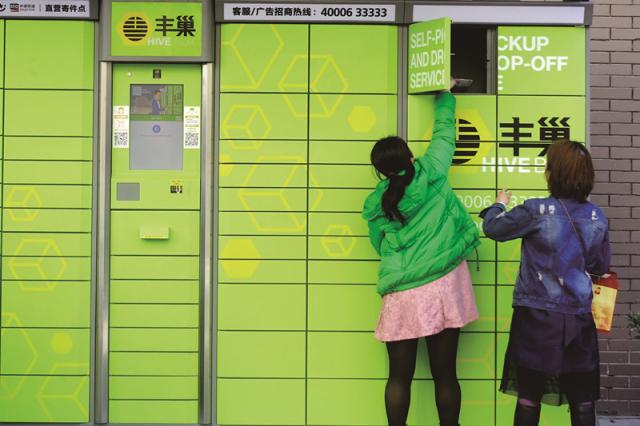 Hive Box has specially installed lockers for sending and receiving express deliveries
More than Data 

At the end of May, SF announced a plan to set up a joint venture in Hong Kong with UPS, a leading international express courier. The new company will focus on logistics services for cross-border e-commerce trade between China and the US first, then expand to the rest of the world.
 
Cainiao has already installed a cross-border logistics network. Its website says Cainiao's service covers 224 countries and regions around the world through its 74 overseas warehouses and partnerships with Chinese and overseas logistics suppliers, including national post offices in the US, UK, Spain and Singapore.  

On June 9, Santai Holdings, the parent company of Sposter, China's largest package locker network operator, declared it had signed a letter of intent of cooperation with a subsidiary of Cainiao. Cainiao denied that this was a response to the recent row with SF, as negotiations over the deal started long before the dispute. However, there is little doubt that their competition will only get fiercer in the future.  

Competition is good for consumers. But right now, consumers are just chips in the poker match between the two firms. While Cainiao and SF both claimed they were defending consumers' privacy, these consumers have already lost control of their own private data on both platforms.  

In an article at The Paper.cn, Liu Xu, at the Tongji Intellectual Property and Competition Law Research Center called for an investigation into whether Alibaba broke the Anti-Monopoly Law by forcing logistics companies to share information of their non-Alibaba orders, or discriminating against those who refused to do so.  

Indeed, Alibaba's outreach into different markets, ranging from finance to logistics, has become increasingly controversial in the past few years. It has been hailed as an ice-breaker of China's State-owned monopolies in some cases on the one hand, while on the other critics have questioned whether it is creating and abusing its own monopoly in dealing with its smaller partners, including retailers and couriers on its platforms. It has also long been facing criticism in and outside China for not doing nearly enough in the fight against fake products on its platforms.  

SF has maintained a much better corporate image, which was why most of the public backed it in the recent dispute – until a public complaint from one of its clients went viral. On June 13, a post by someone who identified himself as the owner of Dream Orange, a fruit supplier in Dalian, Liaoning Province, was widely circulated on social media. It blamed SF for stealing its consumers by sticking the QR code of a cherry supplier from SF's e-commerce platform on to Dream Orange's cherry packages. As this new supplier offered the same product at half the price, Dream Orange suffered a lot of canceled orders from consumers who scanned the code and were led to the competitor's store. SF immediately faced wide criticism for abusing its power over its smaller partners, as Alibaba did. Wang Wei, SF's founder, had to openly apologize and try to assure the public that SF would guard their data and not try to steal customers.  

From a wider perspective, experts hope that the recent dispute between SF and Cainiao can shed light on a better-structured market for both e-commerce and logistics players in the next decade. "This dispute broke out at just the right time [for market players to rethink the question]," Liu Jianxin said to NewsChina.  

Zhao Xiaomin, a market analyst in the courier sector, hopes that industry insiders will think about something bigger. SF is the only private Chinese courier company that has joined the international competition. Zhao expects Chinese couriers to grow strong enough to compete with international giants, including UPS and DHL. 

It is the heart of consumers, not big data, that matters the most, even in this era of big data. Market players have to know not only what to do, but also what not to do.