China's search giant Baidu is trying to push the envelope on 'deep learning' and other AI techniques. But ethical and practical concerns haunt the company's efforts
Fu Gui was just six years old when he was abducted from his hometown in Chongqing in China's inland southwest. As an adult living in coastal Fujian Province, he had only hazy memories of his childhood, which led him to believe he might have been one of China's many stolen children. He uploaded his photo to Baobeihuijia.com in 2009, a site that helps reunite kids and parents.
 
Eight years later, in January 2017, his father and aunt put one of their few photos of the infant Fu, aged four, on the site. That March, China search engine giant Baidu began working with the site, applying its newly developed cross-age face recognition technology. Fu's photos were among the first to be matched, and a DNA test confirmed the results. Fu saw his father's face for the first time on a video chat on April 8.  

The story was widely covered, and brought new hope for the more than 20,000 people seeking their relatives on the site. In March, Li Yanhong (Robin Li), chairman, co-founder and CEO of Baidu, submitted a proposal to use facial recognition techniques to tackle child trafficking cases to the annual sessions of the Chinese People's Political Consultative Conference, the national advisory body.  

Baidu developed the techniques through "deep learning," an algorithm-based computing technique used to "train" machines in pattern recognition. Like other machine learning techniques, it allows computers to perform tasks they haven't expressly been programmed for. So far it has proved to be the most effective means to manage voice and face recognition. As such, it's a branch of artificial intelligence, where computers mimic human's perceptive, cognitive and analytic functions. Although computer theorists and philosophers have widely varying definitions of the term, "AI" has become a common Silicon Valley buzzword, mostly used for such learning functions. Baidu was one of the first companies in China to seek to exploit these new learning functions for itself.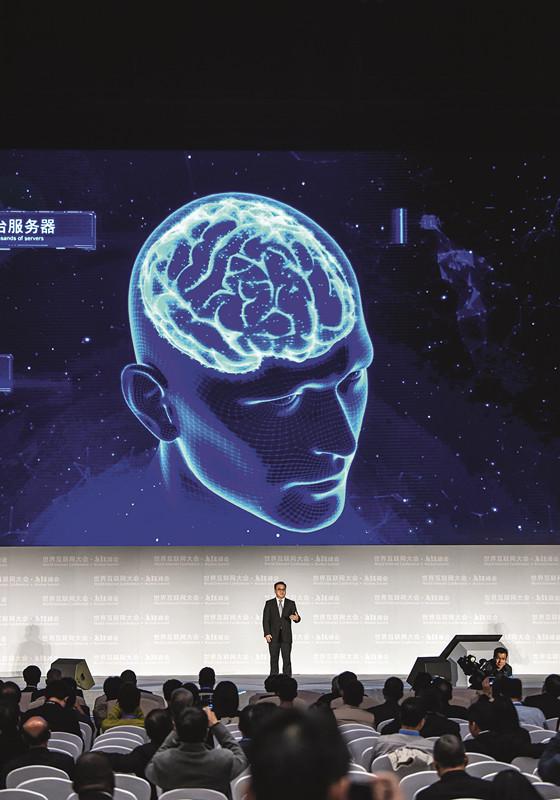 A representative from Baidu delivers a brief on Baidu's artificial intelligence technology at a conference, Wuzhen, Zhejiang Province, November 2016
All-Star Team 

Baidu started as a search engine, becoming dominant in the Chinese market after Google left the country. The vast majority of its profits continue to come from advertising related to the search engine. But Li has repeatedly declared that the company will shift toward being an "AI-first" company from a "mobile-first" one, and said confidently that it will be a leader in the country's coming "AI wave." 

Like other Internet giants including Google, Baidu is investing heavily in AI research and development. According to Baidu's income statements at Nasdaq, the US tech stock index, the company spent 13 to 15 percent of its annual revenue on R&D between 2013 and 2016. A majority of this has been on AI, Wang Haifeng, head of Baidu's AI platform AIG, told NewsChina. His career at Baidu started in 2010 with basic research on natural language processing, voice and image recognition, and he then moved to lead a search technology team.  
"A search engine is designed to try to understand the purposes of its human users; and this is similar to the way that a machine learns," Wang Haifeng told NewsChina. He explained that deep learning improves machines' ability to learn, which in turn has led to faster and more accurately customized searching. Wang argues that Baidu's strong experience with its search engine is one of the main reasons why the company has decided to focus on AI. In July 2013, Baidu launched its Institute of Deep Learning, the first of its kind in China.  

Much of this spending is on human resources. Baidu's statements said the 20 percent and 35 percent year-on-year growth of the R&D budget in 2016 and the first quarter of 2017 was due to "personnel-related costs." An all-star team of AI techies work in Baidu's management and institutes in Beijing and the US. Lu Qi, former global executive of Microsoft, became Baidu's group president and chief operating officer in January 2017 

Andrew Ng, founder of Google Brain, Google's deep learning project, and co-founder of Coursera, one of the world's leading providers of open online education platforms, took on a leadership post at Baidu's AI research institutes in Beijing and Silicon Valley in 2014. He told Chinese and international media in several interviews between 2014 and 2016 that he was attracted by Baidu's strong commitment to AI, technological progress and data resources. But at the end of March, Ng announced he was leaving Baidu to look for opportunities to use AI beyond the world of technology. 

Many other staff are highly qualified. While working for Lab America, part of the Japanese IT giant NEC in 2010, computer scientist Lin Yuanqing led a team that defeated competitors from leading institutions including IBM and MIT, to win the first annual ImageNet Large Scale Visual Recognition Challenge, an iconic international contest. Lin now serves as senior director of Baidu's Institute of Deep Learning. Before joining Baidu's institute in April 2013, Xu Wei worked for Facebook as a research scientist. He led the development of Baidu's open source deep learning tool PaddlePaddle, which was opened to global AI programmers and engineers at the end of September 2016.  

Baidu is looking for and training more young talent who could become AI leaders. Eligible candidates have to be under 30 years old, and have demonstrated AI expertise in particular sub-areas. Successful candidates are offered an annual salary of US$145,000 and career development opportunities, including working for Baidu's institute in Silicon Valley or acting as visiting researchers at MIT or Stanford a year after joining. The plan is for some of them to lead a 20-30 person team for their own innovation ventures, funded by Baidu, after they complete three years of service. 

Baidu's heavy investment seems to have paid off. It has been recognized as one of the world's major players in voice and image detecting systems, which were included in the Top 10 Breakthrough Technologies picked by MIT Technology Review in 2016 and 2017. "We are already seeing the powerful benefits of AI bear fruit across our existing platform," noted Robin Li in the press release of the company's first quarter earnings release on April 27.  

All Fronts 

The more than 1,600 scientists and technicians who work for Baidu's AIG provide AI support for all the departments of the company. "We have distributed AI throughout our company," Wang Haifeng told NewsChina. AI scientists, including Ng, have stressed that AI will be part of people's lives without people's knowing it. In Baidu's case, its AI technology is supporting all its existing services, including search, advertising, maps, takeout dining, safety and consumer financing. In 2016, Baidu was mocked by some Internet industry insiders as a "takeout courier," referring to their food delivery services. In response, Robin Li repeatedly told the media that this business was actually backed by the company's AI technology to optimize couriers' delivery routes.
 
It is also expanding to new frontiers. At a conference with international investment banks on April 28, Li expressed his hope that the company would complete its "strategic evolution to become China's largest AI-centric technology company" in 2017. The company has made several acquisitions toward this goal since the beginning of the year. In February, Baidu bought Raven Tech, a Shanghai-based startup that develops smart homes. In April, Baidu announced the acquisition of xPerception, a US startup on visual perception software and hardware solutions. Baidu said in its press release on the deal that the move would reinforce its AI-based products and projects like augmented reality (AR) and autonomous driving.  

Self-driving cars are another Baidu priority. On April 18, the company made a surprise announcement that it would open its self-driving technology platform, including both hardware and software, to the autonomous driving industry. Lu Qi described intelligent vehicles as "one of AI's biggest opportunities" in the press release. In March, it confirmed that it would lead the new investment round in NextEV, a Shanghai-based smart electric car startup, which already had investment from Tencent, a Chinese giant in social media and video gaming. In August 2016, Baidu USA got approval to test autonomous vehicles on California public roads, joining 30 other companies including BMW, Google and Tesla. In November 2016, Baidu unveiled a driverless truck jointly developed with Foton Motor Group.  

Baidu is also pushing forward fundamental research on AI, which is thought to be a weakness in China's AI efforts as a whole. On March 2, a national lab on deep learning technology was launched at Baidu, realizing Li's dream to build a national infrastructure platform for AI researchers and developers. Sun Wei, a senior official with the National Development and Reform Commission, China's leading economic planner, said at the launch ceremony that the lab was expected to improve China's ability in original innovation on AI. Partners of the project include Tsinghua University, Beihang University known for its research and education on aeronautics and astronautics, the China Academy of Information and Communications Technology and the China Electronics Standardization Institute.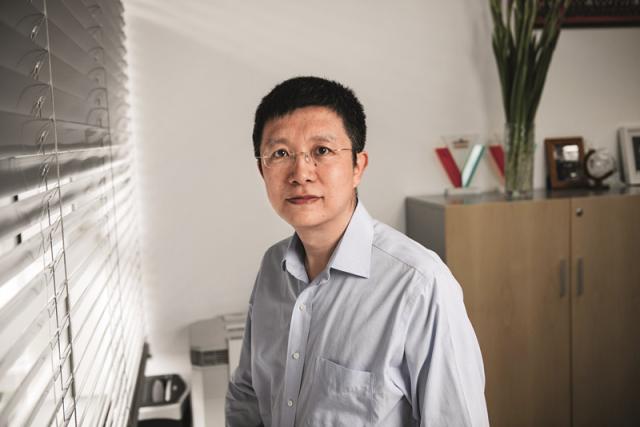 Wang Haifeng, vice president of Baidu and head of Baidu's artificial intelligence technology platform AIG
Values Talk 

Both Baidu and China have reason to be proud of their advances in AI so far, but there is little space for complacency. In a highly competitive sector, Baidu has to work hard to keep ahead. There is still no clear route to monetization for Baidu's AI products, which remain funded by the company's advertising revenue from its search engine. The same is true of Silicon Valley companies. 

But there are also pressing ethical issues. One of the reasons China has been attractive to AI researchers is because of the relatively weak status of the country's data protection law enforcement, meaning a huge amount of "gray data" is available to researchers. Since deep learning depends on a massive pool of data, this is a considerable advantage, but it also raises pressing questions about the protection of individuals' rights and privacy.  

While the Chinese government has repeatedly pledged better data protection, Baidu has a particularly poor reputation in this regard. In January 2016, the management of an online non-profit hemophiliacs forum was sold by Baidu to institutions and individuals touting dubious healthcare services and products. The following month, Wei Zexi, a 22-year-old college student with end-stage cancer, publicly accused Baidu of selling its search results to the highest bidder. Wei's parents had raised money to get him treatment at a hospital ranked top of Baidu's search results. The hospital claimed it was a part of a top-level military hospital in Beijing, and the treatment was being done in collaboration with Stanford University. Both claims were false.
These scandals triggered public outrage. In May, Baidu was ordered by regulators to change its recommendation system – but trust in it is still at a low.  

Baidu's academic integrity has also been questioned. In 2015, a Baidu research team claimed that they did better than Google in a contest on image recognition at the ImageNet Challenge.
They admitted later that they amended the rules to win and apologized for the irregularity. As a result, Baidu was banned from the contest for 12 months. Baidu fired the team leader, who denied cheating, but the firm's image was already damaged.  

Even within China, Baidu is not regarded by the AI industry as a champion in particular areas of deep learning it is focused on, including voice and image recognition, Professor Yu Kai, chief scientist and co-founder of AISpeech, a startup in Suzhou, Jiangsu Province, and director of the SpeechLab at the Computer Science and Engineering Department of Shanghai Jiao Tong University, told NewsChina. His own company is an example. Goldman Sachs, an international investment bank, has identified five key players in the subsector of "voice detection and replication" in its AI report in November 2016. AISpeech and the Beijing-based startup Mobvoi are the two from China, with the other three from the US. 

The report also shows that China has "surpassed the US" in terms of the number of journal articles cited for "deep learning" or "deep neural network." It concludes that "the key players at the forefront of artificial intelligence are likely to continue to be in the US and China."  

Yu thinks China is an important, but not leading force in world AI research and business. Besides the large number of Chinese AI scientists and journal papers, the AI applications for consumer services via mobile phones in China have outperformed developed markets, including the US, in terms of both quantity and quality. A complete system of AI research and commercialization has already been developed in China, he said.  

China is well-positioned to develop and install new technologies like AI. More Chinese professionals have returned to China after studying and working abroad. All three co-founders of AISpeech are Cambridge graduates. Yu was never hesitant about coming back as he says he saw many more opportunities in China for fast development in the world's largest market where tech-oriented startups are increasingly encouraged.  

But China lags behind the US on basic, original research. Yu attributes this partly to less tolerance towards failure and more eagerness to produce visible results with immediate monetizing possibility, a mindset that prevails among society and investors. Another gap, Yu said, is the weak link between research institutes and industrial companies.  

Another barrier that is hindering the AI development in China is the old problem of discriminatory treatment of the country's private small and medium sized enterprises (SMEs). As one of the few tech-driven AI companies in China, AISpeech has got fiscal support from the government. However, Yu hopes private SMEs, particularly tech startups, can have equal access to national projects which also mean more market opportunities to promote new technologies. 
AI might offer new learning possibilities. But the age-old programming rule, "Garbage In, Garbage Out" still applies. Only when AI is directed toward the right ends will it end up serving public need, rather than being a flashy buzzword, or even a weapon against human society. 