The idea of industrial parks run by Chinese enterprises along the Belt and Road seeks to boost the industrialization process of host countries. Their success lies in a mutual learning process, which means Chinese operators and policy makers cannot simply copy past experiences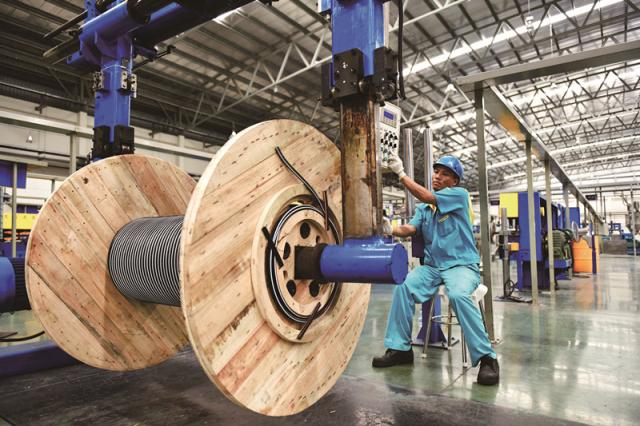 A Thai worker at the factory of Futong Group Communication Technology (Thailand) Co in the Thai-Chinese Rayong Industrial Zone
Trade in silk, porcelain and tea connected China and the rest of the world in ancient times along the silk roads. Returning to the global trading network in the late 20th century largely underwrote China's economic take-off, and in turn China's resurgence in world politics, in the 21st. Now the world's largest trading nation in merchandise is setting her eyes back along the ancient trade routes, but beyond just trade.  

According to China's official data, Chinese companies invested more than US$50 billion between 2014 and 2016 in countries along the routes of the Belt and Road, a Chinese initiative proposed in September 2013 to link China, Europe and Africa via land and sea. Capital flow from China to the rest of the world is estimated to reach US$600 to US$800 billion in total for the five years from 2017 onward. "Much of it will go to the Belt and Road," said Ning Jizhe, vice minister of the National Development and Reform Commission (NDRC), China's leading economic planning agency, at a press conference in Beijing on May 12. At the Belt and Road Forum for International Cooperation in Beijing on May 14, Chinese President Xi Jinping announced the provision of more than US$55 billion in loans for financial, infrastructure and production capacity cooperation under the initiative.  

The 56 industrial parks in operation, jointly built by China and 20 host countries along the Belt and Road, are one of the main destinations of China's investment. According to China's official data, they had absorbed more than US$18.5 billion of Chinese investment by the end of 2016.
In China's roadmap to realizing the vision of the Belt and Road, overseas industrial parks are one of the main ways for international cooperation on production capacity, a priority area of the Belt and Road initiative.  

Domestically, special economic zones, industrial parks or development parks have acted as the forerunner of China's transition towards a market economy, and remained a powerhouse for China's growth today. Pro-market policies and reforms have been tried there first. In terms of leading overseas ventures, such parks are supposed to help Chinese companies learn how to take off in unfamiliar locations. In China's recently issued explanatory official paper titled Jointly Build the Belt and Road: Ideas, Practices and Chinese Contributions, these parks are defined as "important channels for investment cooperation and transplanting and replicating China's development experience."  

Like the Chinese enterprises which have gone abroad, operators of these parks have learned that their experience at home, no matter how successful and rich it has been, does not make it easier to succeed overseas. The key to their own success and the purpose of "transplanting and replicating China's development experience" is probably not to copy all their practices at home, but to adapt some practices to local conditions.
Together 

Even before China joined the World Trade Organization in 2001, China adopted the "go global" strategy to encourage Chinese enterprises to invest in overseas markets. A few, but not many, large Chinese companies built industrial parks mainly for their own businesses. In 2006, China's Ministry of Commerce declared a plan to build 50 industrial or hi-tech parks in overseas host countries, which are collectively called "overseas economic and trade cooperation zones." The original purpose at the time was to reduce China's fast-growing trade frictions with other countries and reduce its then excessive foreign exchange reserves. Chinese exporters were motivated to manufacture in a third country to circumvent punitive tariffs imposed on cheap Chinese imports by major markets, particularly the US and European Union. Another key reason for Chinese companies to expand abroad would emerge: seeking lower labor costs as domestic costs rose fast.

The preference for choosing industrial parks for expansion was largely due to the bitterness of going it alone in unfamiliar environments that Chinese enterprises had tasted in previous years, according to Edward Kingson, director of the Brand Culture Department of the Jiangsu-based HOdo Group, a private garment company with outreach into financial services. It began considering going abroad in 2007 due to rising labor costs in China. It now leads the investment and operation of the Sihanoukville Special Economic Zone, the largest of its kind in Cambodia now, in partnership with Cambodia International Investment Development Group Co., Ltd. The operators helped companies in the park comply with local administrative procedures. The local Cambodian government found the site to be an example of good practice and now the operators and local government work together to offer one-stop services for all companies in the park, including those from the US, Japan and Cambodia. The zone was launched in 2008 and has become one of the first eight "national" overseas industrial parks approved by China's Ministry of Commerce.  

China expects something more than better trade conditions and lower costs from going global as the country has grown to be world's largest manufacturing power with its own full-fledged industrial supply chain domestically. In the past two years, Chinese enterprises have been eager to shift production facilities to countries with lower costs, or to buy companies with international brands and leading-edge technology around the world. Chinese leaders have kept promoting the idea of international production capacity cooperation in their travels around the world and at international gatherings. China has described the production capacity cooperation a synergy of developed countries' advanced know-how, China's manufacturing power and the demand for industrialization in less-developed countries. In various documents issued by China's State Council, the cabinet, and its ministries since 2015, China expects the implementation of the vision to boost the global market, build a global supply chain for Chinese enterprises, upgrade China's industry at home and improve China's say in the global supply chain.  

Production capacity cooperation and overseas industrial parks have been listed as priorities - either in parallel or interconnected - in China's roadmaps to realizing the Belt and Road initiative. The State Council's guideline issued in 2015 noted that production capacity cooperation could facilitate the Belt and Road initiative, and overseas industrial parks could be an "innovative business model" to this end by building a full supply chain on location. At a meeting on the Belt and Road in August 2016, Chinese President Xi Jinping called for the implementation of key projects by focusing on infrastructure connectivity, international production capacity and cooperative industrial parks. In November 2016, seven Chinese ministries jointly declared guidelines on improving China's position in the global value chain. It urged "taking the opportunities of implementing the Belt and Road initiative and the international cooperation on production capability" to push forward the "go abroad" concept.
One of the platforms was overseas industrial parks.  

Guo Jianmin, an official at the NDRC International Cooperation Center, believes overseas industrial parks are the most important platform – at least so far – for China's international cooperation on production capacity, and provide a more effective way to build a China-led global supply chain, compared with doing this by individual companies. As he told NewsChina at a recent forum held by the Institute of Global Development of Tsinghua University, the choice of this model was based on the combination of China's own experience in trying new things during its economic take-off and the host countries' strong interest in learning from this experience.  

More on the Road
In a video interview with china.com.cn in September 2014, Fang Wei, vice director of the Department of Outward Investment and Economic Cooperation of China's Ministry of Commerce, disclosed that there were only nine "national" overseas industrial parks at that point, eight years since the announcement of the plan to build 50 such overseas parks. This means 11 out of the 20 current "national" overseas parks have been built in the two years or so since the interview.  

It can be partly explained by the fast-growing abilities of Chinese companies to go global in the past two years. But the Belt and Road initiative also provides good prospects for these overseas, cooperative industrial parks. Kingson, with the Sihanoukville Special Economic Zone, told NewsChina that the initiative has made overseas parks more attractive and better-known than ever to Chinese enterprises interested in going abroad. For example, increased investment in transportation infrastructure since the initiative was proposed has shortened the travel time between Wuxi, Jiangsu, where HOdo's headquarter are and its Sihanoukville park to one-third of what it used to be. Most of the over 109 companies in the park now have joined in the past two years.  

Kingson is more confident than ever of the realization of the plan for the future of the Sihanoukville zone. It will have 300 companies on its 11 square kilometers of land and employ 80,000 to 100,0000 industrial workers, compared with 160,000 now. It is expected that the zone will become a city for people to live in, not just a manufacturing base.
 
Just before the Belt and Road Forum for International Cooperation in May this year, several Chinese ministries published measures that have already been and will be taken to support the Belt and Road initiative, including financial support for overseas cooperative industrial parks. For example, the State Administration of Taxation announced that they had already reached agreements with 54 out of the 64 countries along the Belt and Road routes to avoid dual taxation for Chinese and foreign companies alike. The ministries have also provided information on investment taxation policies in 40 countries along the Belt and Road, sent officials there and trained taxation officials from countries along the routes. This could benefit those companies in the parks.  

During the Belt and Road Forum, China signed agreements on joint industrial parks with a number of countries. China has also proposed an action plan for technological cooperation in ways including joint hi-tech parks among Belt and Road countries. In an interview with the China Economic Times published on April 25, Zhang Wei, vice director of the Chinese Academy of International Trade and Economic Cooperation, a think tank under the Ministry of Commerce, said that China would accelerate negotiations with host countries through agreements on investment promotion, infrastructure, production capacity cooperation and cooperative industrial parks. Feng Zhaoyi, honorary chairman of China-Africa TEDA Investment Co., Ltd, the operator of a China-Egypt industrial park near the Suez Canal, disclosed at a forum on overseas industrial parks along the Belt and Road, sponsored by the Beijing based think tank Center for China and Globalization (CCG), on April 25, that TEDA would take over the operation of 35 industrial parks owned by Saudi companies.  

An Yonggang, a member of the Financial Committee of the Western Returned Scholars Association, studied and worked in Southeast Asian countries for more than ten years before he returned to Beijing in 2015. He is working with his alumni from the National University of Singapore on projects for building and operating industrial parks in Southeast Asia, South Asia and Africa along the Belt and Road routes. The Belt and Road initiative was the biggest factor in his decision to come back, as he told NewsChina. He believes many more Chinese companies will go abroad and they will need the parks. Even Chinese exporters, who have had much more direct overseas contact for longer than Chinese investors, do not have much hands-on overseas experience, as most of the time they can just wait for their foreign buyers to come to Yiwu, a wholesale export center in Zhejiang Province, or the annual trade fair in Guangzhou, he added.  

A Window 

This does not mean that the Belt and Road initiative is a government-backed guarantee for the success of China's overseas cooperative industrial parks. On the contrary, Chinese operators and scholars have already realized that running an industrial park faces higher costs and risks than at home, and that certain familiar practices used at home simply do not work elsewhere.  

Running an industrial park is much more complicated than a company. As An explained to NewsChina, it involves real estate operation, financial service provision and an understanding of the business of the enterprises in the park.  

At the CCG forum on overseas industrial parks, representatives from Chinese enterprises already running overseas industrial parks or considering doing so stressed the local climate factors affecting their choice, mainly China's political relations with the host countries, local infrastructure and supply chain conditions and market prospects.  

The climate is not always welcoming, nor the local practices clear. For example, the Chinese enterprises complained that some local governments in India attracted Chinese investors there and then suddenly turned against them. Negotiations on a joint industrial park in Ethiopia were difficult until 2012 when the Ethiopian government established a new national development strategy in favor of drawing on China's experience in industrial parks. Some host countries thought Chinese enterprises just wanted to trick their hosts out of money, or impose the China model there, according to Dr Tang Xiaoyang, deputy director of the Carnegie-Tsinghua Center for Global Policy.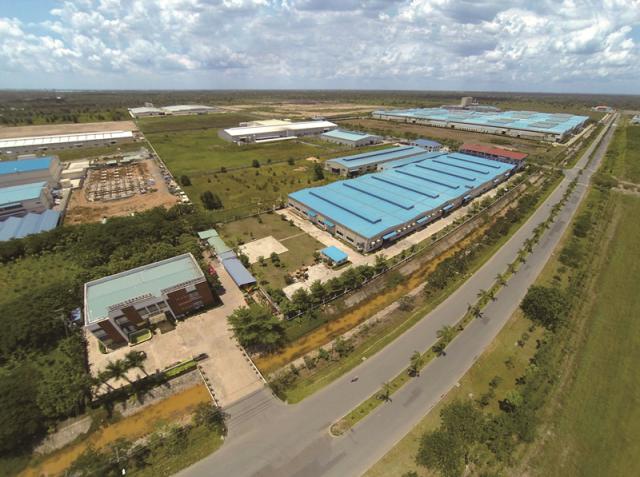 Long Jiang Industrial Park lies alongside the Ho Chi Minh city – Trung Luong Highway
Sheng Guofei, director of the investment promotion office of the China Chamber of Commerce for Import and Export of Machinery and Electronic Products, noted that the developing economies they visited during the past two years hoped to invite firms involved in high value added industries to help upgrade their local industries and technology. However, he said, such enterprises required high standards for local infrastructure, supply chains and labor conditions, which were rarely already there. He suggested that all parties involved in new industrial parks abroad would work closer to solve this in the future. Feng Zhaoyi, honorary chairman of the China-Africa TEDA Investment Company, thinks it a good idea to have a big company establish itself first, which would bring its smaller suppliers there.
 
A big difference in operating an industrial park overseas from doing so at home is that host countries generally do not offer as strong financial and administrative support, for example, offering very cheap land and getting the basic engineering ready for construction, as the Chinese government does for domestic parks. "They just regard you as an enterprise," said Feng Zhaoyi.  

It takes a long time for an industrial park to yield returns. However, industrial parks are more often adopted by less developed economies to boost their industrialization process. Wang Jianye, Managing Director of the Silk Road Fund said at the meeting that he personally saw a limited window of opportunity for operators.  

Local and International 

Chinese enterprises have apparently learned bad lessons from their old practice of focusing on building good relations with government officials in host countries, and ended up stuck between opposing political parties and facing conflicts with local trade unions and communities there. To avoid this, Chinese enterprises abroad are increasing their local employment fast, and paying more attention to relations with local communities. The majority of workers in HOdo's park in Cambodia are Cambodians. TEDA's park in Egypt is jointly run by Chinese and local partners. As Cambodia's population is largely low-skilled, it welcomes labor-intensive Chinese factories that train Cambodian migrant workers from rural areas with the necessary skills, Dr Pheak Sothea, director of the Cambodian Department of Rural Economic Development, told NewsChina in Beijing at a China-EU forum on poverty reduction along the Belt and Road on May 18. Recently, China's State media has repeatedly presented Chinese companies employing local workers along the Belt and Road as positive examples of development programs. Pheak hopes Chinese companies will also help children of Cambodian migrant workers who have been left by their parents with their grandparents, a social problem China is still grappling with itself.  

Over the past four decades, Western companies have brought their skills and technologies to their Chinese partners and staff, who have become strong competitors of Western companies both in China and internationally. The home appliance sector is a typical example. Tang Xiaoyang of Carnegie-Tsinghua told NewsChina that Chinese companies in less-developed countries along the Belt and Road would face similar competition once they help build local supply chains. But he thinks this pressure is good for China's overall industrial upgrade, though less competitive Chinese companies would have to swallow this bitter pill.  

While bringing jobs and skills helps Chinese companies find a welcome in host countries, Professor Zhao Kejin, vice secretary-general of the Institute of Global Development of Tsinghua University believes the potential competition is why Chinese companies should also make high-tech investment in even less-developed host countries. As he explained to NewsChina, this is an effective way for Chinese companies to keep competitive in the long term. "Nearly all cars running on Cambodian roads are international well-known brands," he said at a recent forum sponsored by his institute. In his speech, he took the example of South Korea. His research found that low-tech South Korean companies in China's Shandong Province typically only lasted five years, soon ending up defeated by Chinese competitors.  

An Yonggang pointed out that Chinese industrial parks and Chinese enterprises in those parks have to bear in mind that they are already competing with Japanese, South Korean and US counterparts even in labor-intensive sectors in less-developed markets along the Belt and Road. "We have to bring our best there to compete," he said to NewsChina.  
Being more international could also help China's joint industrial parks have a better chance of making the projects commercially successful. Wang Jianye of the Silk Road Fund said at the CCG meeting that Chinese operators should also try to attract more non-Chinese enterprises into their parks.  
In many recent analyses on China's overseas industrial parks, there are frequent calls for the Chinese government to offer more financial support and negotiate with host countries on favorable taxes for these parks. An Yonggang warned that special treatment for Chinese parks abroad would attract strong criticism for unfair competition in host countries where there are many other industrial parks and companies – locally established or run by other countries. He is also concerned that Chinese State-owned enterprises would enjoy many more resources from the Chinese government. As a privately-held operator, he is more worried about this unfair competition from his home country than from foreign competitors. He hopes that all public funds available for overseas industrial parks projects will be open and transparent.  

Dealing with corruption in less-developed host countries is a problem for Chinese enterprises, which have often been accused of using bribes to win bids. HOdo's solution is to build contact with Cambodian anti-graft authorities from the outset. "It is a deterrence, and has worked well so far," Kingson told NewsChina. However, this may not work everywhere else. In a recent interview in Beijing with China National Radio, Hun Sen, the Cambodian Prime Minister, confirmed his strong support for the Sihanoukville Special Economic Zone.  

Another controversy is whether Chinese overseas industrial parks assume a more political than economic role in China's interests, particularly if a park is run by a Chinese State-owned enterprise. Tang thinks this may be true in the early days of a park in a less developed country, to help the park set up its presence there. However, any such parks have to be economically successful to be sustainable in the long run, as proved by parks and special economic zones within China over the last four decades, he stressed to NewsChina.  

As Tang said at the CCG meeting, financial support from the Chinese government is not helpful for overseas parks that are already highly market-oriented themselves or operate in a market-oriented economy. In these cases, such one-size-fits-all financial support only distorts local markets in host countries.  

Relations with governments both at home and in host countries remain a challenge for Chinese industrial park operators and their enterprises. Being both local and international is probably part of the solution. Only when they make economic sense for both China and host countries, can they also make political sense.