Although China's weather forecasting has become considerably more accurate in recent years, the emergency response mechanisms for natural disasters still aren't enough to cope with the wave of calamities caused by climate change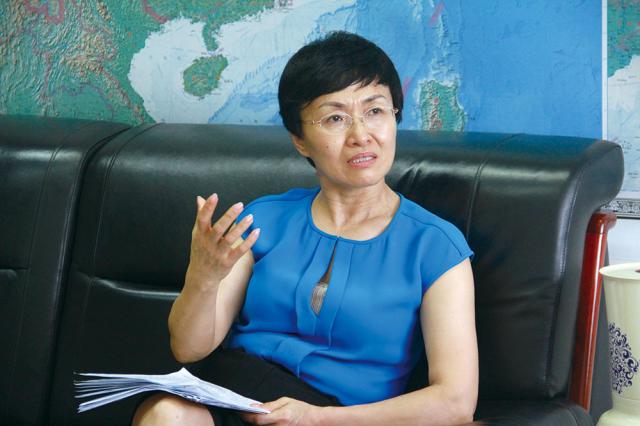 Jiao Meiyan / Photo by IC
T
his year China has been blitzed, like many countries worldwide, by more extreme weather thanks to the El Niño effect. More than 160 people were killed and dozens are missing in southern China after heavy rains and flooding in early July. In June, dozens died in the eastern province of Jiangsu when the region was hit by hailstorms and an unprecedented tornado. 
According to the latest statistics released by the Ministry of Civil Affairs, since 2011, intense natural disasters across China have caused a total of 883 deaths, with 233 more people missing. 
The death tolls rise despite huge efforts poured into monitoring extreme weather conditions. In 2015, these efforts produced a record-breaking accuracy rate of 87.3 percent for predicting precipitation, 80.6 percent for predicting maximum temperature, and 85.4 percent for minimum ones. The range of error in 24-hour typhoon tracking was reduced to just 66 kilometers, in line with the highest global standards.
A more integrated meteorological early-warning system, making use of satellites, radar and widespread automatic stations across the country, has been created in recent decades to provide accurate and timely forecasting. But despite the enhancement of meteorological monitoring, the loss of life and property during this summer's extreme weather conditions have demonstrated that the country's emergency response mechanism cannot surmount the challenges brought by disasters caused by extreme weather. 
In mid-August, NewsChina talked to Jiao Meiyan, deputy administrator of the China Meteorological Administration (CMA) about the current development and limitations of meteorological disaster early-warning systems in China. 
NewsChina
: Can you give us an overview of China's extreme meteorological disaster early-warning mechanism? 
Jiao Meiyan
: After over 60 years of development since our country's meteorological service was first set up in the 1950s, we now have an integrated disaster early-warning system, combined with disaster prevention and mitigation mechanisms.  
We have enhanced our weather forecasting and monitoring. In the 1950s, we could predict the weather a day or two in advance at best, and now we can make forecasts a season ahead. For example, we predicted this summer's floods in most parts of China this March. We can also make daily forecasts half a month ahead, and hour-by-hour weather forecasts two to three days ahead.  
Underpinning our weather forecasting and service activities is an integrated weather and climate monitoring system, comprised of satellites, radars, automatic weather stations and other modern detection equipment.  
Meteorological offices at different administrative levels are responsible for making forecasts for different areas and for deciding the levels of early warning they provide within their domains when they predict disastrous weather.  
We have also set up a widespread disaster early-warning dissemination network using diversified communication methods, including TV, radio broadcast, online platforms, cellphones and so on to ensure the coverage of even the remotest areas.  
NC
: Is the system as it stands sufficient? 
JM:
Effective warning doesn't equal effective disaster prevention and mitigation. It is vital to get the warning to people in danger by any means possible. Over the past few years, we have tried to cooperate with all kinds of media and some key telecommunication firms, such as China Mobile or China Telecom, to mobilize their resources. Once there is an orange or red alert, the telecom firms are responsible for distributing the message to all their mobile subscribers free of charge. For example, in Guangdong Province alone, mobile operators sent out over 220 million text messages to locals before and during Typhoon Nida in early August.  
At the community level in rural areas, we have trained over 760,000 meteorological correspondents, covering almost every village across the nation, even those in the remotest regions. When they get early warning of a weather hazard from the local weather office, the correspondents are responsible for informing all the residents in their areas. They use all kinds of tools to relay warning information ranging from modern ones like smartphones to traditional ones like loudspeakers and bronze gongs to reach people during emergencies.  
But reaching the target audience with accurate forecasts and warnings alone is not enough to make the disaster prevention system successful. Proper emergency response actions from the local government and community upon receiving the warning are as vital for saving lives as accurate meteorological forecasts and warning systems.  
In July 2012, heavy floods caused by extreme rainfall in Beijing killed dozens of people, which raised questions about the effectiveness of warnings and the disaster-control capabilities of the metropolis. But this year, similar torrential rain soaked the city in July, without a single report of a fatality. We have to give credit to the local weather office for its improved forecasting ability and to residents for their enhanced awareness of weather hazards.  
But we also have to recognize the effective cooperation and the efficient actions taken by government agencies and the communities within the city. The improved cooperation and emergency response enabled the prompt spreading of alerts and warnings before the rain fell. Government departments, including public security, transportation, urban management, flood control and others, kept an eye on weather information and planned and adjusted their disaster prevention and mitigation measures swiftly on the basis of the weather forecast and warning updates, such as diverting people and traffic from spots and roads that might potentially be left underwater.  
NC
: Can you explain further how the CMA and other government departments cooperate in the early-warning system? 
JM
: On the national level, we have set up an inter-agency coordination and cooperation mechanism, with 29 different ministries. In recent years, we have developed exemplary cooperation with the Ministry of Land and Resources [MLR], the Ministry of Water Resources [MWR] and the State Forestry Administration [SFA]. For example, the CMA and the MLR jointly release early warnings for rainfall-induced geological disasters and landslides, the CMA and the MWR jointly release early warnings for flash floods in mountain and canyon areas, and we do the same for forest fires with the SFA. At the local level, a similar inter-agency coordination mechanism is also in place.  
Since 2010, following the Zhouqu landslide disaster in Gansu Province that killed over 1,800 people, the central government has started to invest hugely in both engineering and other measures to prevent similar geological disasters in the future. Engineering includes the building of dykes, dams, reservoirs and flow channels, while the setting up of monitoring and early-warning systems, and community-based disaster prevention, are among the other measures taken.  
With this input from public finance, over 50,000 meteorological monitoring stations have been set up in areas vulnerable to geological hazards across the country to monitor hazardous rainfall. Local weather offices have also carried out risk investigation and assessment to evaluate the specific rainfall scale that can lead to potential geological disasters. In over 1,800 counties, weather offices have set up joint early-warning mechanisms with the local authorities who deal with land and resources. From 2011 through 2015, this system saved an average of over 60,000 lives per year.  
Given the success of this inter-agency cooperation and the early-warning and response mechanism for meteorological hazards, the central government decided in 2011 to set up a National Emergency Early-warning System and in mid-2015, the system was officially launched and hosted by the CMA. The warnings issued by the system have been expanded from meteorological ones to multiple hazards, and the system is currently used by 14 major ministries for issuing warnings and sharing disaster-related information.  
The system remains under construction and the major goal of the platform is to establish a network capable of wide and prompt dissemination of advisory and warning information about multiple possible hazards at the national, provincial, city and county levels. It will be connected with existing and emerging communication channels to make sure that early warnings reach the public through multiple platforms in a timely manner. 
NC:
What are the limitations of the early -warning system, as things stand? 
JM:
China's natural disaster early-warning system was developed much later than those in developed countries like Japan and the US. But today we're matching the world's highest standards in areas such as 24-hour weather forecasting and typhoon track forecasting. But our ability to forecast tornados and hailstorms precisely remain limited compared to the US's.  
In addition, due to climate change, China is experiencing more extreme and sometimes unpredictable weather and climate events. It is estimated that China is prone to even higher risks of high temperatures, flood and droughts. From 1961-2015, the number of days with rainstorms increased by 4.2 percent every 10 years, while the average number of rainy days dwindled 10 percent. Thus a major challenge to us is that our current forecast and warning capabilities still fall short of the requirements for disaster prevention in the context of increasingly extreme weather and climate change.  
Bearing in mind that weather and climate forecasts can hardly be 100 percent accurate, the government and public should realize the importance of risk management based on climate information and analysis. Such risk management measures may include building stronger dykes, more solid houses, more resilient public utilities and so on.  
The central government has emphasized the concept and practices of risk management. Our meteorological service, in cooperation with other sectors, can play an essential role by enhancing climate risk investigation, assessment and analysis, so that the vulnerable regions can be categorized into different degrees of risk. Take the flood-prone urban regions: the local governments can take this information and use it to optimize their urban development plans through such projects as "sponge cities," which are capable of dealing with long-term drought and waterlogging thanks to well-designed and solid underground pipeline and sewage systems.