Our contributor discovers the wonders of Tibet in a charming corner of Sichuan Province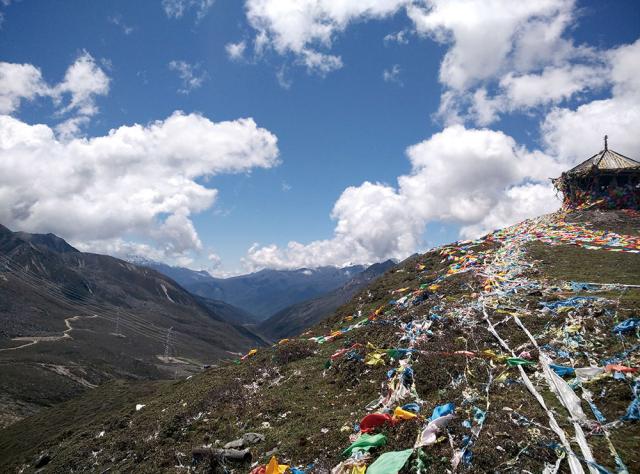 A pagoda on the road to Kangding / Photo by Njal Homeyer
R
arely have I ever experienced anything more breathtaking than standing atop Paomashan. The mountain offered a magnificent panoramic view over the city of Kangding, or Dardo in Tibetan, as rays of sunlight shone through valleys clad in gray and green. Adding to the atmosphere were Tibetan prayer flags hanging from the Buddhist temple behind me, which flapped unceasingly in the howling wind. The view was breathtaking in another way – at almost 3,000 meters above sea level, I was struggling to keep my blood oxygenated.
Although Kangding is not technically in Tibet, it is one of the many cities in western Sichuan Province with strong Tibetan roots. By Chinese standards it is a fairly small place, with just over 130,000 inhabitants, most of whom live in the city center which lies squeezed between tall mountains.
One of the best ways to enjoy a full view of the city and its majestic surroundings is by climbing Paomashan. When my friends and I sat in our hostel contemplating whether or not to attempt an ascent, an employee made every imaginable attempt to dissuade us from "wasting time" on scaling the peak because, as he claimed, it was "nothing special."
Regardless, we still decided to go. As it turned out, not only was gazing down from the top a marvelous experience, but the whole hike up also offered glimpses of temples, from the monumental to the miniscule, large stone stelae inscribed with poems in Tibetan and Chinese, and an abundance of many-colored prayer flags hanging from almost every tree. We therefore figured that our local friend must have grown too accustomed to the view to appreciate it in the way outsiders might. Climbing (there's a cable car for the less robust) Paomashan is therefore definitely a must when visiting this beautiful city.
Nevertheless, staying at ground level is equally appealing. Kangding, like most cities in China, has the standard selection of karaoke bars, pubs, night markets and Internet cafés. However, there is also the opportunity to try authentic Tibetan food, such as deep fried yogurt, yak meat, yak butter tea and Tibetan dumplings. The city's main activity every day is evening dancing in the main central plaza, which becomes packed with people at sundown – almost 200 were dancing in a single massive circle when we visited. Anyone, regardless of skill level, can join in, as the principle of "learning by doing" has a strong presence here. Another activity my friends and I found particularly amusing as we wandered through Kangding's streets was searching for the most terrible English translations of Chinese shop names. Eventually, "People Shop," "The Face in the Face" and "Fat Girl's Snack Bar" were the ones that made it to the top of our list.
Despite the beauty of the city of Kangding, the main reason for the tourist hordes is its position as a stop-off before one ventures onto the vast grasslands that are the gateway to the Tibetan plateau. Traveling northwest from Kangding, you first hit the town Tagong, or Lhagang in the local tongue. It is a tiny place with only one main drag which can be walked end-to-end in less than five minutes. Surrounding the town are small hills and grasslands where docile herds of grazing yak stretch far into the horizon, like buffalo in the Old West.
What struck us when we first arrived was the silence, the absence of the never-ending waves of people which seems a built-in feature of settled areas of China, and that the air was so fresh and clear that it was finally possible to enjoy the azure sky that we had not been able to see properly since arriving in China's polluted eastern regions a year previously. Tagong has a serene and peaceful atmosphere, particularly welcome if you have spent a lot of time in the country's larger cities.
The area around Tagong is just as enticing as the town itself. If you follow its only major waterway less than a kilometer downstream, you will get to the area where local Buddhists have carved and painted Tibetan prayers on thousands of rocks. This project is by no means complete, as locals can still be seen solemnly scrawling away on a regular basis. The dizzyingly limitless grasslands, meanwhile, are best explored on horseback together with a guide, or on foot, so long as you take plenty of water to combat altitude sickness. The latter option also allows travelers to explore the various temples in the area around Tagong. The greatest of these is Tagong Monastery (Pel Lhagong), where you can view its vast prayer hall, tame deer roaming the grounds and, if you are lucky, roller-skating monks.
However, our fondest memory from this place is from when we were invited into the house of a nun living in the village next to the main temple complex. She offered us hot water and, as we drank, she told us that she originally wanted to become a police officer, then wanted to move to Argentina, but finally ended up becoming a nun. She lived with two older nuns who had remained silent during our visit – they only spoke Tibetan. Right before we were leaving, the eldest one dropped a short stick she had been holding. I picked it up for her, but when she took it she accidentally whacked me on the nose, which made everyone laugh. The sparkle of these silent keepers of the temple was another small highlight of an unforgettable visit.
For those willing to make the trek, western Sichuan has a serenity almost impossible to find in China's densely populated eastern regions. From clear blue skies to dancing, hiking and experiencing the unique beauty of indigenous Tibetan culture without wading through the bureaucratic nightmare that now precedes a trip to Tibet itself, Kangding and Tagong should be on every itinerary.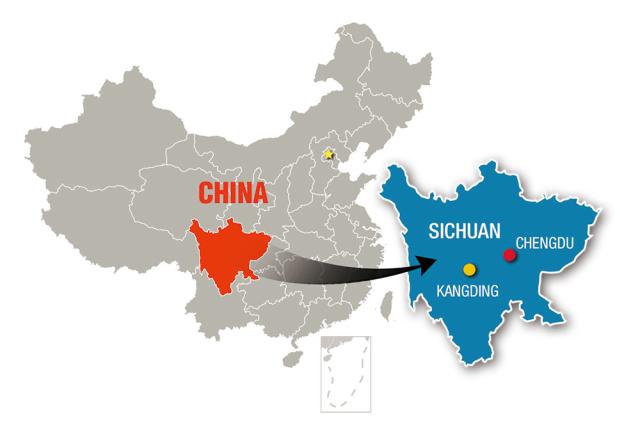 By far the fastest way of getting to Kangding is by plane, which takes less than one hour from Chengdu and costs around 1,200-2,000 yuan (US$180-300). You can also travel there by bus from Xinnanmen Bus Station in Chengdu. It takes six to 10 hours, depending on the quality of the road, but the tickets are 90 percent cheaper than if you go by plane. When traveling from Kangding to Tagong you can arrange with your hostel for a van to drive you there, for a standard price of 50 yuan (US$7). The drive takes around three hours.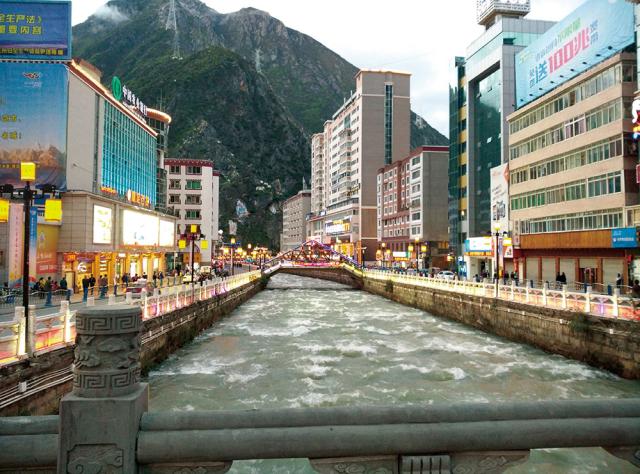 Kangding's main street / Photo by Njål Homeyer
There is a handful of hotels and hostels available to travelers venturing to Kangding. It might be difficult to find anything fancy, but on the bright side, the selection at hand is quite affordable. Zhilam Hostel is a very safe bet for any traveler as it has English-speaking staff, as well as Tibetan and Mandarin speakers, and everyone is very helpful and friendly. In Tagong the options are naturally limited, however, the Khampa Café guesthouse is snug, has a great view of the town square, and a multicultural staff that always take good care of tourists with altitude sickness.