O
n August 6, the website of the Ministry of Finance of China published the "Report on the Implementation of China's Fiscal Policy in the First Half of 2020," which indicated that 146.1 billion yuan (US$21.84 billion) in special funds had been allocated to poverty alleviation in 2020.
While this shows the country's continued dedication and determination to win the battle against poverty, such initiatives have also been hindered by instances of misappropriation, illegal bidding and blind decision-making. Mismanagement and misuse of the funds also affects the lives of impoverished people. In interviews with local authorities, NewsChina learned that years of experience have helped them roll out some effective measures to tackle these entrenched problems.  
Wang Sangui, a government advisor on poverty alleviation and dean of China's Poverty Alleviation Research Institute at the Renmin University of China, told NewsChina that poverty alleviation funds include those administered by central and local authorities, small loans from financial institutions and other credit funds as well as financial support offered by private enterprises. 
Statistics show that in the past decade, central and local government funding for poverty alleviation has steadily increased. From 2011 to 2015, the central financial special poverty alleviation fund increased from 27.2 billion yuan (US$4b) to 46.7 billion yuan (US$7b). Transport, water conservancy, agriculture, land and other government sectors have enhanced support for impoverished areas. For example, the Development and Reform Commission and the Ministry of Water Resources provided 12.5 billion yuan (US$1.9b) to ensure the supply of clean drinking water to rural areas.  
Some local officials have taken note of the increase in recent years. Zhang Guo, director of the Planning and Finance Branch of the Inner Mongolia Autonomous Region Poverty Alleviation Office, told the reporter that since 2012, Inner Mongolia has invested 73 billion yuan (US$11b) in poverty alleviation funds, up to 40,000 yuan (US$5,980) per capita for those below the national poverty line, which is set at an annual per capita income of 3,750 yuan (US$560). The region's poverty alleviation office provided data to NewsChina showing that from 2016 to 2020, Inner Mongolia allocated 46.14 billion yuan (US$7b) to poverty alleviation funds. In 2020, central and regional authorities, as well as local governments, allocated 11.23 billion yuan (US$1.7b) for poverty alleviation in Inner Mongolia, an increase of 13.8 percent over 2019.  
Financial aid from private enterprises and loans from financial institutions are another major source of poverty relief. According to the Blue Book on Enterprise Poverty Alleviation (2019) issued by the State Council Poverty Alleviation Office and the Chinese Academy of Social Sciences in September 2019, among the top 100 Chinese companies in the Fortune 500, there were 75 public disclosures of information relating to poverty relief. Fifty-five of China's top 100 companies disclosed funding for poverty relief totaling 4.94 billion yuan (US$738m). Six of China's top 100 banking financial institutions offered targeted poverty relief loans of up to 607.8 billion yuan (US$91b). 
Despite the impact of the Covid-19 pandemic, nationally administered State-run enterprises vowed not to reduce their funding for poverty alleviation. On March 6, 2020, the Xinhua News Agency reported that the targets and tasks of State-owned enterprises (SOEs) for poverty alleviation in 2020 had been set, and SOEs under the central government had committed 3.2 billion yuan (US$484.8m) to 246 designated impoverished counties, an increase of 692 million yuan (US$74.5m) over the previous year's allocation.  
As the funds are disbursed to different regions, public attention also focuses on any allegations of corruption or embezzlement of funds, and whether the funds have been fully allocated to the designated projects. In 2017, the Ministry of Finance and the Poverty Alleviation Office of the State Council announced it had uncovered corruption cases involving poverty alleviation funds. For example, in 2015, Dulan County, Qinghai Province declared the same projects twice for relocation schemes in Shangzhuang Village and Shazhuyu Village, netting them 17.2 million yuan (US$2.6m). For Chabuchar County, Xinjiang Uygur Autonomous Region, 5.77 million yuan (US$860,000) was allocated to build 54 kilometers of canals in 2015, but only 30 kilometers was built, so 2.65 million yuan (US$400,000) of the earmarked cash was used elsewhere. Nayong County in Guizhou Province lent the 8.8 million yuan (US$1.32m) of poverty relief money they were allocated from 2011-2015 to private enterprises.  
From January to March 2017, authorities organized 13 missions involving 20 provincial offices to audit poverty alleviation policy implementation and use of funds in 158 impoverished counties across 20 provinces in 2016. The audits found many problems, including inaccurate poverty household registrations in 105 counties and misuse of poverty relief loans and discount subsidies in 58 counties. Poorly planned relocation projects were identified in 55 counties.  
Since 2016, evaluations of poverty alleviation funds are considered when the effectiveness of poverty alleviation and development work of provincial party committees and governments are under review. The effects of these evaluations are evident in regions such as Inner Mongolia. "According to data from audits, supervision and assessments of poverty alleviation funds from 2018 to now, despite a few minor problems, Inner Mongolia has had almost no discipline violations," Zhang Guo said.  
Government advisor Wang Sangui said that with the increasingly stringent supervision and auditing, corruption cases such as misappropriation, interception and embezzlement have been greatly reduced. According to the State Council Poverty Alleviation Office, detected issues decreased from 36.3 percent in 2013 to 7.93 percent in 2017. 
The allocation and application of poverty alleviation funds used to be stringent, which restricted local authorities and sometimes left funds sitting idle. Wang told NewsChina that for a long time, the management and use of poverty relief were in the hands of different departments, which required county governments to report back on their use. If the central government allocated money for roads, it could not be used for anything else needed, like water facilities. There was no flexibility in deciding where to disburse funds. According to Wang, because poverty alleviation should be a dynamic process, this relatively fixed mechanism was not conducive to targeted poverty alleviation and often caused waste or left funds unused. 
To tackle this problem, on August 8, 2014, the Leading Group on Poverty Alleviation and Development under the State Council issued the Opinion on Reforming the Management Mechanism of Financial Special Poverty Alleviation Funds, proposing reform of the mechanism for the allocation, use and supervision of funds. It stipulated that, from 2015 onwards, the majority of project approval rights would be handed to county authorities, as long as their decisions were in accord with central and provincial government rules.  
On March 24, 2017, the Ministry of Finance announced it would no longer specify the scope of expenditures and adopted a negative list system to regulate and improve the efficiency of funds usage. 
According to Wang, poverty alleviation funds could now be used across departments and in more practical ways to meet the actual needs of the county. As the career and the promotions of officials working in impoverished counties hinge on reaching poverty alleviation goals, they are sure to optimize the way the funds are used. 
Another strength of the revamped system is to allow poor households to make their own choices in how they receive government assistance. Zhang Guo gave the example of a household in Beiminhe Gacha in Inner Mongolia. Wu Fuquan's family was below the poverty line as his wife had chronic heart disease, Zhang said, but since 2016, Wu's family has received targeted poverty relief. In 2017, Wu's family was relocated to a new 40-square-meter apartment under a government-sponsored initiative. In 2018, Wu started breeding livestock and operated a vegetable greenhouse, and Wu was also employed as a forest ranger earning up to 10,000 yuan (US$1,495) a year. By 2018, Wu's annual household income was 6,264 yuan (US$936), and by the end of 2018, the family overcame extreme poverty according to the national standards.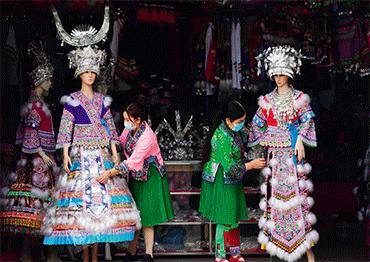 Huang Yuping (left) and her employee adjust Miao costumes in a traditional costume workshop, Rongshui, Guangxi Zhuang Autonomous Region, March 13, 2020. Huang opened the workshop to provide training and work opportunities for impoverished women in the area
Among all these achievements, efficient use of funds remains a challenge. Wang Sangui told the reporter that industry-oriented poverty alleviation should follow the market rules in choosing which industry to develop rather than allowing the government to excessively intervene and promote a certain industry.  
A lot of failed attempts in promoting local poverty alleviation projects have caused both financial losses and hurt poor farmers. For example, during a recent visit to rural villages in Southwest China's Yunnan Province, NewsChina found that projects to plant Paris polyphylla, a flowering plant known as love apple in English and chonglou in Chinese, which is used in Chinese herbal medicine, were seen as very promising. At first, high prices allowed some farmers to get wealthy, but as more people started to grow the herb, the glut in supply sent prices plummeting. "Now villagers in our area don't even harvest chonglou, because although it took them three to five years to grow the plants to maturity, the prices are too low to cover costs and labor," said a villager surnamed Chen in Dulongjiang, one of the most remote and poor areas in northwestern Yunnan Province. "Illiterate farmers couldn't predict that oversupply of these herb products would one day result in a bubble." 
In 2017, the Ministry of Finance and the State Council Poverty Alleviation Office disclosed a failed poverty alleviation attempt. In 2016, Xiji County of Ningxia Hui Autonomous Region spent 28.3 million yuan (US$4.23m) to purchase over one million guinea fowl babies and distributed them to 27,000 poor households for breeding projects. Yet lack of investigation into whether the species could be properly raised in local conditions meant few guinea fowls survived. In addition, sales were poor and so the project did not economically benefit local households.  
Wang Sangui said there have been similar problems in many places. "Industry takes time to develop, and local governments can't rush in a bid for success. They need to follow the rules of the market." An editorial in the People's Daily in early 2017 stated that "to develop industry, we should empower farmers, increase project participation and avoid government decisions overriding the will of the general public." 
"The most important thing is to understand the market accurately and avoid oversupply caused by the government's encouragement of excessive development of a certain industry," Zhang Qi, dean of the China Institute of Poverty Alleviation with Beijing Normal University told NewsChina. "Governments at all levels must respect market and economic laws in choosing the right type of industry for poor areas to develop."