"
The import tariff of a head or half a head of frozen beef into China is 70 percent or 25 percent. But if it is imported into Yangpu Port [in Hainan Province] and is processed and cut up into different parts there, its added value would normally reach more than 30 percent. In this case, the beef will be exempt from the 70 percent or 25 percent duties when entering the Chinese mainland market," said Shen Xiaoming, provincial governor of Hainan, at a press conference for the master plan of the Hainan Free Trade Port [FTP] on June 8 in Beijing.  
He stressed that this practice provides a "huge" profit margins for enterprises and cheaper imported beef for Chinese consumers, as the country imports more than 6 million tons of frozen beef, lamb and pork annually. From early June, no import tariffs are imposed on goods on the duty-free list of the Hainan FTP, mainly production materials, vehicles and consumer products, as long as they remain in the bonded area of the island. If 30 percent added value is created in the bonded area of the FTP, then no import tariff is imposed when the new products are moved outside the bonded area.  
In addition, Chinese and foreign travelers in Hainan, better known as a tropical holiday destination, can buy 100,000 yuan (US$14,293) worth of duty free goods a year as of July 1, higher than the previous 30,000 yuan (US$4,287) quota. And more types of goods are available, including electronic consumer products. Shen hopes that Hainan will become not only a "heaven of holiday resorts," but also a "heaven of shopping" for consumers.  
These measures and ambitions are just part of Hainan's steps toward its big aspiration. The aim is to build the island, much bigger than Singapore, Hong Kong and Dubai combined, into an internationally influential free trade port with a high degree of openness by the middle of the century. It is expected to be a flagship project of China's opening-up when protectionism is on the rise around the world, according to the master plan released by the central government on June 1. As the master plan noted, as China's largest special economic zone since 1988, Hainan boasts "unique advantages in deepening reform across the board and testing the highest level of openness."  
A series of policies are laid out to promote trade, investment and industrial development in Hainan, China's first FTP. Free flows of certain goods, capital and personnel will be realized in certain areas of the island by 2025 when the whole island is closed off and fully adopts the free flow operation.  
Besides zero tariffs for many imports, there are favorable corporate tax policies in encouraged sectors. For example, companies involved in tourism, modern services and high-tech industries, the three prioritized fields on the island, will be exempt from corporate income tax for their overseas gains. Skilled personnel will be offered tax rebates.  
On June 3, 11 key industrial parks were launched to develop the three prioritized fields on the island, including medical services, aircraft leasing, information technology, modern finance, and deep sea and aerospace science and technology. Earlier policies for the new port will be implemented in these parks first.  
Hainan FTP will provide wider market access to foreign investors, particularly in telecommunications, finance, medical services and education. Wang Shouwen, deputy minister of commerce, disclosed that China's first negative list for cross-border trade in services will be made for Hainan. Businesses not on the list are allowed there without application for ex ante approval. The master plan mentions further opening-up of basic telecommunication services. It also allows overseas universities and vocational schools specializing in science, engineering, agriculture and medicine to open branch schools in Hainan independently. These open measures in Hainan are all being adopted for the first time in China, according to Shen.  
More importantly, Hainan's role as a trial project to deepen China's reform across the board through high-level openness has been highlighted. If this is achieved, Hainan will build a "world-class business environment," said Lin Nianxiu, deputy minister of the National Development and Reform Commission at the June 8 press conference. He explained that institutional building will focus on taxation, social governance, rule of law and risk control. Shen pledged a transparent level playing field for all enterprises, be they foreign or domestic, State-owned or private, and respect for enterprises. Liu Cigui, chairman of the Standing Committee of the People's Congress of Hainan Province, said measures in line with World Bank standards have been adopted in the past two years to build up the local business environment.  
Fundamental principles and rules that will form the foundation of the business environment in Hainan will be enshrined in a forthcoming Hainan FTP Law. The law will become the basis of China's FTP legal system which is mainly composed of local regulations and business dispute settlement mechanisms, according to the master plan.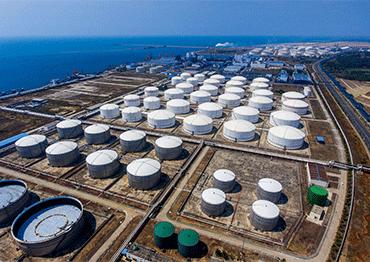 The Sinopec (Hong Kong) Hainan refinery, located in the Yangpu Economic Development Zone in the northwest of the province, operates 30 sets of oil refining and petrochemical production units, as well as oil storage, transportation facilities and utility systems
It is reported that Hainan is getting more attractive to investors and professionals from around the world. Liu attributed the 30 percent annual growth of market entities in the past two years to the better business environment. He added that hundreds of thousands of professionals from China and overseas are competing for about 40,000 positions in Hainan open to global recruitment. According to local data, the real utilization of foreign investment in Hainan jumped by 146.6 percent year-on-year over the first five months of the year.  
Transportation is still a problem for Hainan. In an interview with NewsChina, Wu Shicun, president of the National Institute for South China Sea Studies, called for immediate construction of a sea tunnel under the Qiongzhou Strait between the island and the mainland to improve the efficiency of logistics and human traffic to and from Hainan.  
The island's weak economic foundation and imbalance in industrial structure couldhold it back from becoming an international FTP. Hainan became a province and special economic zone in 1988 and one of the 18 free trade zones in China in 2018. But it has been plagued with problems including smuggling and housing bubbles over the years. In 2019, its GDP per capita was only 77 percent of the country's national average. "The share of primary industry (20.3 percent of the local GDP) is too high, the secondary industry too low (20.7 percent of the local GDP), presenting challenges in [future] economic restructuring and updating. The tertiary industry is dominated by traditional services, and services in fields like finance, insurance and law are developing slowly," Wu said, in an interview with NewsChina.  
A report released in June by Zhaopin, an online recruitment platform, shows that recruitment in real estate and construction took up 21.76 percent of Hainan's new employment in the first quarter, 10 percentage points higher than the national level. Recruitment figures in other fields like internet and communications, manufacturing and commercial services all fell below the national average, signaling the province is still weak in these fields. Learning from history, Liu Cigui said that curbing smuggling and housing bubbles is high on the agenda of Hainan's risk management.  
Bigger challenges will come in institution building. The master plan requires that institutional breakthroughs and innovations be integrated and coordinated. However, Wu noted that the current innovations are still fragmented and repetitive. In an article in the Hainan Daily on June 25, Liu Yunming, an expert from Hainan government's policy research center, pointed out that so far the new rules have not worked as well as expected due to lack of coordination between the rules and government departments. Both Wu and Liu called for more tolerance of these faults and failures to encourage innovations in Hainan's reforms.