As medical research becomes more viable in China, universities are racing to open medical schools to increase their rankings, enrollment and financial support
A
t least 10 Chinese universities have opened medical schools over the past two years. On June 10, 2019, the Southern University of Science and Technology in Shenzhen inked an agreement with King's College London to open a medical school. In February 2019, Xu Yangsheng, president of the Chinese University of Hong Kong, Shenzhen, announced that the university would cooperate with the local government to start Shenzhen Medical School. 
Among China's top 42 universities, more than 30 have either opened or announced plans to open medical schools.  
On November 7, 2018, the Harbin Institute of Technology established its Medical and Health College. Ten days later, the University of Chinese Academy of Sciences (UCAS) in Beijing opened its Clinical Medical School in Chongqing. On October 20, 2018, the First Affiliated Hospital of the University of Science and Technology of China (USTC) accepted its first 20 students from other departments at the university.  
Wu Liangqi, deputy director of the UCAS Clinical Medical School, told NewsChina that scientific research is crucial to universities and hospitals as medical sciences are playing an increasingly important role in scientific research.  
Injecting Funds
According to higher education data site cingta.com, the National Natural Science Foundation of China provided 3.86 billion yuan (US$550m) in support of medical sciences in 2017, up from 112 million yuan (US$16m) in 2000. Shanghai Jiao Tong University, a leading Chinese university with 13 affiliated hospitals, had 1,199 projects approved by the foundation in 2019. A total of 632 involve medical sciences. In comparison, USTC's medical science projects accounted for a small fraction of those approved by the foundation, rising from 1.66 percent to nearly 10 percent in 2019. 
A teacher at the USTC Faculty of Life Sciences and Medical Sciences told the reporter on condition of anonymity that in China, medical science is now considered a discipline on par with math, physics, chemistry and biology. The opening of a medical school, he said, could boost a university's overall scientific research and reputation. "As natural, medical and engineering courses are further integrated, universities without medical schools will be left out," he said. According to the US News College Ranking of 2017, among the top 20 universities worldwide, only the California Institute of Technology and Princeton University do not have medical schools. The magazine's ranking of hospitals in the US from 2017 to 2018 showed that all the top-rated hospitals were affiliated with universities and medical schools. 
Wu Liangqi said the 2000s saw the first wave of universities integrating medical colleges, which increased their rankings. Since then, medical schools and university-affiliated hospitals also improved their overall rankings. 
According to a ranking of Chinese hospitals in 2018 by the Hospital Management Institute of Shanghai-based Fudan University, the First Affiliated Hospital of USTC in Hefei, Anhui Province, went from 79th to 59th place. Liu Tongzhu, Party chief of its Faculty of Life Sciences and Medical Sciences, told NewsChina that the USTC brand played a crucial role in talent recruitment and sourcing financial support for its affiliated hospital. The university's funding for sciences rose to 60 million yuan (US$8.6m) in 2019 from 10 million yuan (US$1.4m) two years earlier. 
Xue Tian, managing dean of USTC's Faculty of Life Sciences and Medical Sciences, said the university aims to train "medical scientists," or doctors proficient in clinical medicine and scientific research. In addition, the university also aims to train medical engineers to research and produce high-end medical equipment. 
Chu Zhaohui, a researcher with the National Institute of Education Sciences, told NewsChina that medical institutions at leading universities such as USTC would make a difference in producing medical talent while fulfilling the growing social demand for medical professionals. Qin Boyi, former dean of the Academy of Military Medical Sciences, argued that while R&D is necessary, medical schools should not focus solely on this training. Medical schools, he said, should mainly aim to produce clinical doctors who could treat and cure patients. 
Delicate Relationship
At the First Affiliated Hospital of USTC in Hefei, Anhui Province, thousands of students conduct research and intern at its new clinical medical building, completed in 2017 at a cost of 500 million yuan (US$71m). 
USTC has recruited experts and five academicians, including Ge Junbo, director of the Institutes of Biomedical Sciences of Fudan University and Bian Xiuwu, head of pathology at the First Affiliated Hospital of the Army Medical University. Each academician received a grant of 10 million yuan (US$1.4m). 
Xiong Sidong, president of Soochow University, told NewsChina that medical science has three noticeable features: a combination of theory and practice, extensive training and clear occupational orientation. He said while many Chinese universities have medical schools based in life sciences, medical science is a branch of life sciences that focuses on biological traits, illnesses and death. 
A teacher at the USTC Faculty of Life Sciences and Medical Sciences told our reporter that his university's medical school started from scratch. To date, USTC has invested tens of millions of yuan on a medical building slated for completion in two years. The main challenge is recruiting qualified instructors, the teacher said. 
For example, it is difficult to recruit teachers specializing in anatomy. Universities face this challenge worldwide, he said. Compared with more popular and innovative fields, fewer people want to engage in fields like anatomy, which offer fewer opportunities for promotions and published research. 
The biggest challenge science and engineering universities face when creating medical schools, he said, is rigid thinking among administrators. "When it comes to building an anatomy laboratory, some university leaders tend to think of them as nothing but building a mortuary," he said. 
On November 7, 2018, the Harbin Institute of Technology established its Medical and Health College to train talent in both medical sciences and engineering. The college's leaders had previously worked for the university's School of Computer Science and Technology and School of Science of Technology, which were founded in 2011. 
In July 2017, the State Council released a directive to reform medical education that involved more cooperation between universities, medical schools and affiliated hospitals to provide a well-rounded medical education.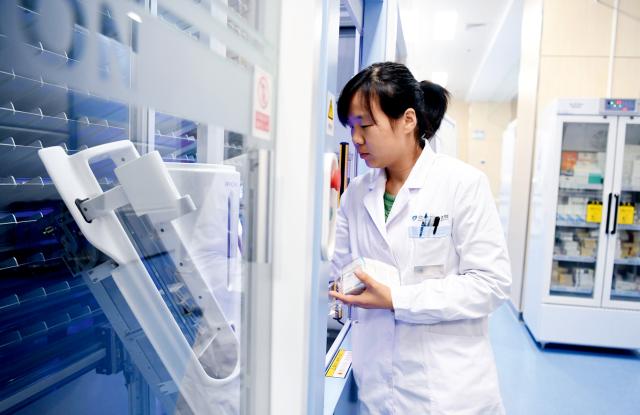 An employee of Anhui Provincial Hospital in Hefei, Anhui Province, which became the First Affiliated Hospital of USTC in 2017, restocks medications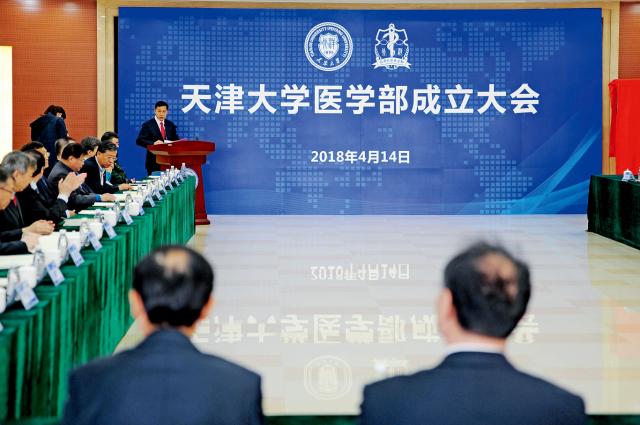 The opening ceremony of the Division of Medicine at Tianjin University on April 14, 2018
Handling Hospitals
Wu Liangqi at the UCAS Clinical Medical School told NewsChina that according to Chinese regulations, universities must administer at least one 3A-rated hospital to qualify for medical education.  
There are three types of relationships between hospitals and universities: hospitals under the direct administration of universities, affiliated hospitals not under direct administration, and teaching hospitals. If a hospital comes under the direct management of a university, it cannot affiliate with another university. 
In July 2015, UCAS had difficulties partnering with hospitals for its Savaid Medical School in Beijing. Wu said that among the more than 20 3A hospitals in Beijing, 15 are hospitals affiliated with Capital Medical University. The other hospitals are with Peking Union Medical College and Peking University. 
UCAS eventually partnered with the Chongqing People's Hospital. In June and August 2018, Chongqing People's Hospital and the Fifth People's Hospital of Chongqing became UCAS-affiliated hospitals. To date, UCAS has four clinical medical schools and six hospitals under its direct administration. 
Wu said UCAS aims to have 10 to 15 hospitals and take advantage of each hospital's strengths to transform their research findings into clinical applications. Wu said after the mass mergers of universities in 2000, most top-rated hospitals were cooperating with universities.  
"If we do not move fast, there will be no hospital left [for universities]," Wu said. Because UCAS has no hospitals in Beijing, Wu said its students must go to other cities for their clinical coursework.  
Qin Boyi, a former dean of the Academy of Military Medical Sciences, told NewsChina that the most important part of creating a good medical school is to have top instructors. He said many newer medical schools are short of qualified teachers and instead offer generous salaries to part-time teachers, including academicians.  
"Some universities build medical schools mainly for lucrative reasons such as to keep up their appearances, seek more funding and win more support from local governments and hospitals," he said.