Derek Tsang's coming-of-age drama Better Days tackles hard-hitting issues troubling China's education system – particularly school bullying – and their effect on today's youth
C
ampus violence, a theme much explored in Japanese, South Korean and Western films, had long been ignored by Chinese moviemakers.  
Chinese cinema saw its first film on the subject with Cry Me a Sad River (2018), an adaptation of the novel by best-selling writer Guo Jingming.  
Last month, another film sparked nationwide discussions about campus bullying, a persistent problem in China's schools. 
Better Days, starring award-winning actress Zhou Dongyu and TFBoys heartthrob Jackson Yee, tells a heartbreaking tale of bullying and suicide at a Chinese high school. It is helmed by Hong Kong director Derek Tsang, who was best known for Soul Mate (2016), which earned 167 million yuan (US$23.8m) in domestic theaters.  
Released on October 25, Better Days topped the Chinese mainland box office, bringing in more than 1.3 billion (US$185m) over 16 days, according to Chinese film database Maoyan. It outsold Disney fantasy film Maleficent: Mistress of Evil and Ang Lee's Gemini Man. Acclaimed by both critics and viewers as one of the best domestic films of the year, Better Days received a 8.4/10 rating on Douban, China's leading media review website. 
Now the film is screening in select theaters in major cities across the US, the UK, Canada, Australia, New Zealand and Malaysia.  
Tsang presents an accurate portrayal of high school on the Chinese mainland, providing a bleak depiction of an oppressive environment plagued by bullying and scholastic pressure.  
Growing Pains
It took time for Better Days to see the light of day.  
The film was pulled at the last minute before its premiere at the Berlin Festival's Generation 14Plus section in February for "post-production reasons." Its scheduled domestic release in late June was also canceled with no explanation just three days prior. Industrial insiders blamed the sudden changes on censorship issues surrounding the film's brutal depiction of school bullying.  
The October 25 release of the long-delayed film came just as suddenly, announced three days before the new premiere.  
Better Days opens with a suicide at a high school two months before the National College Entrance Exam, also known as the gaokao. Hu Xiaodie, a loner who suffers from relentless bullying, jumps off a school building. Hu's deskmate, Chen Nian (Zhou Dongyu), the film's protagonist, is the only one to have the decency to cover the body. But this single act of kindness turns her into the next target of the students' abuse and harassment.  
Raised by a single mom who makes her living selling fake facial masks, Chen is constantly harassed by creditors seeking to collect her mother's debts. A top student, Chen believes that scoring high on the gaokao and attending a top university in Beijing is the only way to change her fate. But the escalating school bullying and humiliation threaten to destroy her dream. Chen enlists Xiao Bei (Jackson Yee), a high school dropout and small-time criminal, to protect her from classmates. She moves into his rundown apartment to prepare for the potentially life-changing exam. The two lonely and hurt teens comfort each other against all the unfairness and cruelty society deals them.  
Besides verbal and physical abuse, the film also addresses cyber bullying and the effects of social media.  
When Hu Xiaodie jumps to her death in the opening scenes, her classmates gather around the body to snap photos for their social media. In another scene, classmates shame Chen on social media after learning her mother had skipped town to escape creditors.  
The film delves into the underlying issues behind such violence, including the family problems of both bullies and their victims, and the indifference of teachers.  
In her mother's absence, Chen must deal with her bullies alone. Xiao Bei's mother abandoned him when he was a kid. Similarly, the bullies' parents are either absent, physically abusive or excuse their children's behavior.  
Despite the suicide, teachers turn a blind eye to campus violence to maintain focus on the gaokao. Teachers are unsympathetic to Chen's suffering and tell her to "learn how to get on with classmates."  
"It makes my heart ache every time I read news about campus violence and see how kids suffer at school," Tsang said at the premiere in Beijing on October 25. "We hope that this film can make people seriously think about this issue. For children and teens who have had similar experiences as the film's characters, we want to send the message that life has its dark side but you will always find a person or some friends who are there to help you. You are not alone," he said. 
"We are not simply representing youth, but, more importantly, we hope more people discuss youth and what roles they play in society," said Jo Jo Hui, the film's screenwriter.  
A Group Portrait
Tsang chose some of the same cast and crew from Soul Mate. The drama, also starring Zhou Dongyu, explores the depth and subtlety of the friendship between two girls, and how their bond is challenged when one of them falls in love.  
Unlike Soul Mate, which mainly focuses on individual romance and friendship, Better Days presents a bigger picture of how youngsters interact with their families, school and society. The large cast of characters helps present a nuanced and multi-layered world for the young protagonists.  
Tsang said he attempted to provide a "group portrait of the Chinese student community" that would resonate with a wide audience.  
While not everyone has experienced school bullying, most Chinese audiences still relate to another issue that the film examines in depth – the gaokao.  
The film won accolades from critics and audiences for its faithful portrayal of the pressure-cooker atmosphere leading up to the exam through imagery such as piles of textbooks, endless practice exams, ticking clocks, countdowns and red banners with slogans like "Get into the university of your dreams." The atmosphere intensifies as the exam approaches.  
Educated in Hong Kong and Canada, Tsang did not experience the gaokao. But he and his team conducted exhaustive research that included student and teacher interviews, and filmed on location on the day of the exam in Chongqing. 
"We took much effort to reproduce the atmosphere, which would instantly bring the audience back to the days they crammed for the gaokao. It is precisely because I'm from Hong Kong that I did more work to make sure what we've presented is direct and real," Tsang said.  
"As a Hong Kong director, Tsang's observations are startlingly accurate. In the film, after a practice exam, the whole class is required to switch seats according to their score. The scene echoes another in which dropouts and small-time criminals play mahjong at a table. This parallels the same jungle all teenagers are besieged in – a world ruled by the survival of the fittest," Douban user "Falanxi Jiaopian" commented.  
While presenting the problems of China's education system, the film does not discredit the gaokao, which many see as a fair playing field for social mobility.  
Growing up in a poor single-parent family, Chen believes that a high score on the gaokao and attending a top university is the only way to save her and her mother from misery. This faith steels her to stand the relentless bullying and humiliation.  
"Many students told me that there are so many unfair things in the world, but luckily we still have the gaokao.' I was so shocked and I put that line in the film. Many believe the gaokao is the only fair way in their lives to show their abilities," Tsang said during an interview with jiemian.com. 
"I didn't have that pressure during my high school years and never thought my life would be completely changed by one exam. What touched me the most was that there are so many students, especially those from third- and fourth-tier cities, harboring a simple but firm belief that the gaokao can change their lives," Tsang said.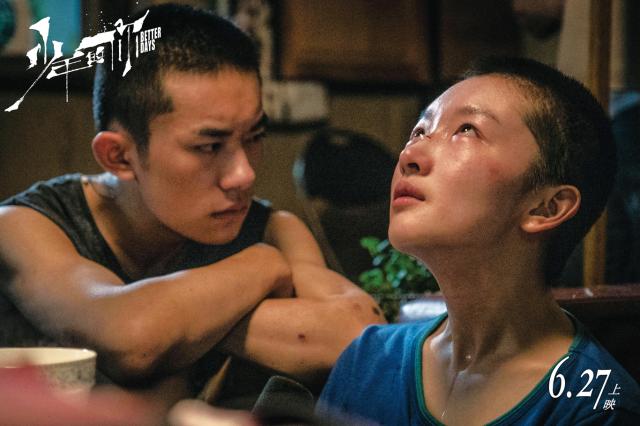 A still from Better Days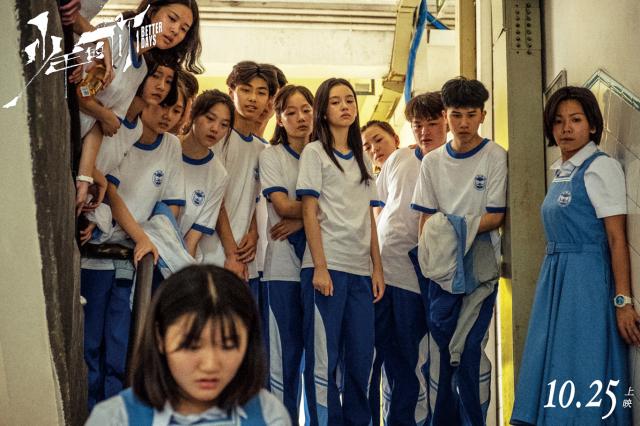 A still from Better Days
Shadows in the Sun 
Soon after its release, Better Days sparked heated discussions on social media concerning campus violence. Netizens bared scars and shared experiences that still haunt them. Many blamed the indifference of parents, teachers and bystanders for contributing to school violence. Some quoted a line from Polish poet Stanislaw J. Lec: "Each snowflake in an avalanche pleads not guilty."  
"I hope my mother sees this film. Many years ago, when I was bullied at school, my mom always said, 'why do they only pick on you and not others? You should think about your own problems,'" a Weibo user commented.  
"I cried in the theater because I related to it so much. I'm so glad that Better Days has spotlighted school bullying and violence," Wu Muqun, a 28-year-old IT engineer from Beijing told NewsChina. "The whole class singled me out for three years. They [my classmates] threw my books in the girls' bathroom, stuffed thin wire in my thermos and sanitary napkins in my desk. They spread lies and rumors about me. People weren't aware of school bullying as a phenomenon, but things were actually happening. Both my parents and teachers believed it was my fault that I couldn't get along with others."  
Parents and teachers have long overlooked school violence. But awareness is increasing as more video clips circulate online showing schoolchildren humiliated, bullied and abused in classrooms, dorms, sports fields and restrooms.  
The latest clip, which went viral on November 9, shows a teenage girl in Guigang, Guangxi Zhuang Autonomous Region beaten by classmates in her dormitory with a wooden hanger and iron dustpan. In another video, a girl in Xinyang, Hebei Province was assaulted and forced to kowtow in front of her classmates. Such clips are usually removed from Sina Weibo and other social media platforms out of concern for the victims and to not encourage copycats. 
From 2014 to 2016, the National Survey Research Center at the Renmin University of China conducted a three-year study involving 10,279 middle school students from 28 provinces. According to the survey, nearly half (49.6 percent) had experienced verbal bullying at school, 37.7 percent had encountered social bullying (or were the subject of fabricated rumor or excluded from class activities) and 19.1 percent had suffered physical violence. The study noted that 14.5 percent were victims of cyber bullying.  
Lawmakers are tightening legislation for campus and online violence. In recent years, school violence prevention has received increased attention during the country's annual Two Sessions.  
On October 26, Chinese lawmakers reviewed draft revisions to laws on protecting minors and the prevention of juvenile delinquency at the bimonthly session of the National People's Congress Standing Committee. The draft includes the first legal protections designed to prevent bullying in schools and online.  
The amendment would require schools to address student complaints, train staff and cooperate with authorities to deal with students that commit bullying. The amendment also proposes an online ban of words, images or videos that threaten, insult or attack children.