China's movie studios have had audiences and investors on the edge of their seats for the last decade. But now they'll need a reboot to write a new happy ending
C
hinese movie studios are not having a blockbuster year. Data from financial data provider Hithink RoyalFlush Information Network shows that by August 19, 16 out of the 25 film companies listed on the A-share market in the Chinese mainland disclosed their profit forecast for the first half of the year. Thirteen of them, including giants like Zhongnan Culture Group, Huayi Brothers and Beijing Culture, announced a year-on-year decline in net profits. According to films.cn under China's National Radio and Television Administration, China's film market suffered year-on-year decline in both total box office and number of views in the first half of the year, the first slump in nine years.  
The market value of the top 10 listed film and TV companies already shrank in 2018. Indeed, worries about a "winter" in the film industry have been bandied about since 2017. Analysts and market insiders have attributed this to change of policies, audience tastes and investors' attitude.  
Meanwhile, domestic blockbusters began to eclipse Hollywood hits. This led to more investment. But in another plot twist, China's internet giants have also joined the fray.  
Anticlimactic Numbers
In recent years, capital flooded into the Chinese film industry to underwrite and cash in on big box office returns. In 2003 and 2004, the long restricted market access to film production and distribution was fully opened to private financing, sparking an investor bonanza. According to a report by the Xinhua News Agency at the end of 2004, private investment participated in production and distribution in 96 out of the 140 domestic films and gained from two-thirds of box office returns in 2003.  
In 2006, total national box office returns were less than 2.7 billion yuan (US$38m). Today a single blockbuster would rake in more. The soaring box office and rapidly expanding film production industry made China the world's second-largest film market following the US in 2014, according to a report from PriceWaterhouseCoopers, a global consultancy. In 2015, eight out of the top 10 movies in China came from the five major private film companies at that time: Huayi Brothers, Beijing Enlight Pictures, Bona, Wanda Group and LeEco.  
Attracted by the boom, in 2014 and 2015, a number of listed companies in other sectors, ranging from dairy producers and machine manufacturers to food & beverage and tourism operators, announced plans to acquire film companies. Wang Ran, co-founder and CEO of CEC Capital, a Chinese investment company, noted at a forum in Beijing at the end of 2018 that more than 4,000 film and TV companies were set up in 2016 alone and US$25.4 billion investment from outside the sector flowed into the industry between 2014 and 2018. Wanda Group, a real estate giant, set up Wanda Film Holding in 2005 and Wanda Pictures in 2011, building a full-fledged supply chain of its own, from film production through cinema operation.  
However, enthusiasm began to ebb in 2016. In 2017, film companies saw their fundraising on the country's capital market fall to only 19 percent of the peak in 2014, and the market value of their shares contracted 30 percent from the peak in 2015, according to In Pursuit of Perfection, a report released in June 2018 by the National Business Daily, Shanghai Film Group Corporation and Huayi Brothers. At the same time, Enlight Media president Wang Changtian predicted that thousands of film and TV companies would shut down in the next two years. During the Shanghai Film Festival in June, he noted that the sector was still "at the bottom" of the cycle. Enlight's financial report for the first half of the year revealed many companies in the sector had shut down or shelved shooting plans due to lack of money. 
After further declines in their share prices in 2018, some of China's major listed film companies, including three of the top four privately owned, Wanda, Enlight and Huayi Brothers, reported either drastic profit drops or even huge losses in the first half of 2019. Bona delisted from the Nasdaq in 2016 and the prospects of its floating back in China remain unclear, as only three companies in the industry have gone public since 2017. 
Strong Headwinds
The industry is facing strong headwinds from many different directions. Wang Changtian attributed the slowdown to investors' frustration over the founders of many companies who lavished money on their own luxurious lifestyles. He also estimated there were about 20,000 film and TV companies in the market, which he believed was too many. Wang Ran agreed. Another widely cited number of companies is 12,000. Wang Ran described this as "ridiculous" even in a big market like China, and attributed poor profitability of the business partly to this.  Popular online stories and stars used to be the recipe for success for Chinese blockbusters. Now market analysts, investors and producers realized that this does not work anymore, and the only way for producers to reboot their fortunes is to tell good stories with feedback from the audience. However, it is not easy to cater for the tastes of audiences which are much more diverse today than ever.  
Lack of business associations and brokerage agencies in the sector is also a problem. Wang Ran said that film companies often had to pay very high remuneration packages for famous screenwriters, actors and directors, which squeezed the profits of the companies even further.  
Scandals and tightened policies have hit investor confidence hard. In 2017, movie star Zhao Wei and her husband were fined by the China Securities Regulatory Commission for misleading investors during the process of their intended acquisition of a listed company. In May 2018, Cui Yongyuan, a Chinese TV host and social media commentator, exposed the tricks used by film and TV stars to report a smaller value contract to tax authorities while hiding a larger amount. Authorities soon launched a wave of crackdowns on tax evasion. During this period, tax havens for film companies, particularly Horgos, a city in the Xinjiang Uyghur Autonomous Region, suspended or canceled preferential tax policies as these companies that were only registered there did little to boost the local economy.  
As the Chinese economy faces overall downward pressure, the government has put the real economy at its top priority. In July, the CSRC prohibited non-film listed companies from investing in the film industry with the money they raise on the capital market.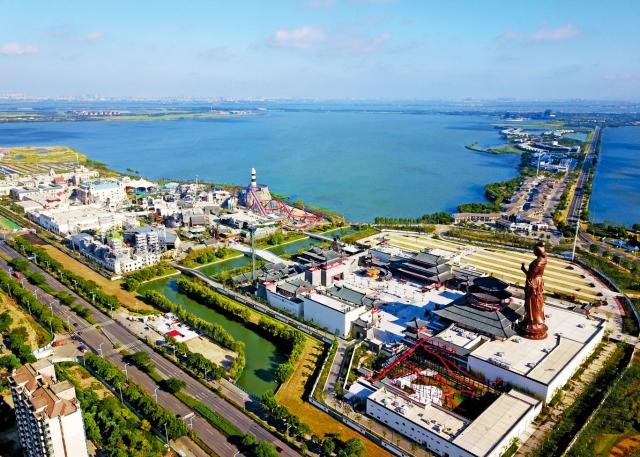 A bird's eye view of Huayi World in Suzhou, Jiangsu Province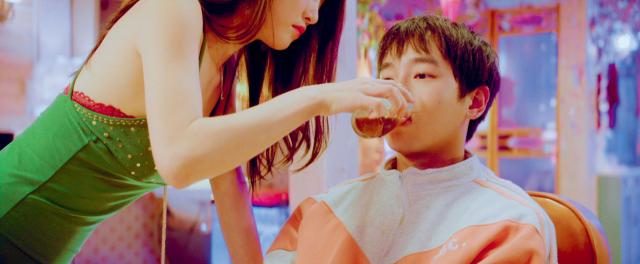 A scene from the film The Last Wish, a Huayi Brothers production
Happy Ending?
All this bleak news isn't the whole story for the film industry. Market players still see hope due to the large audience. Moreover, the Chinese film market used to be dominated by imported films, particularly those from Hollywood. Since 2013, however, more than half of total box office receipts came from Chinese-made films.  
There is no doubt in the industry that Chinese internet giants have already played a big part in the market where competition is getting fiercer. Since 2014, Chinese internet giants, led by Baidu, Alibaba and Tencent, collectively known as BAT, have moved into the film industry, starting with online ticket services and expanding to film production. Liu Xingliang, director of the Data Center of China Internet, told NewsChina that internet companies are doing this globally, as they aim to build their own entertainment ecosystem, with film and TV business a part of it.  
Take Tencent, for example. The company's main businesses are gaming and social media. Then it expanded into online literature, animation, film, TV broadcasting and production. A novel published online, for example, could be adapted into a game, an animated movie and also a film or TV show. In the past three years, Tencent Pictures has cooperated with Hollywood studios, including Paramount Pictures, Marvel Comics and Warner Bros. Green Book's win at the Oscars this March marked a milestone for Alibaba Pictures, as it became the first Chinese internet company to back a best picture Oscar winner. There is concern in the industry that all traditional studios will end up working for the internet giants.  
Platforms such as Tencent Video, iQiyi, and Youku, all backed by BAT, dominate internet TV, while Maoyan and Taopiaopiao, platforms built by Meituan, a lifestyle service provider, and Alibaba, are the two most important channels for online ticket selling and film distribution. The report of In Pursuit of Perfection this year noted that Weibo, WeChat and TikTok already dominate film marketing.  
In addition, some new film companies that have emerged in the past several years also deserve attention, following the success of many movies, including Lost in Thailand (2012), Crazy Racer (2009), Dying to Survive (2018) and Mr. Donkey (2016).  
Wang Ran said capital would continue to flow into the industry over the next five years, but it would only flow to a very few companies. As a result, two kinds of film and TV production companies would thrive: those providing quality films and TV dramas for distribution and broadcasting platforms, and independent production giants that build their own supply chain, although they may also cooperate with online platforms in some way.  
"Ninety five percent of film and TV companies today will be extremely marginalized or even driven out of the market," Wang Ran predicted. "This is the cruelty of the market, and the hope of the industry."