After the early buzz around Costco's first brick-and mortar outlet in the Chinese mainland, in the long run it needs to figure out how to adapt to the local market
W
hen James Sinegal and Jeffrey H. Brotman established Costco in 1983 in the US, a time when people in China were still struggling to shake off poverty, they could never have expected that their company's first store in China would have become such an enormous sensation.  
On August 27, the store in Shanghai was packed even before the opening ceremony. It was so crowded that the store had to shut five hours after it opened. Local police had to attend to direct traffic, and warned people to maintain "a rational attitude" about consumption for the sake of safety in a statement published on the police Weibo account. There was a three-hour wait to park, then a wait of several more hours to get into the store.  
The enthusiasm carried over to the October 1 National Day holidays, although not with so much fervor. Still, you had to wait for half an hour to get into the parking lot, and the same again to get through the doors, Mark Wang, who lives in Shanghai and visited the store on October 4, told NewsChina. The number of customers had reduced to a manageable level after Costco imposed a limit of 2,000 customers. There was no more panic buying after the shelves were picked clean of the most desirable goods, like discounted wines. The steady stream of customers seem to prove the newcomer's appeal may last, despite the doubts over its capability to survive after there was an equally long line of people cancelling their membership cards. But the figures are optimistic. The Shanghai outlet signed up more than 200,000 members in a month, much higher than the average 68,000 per location worldwide, as the retailer's CFO Richard Galanti disclosed at the fourth-quarter earnings call on October 4. Meanwhile, Galanti announced that Costco would open its second store in Shanghai in 2021, showing robust confidence in the new market.  
But Costco still has to show that it can survive in the Chinese market where other foreign retailers have retreated, including big names such as Germany's Metro and France's Carrefour pulling back after years of struggle.  
Besides competing with Walmart's Sam's Club that is also a warehouse membership chain, it has to compete with domestic e-commerce giants like JD.com and Alibaba's Taobao and Tmall. The key will lie in its efforts to adapt to the local market and consumers and in keeping its edge by ensuring the supply of cost-effective products, experts say. 
Hitting the Bull's Eye
Costco's decision to stock high-end Kweichow Moutai, one of the most popular liquor brands in China, and other luxury products like Hermes and Prada bags, is seen as driving consumer excitement in those first few days. The price of Moutai Flying Fairy, for example, was 1,499 yuan (US$212) a bottle at Costco, the official retail price from the manufacturer, but almost half that of other stores where a bottle is priced about 2,700 yuan (US$382) and is often out of stock.  Tu Su, an associate researcher with the Chinese Academy of International Trade and Economic Cooperation said that it was a wise choice to open first in Shanghai, a city where people love trying new things. Most importantly, Shanghainese have a better understanding of Costco's brand and so will accept it more easily, Tu said.  
Zhang Sihan, Costco's senior vice president for Asia, told media before the opening that to enter the Chinese mainland market, Costco first opened online stores on Alibaba's Tmall in 2014 to get an idea about the market and its consumers. The orders from the store in the past five years show that its main consumers are from East China, particularly Shanghai.  
"But at the core of its popularity is what it is stocking," Tu said. Costco is providing what its target customers want most with its cost-effective products with knowledge gained through highly condensed SKU (Stock Keeping Unit, or types of items for sale) and strong
bargaining power, and it caters to the demands of a certain group of consumers instead of trying to target all to foster their loyalty.  
As one of the largest wholesale brands in the world, Costco is a pioneer in using the membership model. The fee, which accounts for the bulk of its annual profit, is similar to a kind of service fee for the privilege of buying cheaper, but better-quality products. Its operating results for the first 36 weeks of 2019 show that membership fees amounted to US$2.3 billion, almost 90 percent of the net income of US$2.56 billion.  
The largest US warehouse-club chain has opened more than 770 stores globally in the past 35 years, without sign of decline, boasting more than 92 million card-holding members with a membership renewal rate of 87 percent worldwide. It is particularly popular among Americans who live far from downtowns so often buy in bulk at the weekends.  
Ye Guofu, CEO of Miniso, a Chinese-owned store brand that mimics Japanese and South Korean stores which sell appealingly designed daily goods, worships the Costco model. At the Dark Horse Industry Acceleration Conference in Guangzhou, Guangdong Province in September, Ye said that the key to Costco's success is that it understands retail and human nature. "It [Costco] strictly selects quality products for its members at the lowest prices, and the saved money is rewarded to the members in the form of low-priced goods. Behind the membership model are the cost-effective products that truly work," Ye said.  
Costco strictly controls the gross profit margin to make its products cheap enough for its members. Its gross profit margin is maintained at below 14 percent, while that of its main competitors, like Walmart, is around 20-25 percent. 
In an article Ye wrote after Costco opened in Shanghai, he said: "Consumers, regardless of nationality, color or class, all hope to buy more with less money. Costco is trying to cater to their psychological need."  
Many of the customers in the store, who were mainly buying fresh foods like fruit, vegetables and milk, told NewsChina that they were simply attracted by the low prices.  
Compared to the first few days, footfall was much lighter during the National Day holidays, with mostly young and middle-aged customers. "After attracting a large number of people at first, as the novelty fades and consumers get rational, next Costco needs to develop a loyal membership by finding out what they want to keep them coming," Tu said.  
"The popularity of Costco reflects the current trend of upgraded consumption in China. People never lack the will to buy things but now they want to pursue more in quality with the same amount of money," said Lu Liangliang, an economic analyst at Jiangnan Rural Commercial Bank.  
Timely Entry
Costco was relatively slow in trying to get a foothold in China, coming 23 years later than rival Sam's Club, which first opened in Shenzhen, Guangdong Province.  
Costco is conservative and has been waiting for a proper time, when the market is mature and people's purchasing power has increased, to open the offline store, as Zhang Sihan told news portal The Paper in late August. He added that the annual membership fee of 299 yuan (US$42) would help attract those with middle or higher incomes.  
It is a suitable time for Costco to enter the Chinese market right now, though challenges are also obvious for the retailer, several experts told NewsChina. 
As Lu observes, Costco's first brick-and-mortar store in China accords with the general trend. "Now China's economy is increasingly driven by consumption. The consumption market has huge potential. But there is a gap between demand and supply. The expanding middle class prefers high-end products. But many have to turn to supplies from abroad as China's manufacturing industry is stuck with medium and low-end products. I guess Costco sees its chance to fill the gap," Tu said.  
Statistics from the Ministry of Commerce show that the volume of social consumer retail sales reached 38.1 trillion yuan (US$5.4t) in 2018, a year-on-year rise of 9 percent. Consumption contributed to 76.2 percent of GDP growth in 2018, the biggest driver of the Chinese economy for five years. The sales volume of China's top 100 retailers surpassed 7 trillion yuan (US$989.2b) in 2018, according to data released by the China General Chamber of Commerce and China National Commercial Information Center in late September.  
Meanwhile, as people are getting more sensitive to prices against the overall slowing economic growth, Costco's model of cheap but high quality is a big advantage in meeting the needs of the critical group of middle-class consumers. "A slowing economy might be a bad thing for other retailers, but for Costco, it is a favourable factor," Tu said.  
Following the 2008 financial crisis, the growth of many US traditional retail giants including Walmart slumped, but Costco, which was much younger and was three times smaller than Walmart in revenue, managed to surpass the latter in growth with its low-price strategy. Between 2008 and 2015, the compound growth rate of Walmart jumped to 2.5 percent while Costco still kept a steady 7 percent, according to the research center GF Securities. Aside from its obvious advantages, the steady expansion of Sam's Club no doubt gives Costco confidence in pushing its "membership-only" retail model in China, Tu said.  
As the first foreign retailer to try the model in China, when Sam's Club entered China in 1996, many consumers found it bizarre that they should have to pay to shop in a store. But today this model is perhaps more acceptable to Chinese consumers. While Walmart has continued to close its traditional stores, by June, it had opened 26 Sam's Club stores in the Chinese mainland, with more than 2.2 million members registered. Over 80 percent of the members renew their membership, reported Business Observer magazine in January 2019. 
"Overall, the situation seems optimistic for the Sam's Club. It might be able to accumulate a group of loyal consumers in first- and second-tier cities. But how far it can go will still depend on whether it can keep attracting Chinese consumers," Tu said.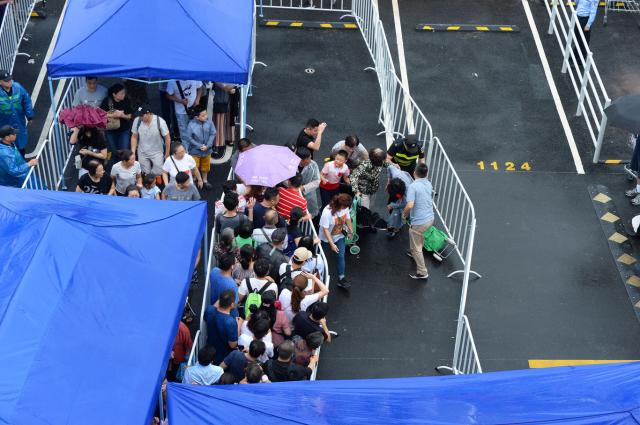 Consumers line up outside Costco's first outlet in the Chinese mainland, Shanghai, August 29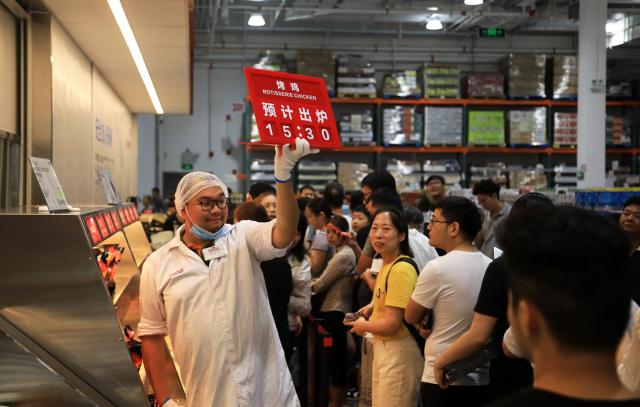 A Costco employee holds a sign telling shoppers when the next batch of rotisserie chicken will be ready, Shanghai, August 29
Special Market
In spite of Costco's confidence, the withdrawal of several foreign retail giants, such as Carrefour, Metro and Tesco are casting a shadow over the retail sector.  
Tu said the Costco model may help cushion it from the problems which plagued other foreign retailers in China. But she acknowledged that given the fierce competition from domestic retailers and foreign ones like Sam's Club, Costco faces challenges in adapting to the market and keeping its low-price advantage.  
Unlike people in the US and UK, Chinese people are not inclined to do a big shop every one or two weeks, preferring to shop daily for fresh ingredients to suit local tastes. "Neighborhood stores could better suit their shopping habits. They can find a great range of fresh vegetables and meats at any time and be able to bargain sometimes," said Tu.  
Apart from daily shops, Chinese people are used to shopping online. For those who get used to instant delivery via a tap on the phone screen, it may be a test of loyalty for them to drive a long way to shop.  
Sam's Club is cited by Tu as a good example for Costco to refer to. Sam's Club started an e-commerce business in 2011. In 2016, it entered into cooperation with e-commerce platform JD.com and provided delivery right from the stores. At the end of 2017, it started building warehouses independent from their stores to provide instant delivery within one hour. Sam's Club's e-commerce business has grown rapidly, which is also cited as an important reason for its steady expansion in China.  
In recent years, there are new retail stores, a concept which marries online and offline operations, pioneered by Alibaba with its Hema Fresh stores. Consumers can both shop in store, and order fresh and cooked food for delivery within a certain distance from the store. These new retail stores are also jockeying for position in the competitive food retail arena, Tu said.  
"Sam's Club changed because its original business model wasn't strong enough for it to compete with domestic giants like JD.com and Hema Fresh," Tu said, "So the future of Costco in China will depend on what localization strategies it can make to adapt to the local market, including catering to local people's shopping habits and the overall trend of digitalized retailing." 
Costco also needs to make sure the management of its supply chain and control of net profit margins could work as well in China, Tu noted.  
Costco's low-price strategy and its core competitiveness mainly relies on its control over the supply channel and strong bargaining power thanks to its big sales volume of a certain item. "The supply chain in China has got complicated in the past decades. For example, suppliers may worry if Costco's low-price system will affect their sales via other channels," Tu said.  
"But anyway, Costco's arrival will bring some influence to bear on domestic retailers and might force them to make changes. In China, the cost of getting products has been high. Chinese retailers can learn from Costco how to manage supply chains, decrease the cost of
logistics and increase the turnover rate, which is a hard nut to crack for China's retail industry," Tu said.