Cities are betting big on their night-time economy with expanded services, subsidies and more. But will it be enough to perk up China's slowing economy? By Xu Ming
A
t 10 pm on a summer weekday, a food court in Beijing's tech hub of Zhongguancun, Haidian District was still ablaze with lights. It was almost closing time, but young people were still shuttling between stalls in groups of two or three. Several kilometers away, a 24-hour library is crowded with people bent over desks, studying or reading. Outside is a convenience store stocked with snacks and drinks available throughout the night.  
People living in Beijing now can expect to see more such places as the city embarks on boosting its night-time economy through more services such as food, entertainment and tourism between 6 pm to 6 am. Haidian became the first district to come up with guidelines in May after the city added the night-time economy to the agenda of this year's government work report. Other districts are expected to follow.  
Other cities such as Tianjin, Shanghai, and Jinan, Shandong Province are also gearing up to develop their night-time economies with plans for subsidies, new nightlife areas, landmark night malls and night tours at scenic spots. 
Increased spending, growing tourism and more young people staying out late are driving expectations for a night economy boom across China. Promoting night-time economies is a way to stabilize economic growth and employment as China's economy slows and faces external uncertainties.  
But developing a night-time economy poses challenges to city governments. In addition to providing public transport, lighting and public toilets, managing conflicts between business and residents and maintaining orderly development will test the capabilities of city administrators, experts said. 
From Dusk Till Dawn
Twenty-something Jim Mi sat at a noodle stall eating with his friends at the food court in Zhongguancun as they watched the girls pass by. Every day he and his friends bike several stops from work to the food court for dinner. They usually stay until it closes at 10 pm before catching the subway home. "It's really convenient for those of us who often work overtime and don't cook," Mi told NewsChina. 
An owner of a stall in the hall surnamed Wang told NewsChina that customers start to trickle in at noon, but peak business is from around 7 pm until close. Most customers are students from nearby universities and workers from surrounding office buildings.  
Home to a number of universities, institutions and tech parks, Haidian plans to encourage more shopping malls and supermarkets to extend business hours, build more 24-hour convenience stores and night-time food courts, and encourage public facilities like libraries, stadiums and parks to operate 24 hours to meet the demands of young people studying and working in the area, according to the district government.  
Many cities are going all out to develop a night-time economy that plays up to their geographical and cultural advantages. While nightlife is nothing new to China, it is taking on a new look, evolving from the traditional mix of street food, vendors and karaoke to catering to a wide spectrum of choices.  
Shanghai announced in April it would lift restrictions on night markets by allowing bars to operate outside patios at certain times. It also plans to create nightlife streets aiming at different demographics, such as foreigners and young people. Nanjing, the capital of Jiangsu Province, has developed flourishing night business activities at scenic spots like the Confucius Temple and along the Qinhuai River. Jinan is designing night tours of its well-known lakes and springs, and plans to extend the opening hours of museums, libraries and music halls to offer more cultural activities at night.  
According to a report issued by UnionPay's China UMS, a Shanghai-based bank card payment service provider, during China's weeklong Labor Day holiday this year, consumption at night reached 29.92 percent of that during daytime hours, an increase of 4 percent compared to the previous year. Statistics co-released by the China Tourism Academy and online food delivery platform Meituan shows that in 2018, consumption of catering services at night rose by 47 percent over the previous year, 2 percent higher than daytime spending increased.  
"People are enthusiastic about spending. If the government supports the night economy by enriching service supply and encouraging smaller purchases, the potential is huge in terms of consumption," noted Lu Liangliang, an economic analyst at Jiangnan Rural Commercial Bank.  When announcing Beijing's plan to develop its night-time economy in January, Yan Ligang, director of the Beijing municipal commerce bureau, said that the city aimed to increase its total consumption by 7.5 percent in 2019 and consumption of services would make up 55 percent of total consumption. The nearby city of Tianjin has operated several night markets at landmarks, tourist attractions and historical sites since late 2018 in the quest to stimulate its night-time economy.  
"Now that economic growth is slowing, promoting consumption at night and consumption overall will help stabilize economic growth and employment," Lu told NewsChina. He added that for some local governments, promoting consumption and services would also help stimulate the economic transformation from secondary to service industries. 
In the past, the growth of consumption mainly relied on big purchases such as home appliances, furniture and vehicles, while spending on smaller purchases and services didn't garner due attention, said Lu.  
24-hour Party People
People like Mi born in the 1980s and 1990s are the main force behind night-time spending.  Statistics from Meituan show that in 2018, 14 million young people ordered takeout at work after 8 pm. Many also keep up their spending habits while traveling. A report issued by China Tourism Academy in March indicates that in 2018, people born in the 1980s and 1990s share respectively 40 percent and 19.8 percent of the total tourism consumption at night. Stage plays, 24-hour bookstores and cinemas are among the most popular choices. 
"Generations from the 1980s, 1990s and 2000s are playing key roles in driving the night-time economy. Comparatively speaking, people born in the 1960s and 1970s are more conservative about spending at night," noted Lu, adding that the 1990s generation is of particular importance. 
The increasingly diverse supply at night also demonstrates an overall consumption upgrade from household items and basic daily expenses to more expensive products and education, entertainment, culture and tourism. This has forced the government and enterprises to make changes. While traveling the Huangpu River in Shanghai, for example, tourists expect more food choices than just sightseeing, such as places to buy gifts, performances and convenient services.  
Statistics from China's National Bureau of Statistics show that the annual growth of total retail sales of consumer goods dropped to 9 percent in 2018, declining since 2011 from 17.1 percent. Part of the decrease in sales of consumer goods is attributed to more spending on upgraded consumption, like tourism and cultural recreation, experts said.  
Statistics from the Ministry of Culture and Tourism of China show that by the end of 2018, travel within China reached 5.54 billion trips, a rise of 10.8 percent compared to 2017. The growth in the number of tourists has kept above 10 percent for eight years since 2010.  
According to a survey by the China Tourism Academy, more than 90 percent of tourists go out at night while on holiday. During the Spring Festival of 2019, night spending accounted for 30 percent of total consumption at tourist destinations. Boat tours, lantern shows and cultural activities are favorites, showed a research conducted jointly by the China Tourism Academy, China UnionPay, and online travel sites Ctrip and Lvmama.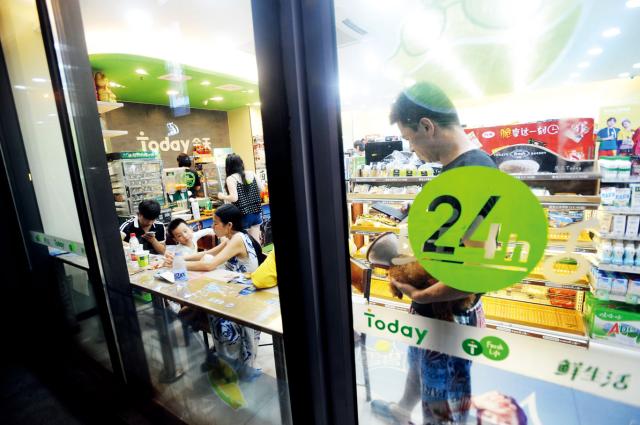 Customers in a 24-hour convenience store in Wuhan, Hubei Province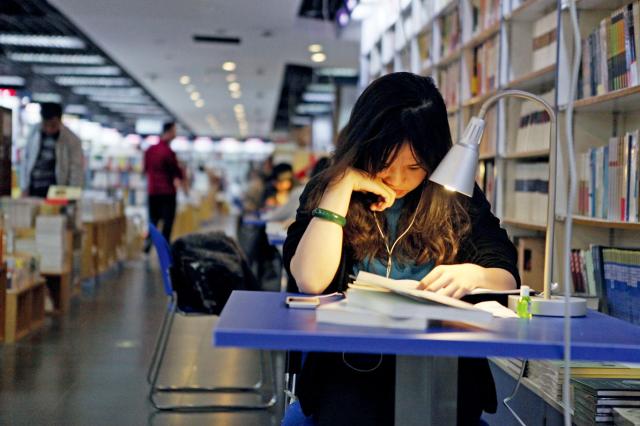 A woman reads a book in a 24-hour bookstore in Beijing
Dark Matters 
Developing a night-time economy is not only about extending business hours or opening 24-hour stores. It is a systematic project that involves cooperation from many fields, experts point out.  
"The night-time economy boom will put pressure on city infrastructure and services such as utilities, subways, public health, security and emergency rescue," Dai Bin, director of the China Tourism Academy said at a night-time tourism conference in March. 
Cities aiming to develop night-time economies have already taken measures to improve support through public facilities. For example, Shanghai has extended subway hours on weekends since 2017 and plans to add more night bus routes and parking space around some food and bar streets. In July, Beijing announced plans to extend subway hours for some routes on weekends from May to October. Haidian District announced it would adjust bus routes and dispatch a fleet of night buses to serve major business areas and neighborhoods. The city of Jinan plans to provide its main nightlife streets, scenic spots and holiday resorts with free Wi-Fi.  
However, developing a night-time economy poses greater challenges than improving facilities, Yao Yuan, an expert of city administration at Nanjing University, told NewsChina. "Environmental and sanitation issues, like dealing with wastewater, garbage and noise to minimize influence on residents, all demand refined and smart management," Yao said.  
Beginning in the 1980s, many Chinese cities encouraged night markets, where vendors could sell clothes, food and everyday items, to help meet demand. However, several years ago a number of cities across the country closed their night markets.
Authorities cited sanitation issues, noise pollution, increased traffic and disruptions of social order as major reasons. The public was largely split on the closures. 
While several cities plan to bring back night markets to stimulate their night-time economy, those looking forward to strolling along the hodgepodge of stalls and vendors as in the past may be disappointed.  
Authorities in Jinan, which allows night markets during certain times, told NewsChina that the loosened restrictions do not mean the return of disorderly street vending. The planned markets will have strictly designated areas for vendors, for example. 
"Developing a night-time economy demands that city administrators increase input to guarantee food safety and personal safety," Dai said. 
According to Yao, besides increased regulation, managing nightlife business requires collaboration between government, vendors, residents, communities and industry associations to address problems as they emerge.  
In addition to officials charged with promoting and regulating nightlife in every district, Shanghai is taking a cure from cities like New York and Paris by recruiting "nightlife CEOs," or managers of companies deeply involved in night businesses, to assist in development. Jinan plans to follow suit.  
"The ability to maintain orderly development of night-time economy while creating a convenient and comfortable environment will be a touchstone to test local government administrators," Yao said.