French musical Mozart-L'opera Rock has been a smashing success in China that is in part fueling the country's growing appetite for Western musical theater
F
rom movies to music, interest in Western pop culture has grown in China over the past two decades. More recently, soaring demand for high-quality cultural experiences among  
China's growing middle class has developed a new rising market for musicals. Chinese theatergoers are not only seeking out West End and Broadway productions, but also those from France, Germany and Russia.  
French musical Mozart-L'opera Rock is an example. Combining original pop-rock compositions with the music of Wolfgang Amadeus Mozart, the show's success has been so sweeping that scalpers sell tickets at three to five times the box office price.  
The show's phenomenal popularity has sparked speculation in the industry as to whether China's musical market has finally arrived or is just another song and dance. 
Opening Night
When Zhang Ligang entered the theater to watch the Shanghai debut of Mozart-L'opera Rock in January 2018, he said the atmosphere was so electric that it definitely felt more rock than opera.  
The audience cheered non-stop, said Zhang, president of Joyway Promotions, a musical tour management company, recalling how fans rushed the stage to interact with performers every time an intro to a song began.  
"At first I was like a normal audience member, just trying to watch the show very quietly," Zhang recalled. "But later on I was totally in love with it and joined in the excitement. I cheered in spite of myself. It seemed like at that moment all my emotions had found a place to let loose."  
Zhang said he had come to check out if the show was suited for a China tour. What he saw convinced him he had a hit.  
Riding on the success of its initial 24-show run at the SAIC-Shanghai Cultural Square in January 2018, Zhang's company arranged a nine-city tour that included big stops like Beijing, Guangzhou and Shenzhen and smaller cities like Wuxi and Nanjing.
Rock Us Amadeus
Mozart-L'opera Rock first premiered in 2009 at the Palais des Sports de Paris to rave reviews. Later it toured through France, Japan, South Korea, Ukraine and Russia. Its soundtrack topped French music charts.  
Based on the life of the legendary composer from 17 to his death at 35, the show portrays Mozart as a young rocker struggling to earn recognition in the 18th century entertainment industry.  
The musical features more than 50 dancers, actors and singers, lavish Baroque stage sets and over 400 period costumes. Mozart charms audiences with his dramatic eye makeup – revealing a modern soul beneath his black-and-red lace suit.  
To make the show more accessible to Chinese audiences, Zhang suggested adding local color to the production, such as Chinese folk number Jasmine Flower and bits of local dialect – albeit mostly expletives – to the dialogue, depending on the city they were in. 
Mozart says niubi ("awesome") in Beijing, biesan ("tramp" or "beggar") in Shanghai, and pok gai ("go die on the street") in Guangzhou.  
"The real Mozart was a wild and unruly guy, not a refined gentleman at all. Adding some vulgar language brings out the vividness and authenticity of his character," Zhang told NewsChina.  
The interaction between performers and audiences has become a highlight of the show, which the cast believes is one major reason for its success.  
"It's a musical that does not respect the fourth wall, the distance between the public and the stage. It's a musical where I can just break the wall of the stage and go directly to the audience, interact with them," Mikelangelo Loconte, who plays Wolfgang Amadeus Mozart, said in a recent interview with China Global Television Network. 
Theater Fever
Fans have played a crucial part in promoting the show. Before Mozart-L'opera Rock came to Shanghai last year, it already had a large fanbase among Chinese teens and young adults.  
But the major force behind the show's popularity is young women. Zhang explained that generally more than half of the audience is women under 25.  
Most young fans got their first taste of the show online. In 2011, an unauthorized full-length video of Mozart-L'opera Rock was uploaded on Bilibili, a video streaming platform mainly used by millennials where fandom for the show runs deep.  
Heavily influenced by teen animation, comics, games and novels, these young fans not only share their own fan fiction and art but also post themselves cosplaying characters from the musical.  
Fei Yuanhong is the vice-general manager of SAIC-Shanghai Cultural Square. Besides Mozart-L'opera Rock, Fei has so far hosted a dozen musicals at the venue, such as The Phantom of Opera and Austrian musical Elisabeth. 
Though Fei has worked in the industry for years, never did had he encountered so many enthusiastic fans for a single musical.  
"When we put on the show in Shanghai last year, some fans bought tickets to all 24 shows and rented rooms near the theater for a month just to see them all. A number of fans saw it a dozen times, flying from Japan, Korea, Russia and Ukraine just for the show," Fei told NewsChina.  
The cast said they had never experienced such a fervent following in other countries. "Chinese fans are so far away from us, but they know us so well. I think basically we share a similar soul and feel connected with each other. They are so familiar to me and I always hope to come to China to see them again," Florent Mothe, who plays Mozart's rival, Antonio Salieri, said in an interview with The Paper.  
Fei observed that French musicals have had more success in China than Broadway and West End productions, such as Notre-Dame de Paris, Roméo et Juliette, the French version of Les Misérables and of course Mozart-L'opera Rock.  
He attributed the popularity of French musicals in China to shared aesthetic tastes in drama and theater. 
"French musicals are comparatively weak in narrative and dramatic conflict, but strong in style and characterization. In ancient times, Chinese theatergoers did not pay much attention to the story itself but preferred to appreciate the style, how the story was portrayed and the actors' performances," he told our reporter.  
"Generally speaking, compared to Broadway and West End musicals, characters and performers in French musicals play a more prominent role than stories in attracting audiences. French musical fans usually have a strong penchant for particular characters and cast – which is very similar to Chinese theatergoers, who usually care more about the performers than the story," Fei added.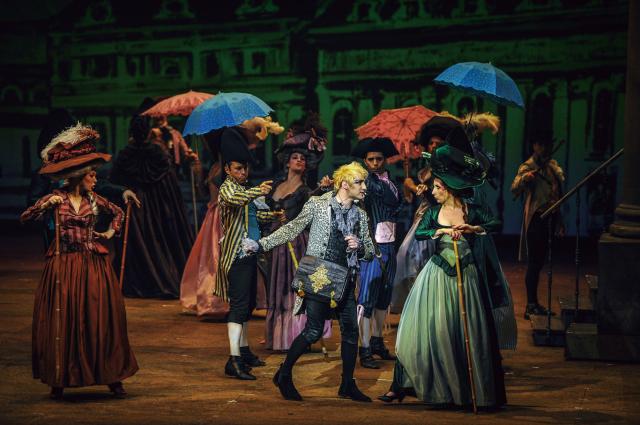 Musical Mozart-L'opera Rock is performed on December 29 in Tianjin
'We're Still A Lake'
Western musicals are not new to China's largest cities. In 2002, Les Misérables had a run of 21 shows at the Shanghai Grand Theater, the first large overseas production in China.  
Since then, the theater has brought over one major Western musical a year, mostly from Broadway and the West End, such as Cats (2003), The Sound of Music (2004), The Phantom of the Opera (2005), The Lion King (2006) and Mamma Mia! (2007).  
Built in 2011, SAIC-Shanghai Cultural Square has put on more than 1,000 musicals, including non-English language productions from France, Germany, Russia and Spain that have been enormously popular with Chinese audiences.  
The development of the musical industry ramped up in 2015 with Beijing's newly built Tianqiao Performing Arts Center. "In the past, costs were high when a show could only perform in one place. But now with cities like Beijing, Shanghai and Guangzhou all hosting shows, costs are shared and more foreign musicals are willing to come to China," Fei told our reporter.  
China's musical market is tiny compared to the country's film market, which is already the world's second-largest. According to a 2017 analysis report on China's musical industry conducted by the Chinairn Industry Research Institute, musicals took in 348 million yuan (US$51.8m) at the box office in China. In the same year, the highest-grossing film Wolf Warrior 2 made 5.68 billion yuan (US$ 846m).  
Referencing musical industry development in Japan and South Korea, market watchers estimated that once China's per capita GDP reached $10,000, the musical industry would boom.  
However, despite 10 provinces and provincial-level municipalities entering the "$10,000 per capita club" as early as 2015, the industry has yet to see that predicted growth.  
"There aren't many people in China taking theater as a lifestyle," Fei said. 
"No one would say our market is a red ocean or a blue ocean. After all, right now we're not even an ocean. We're still a lake."