A high-profile academic misconduct scandal involving a Chinese actor has aroused public scrutiny of alleged plagiarism and institutions cashing in on stardom
Z
hai Tianlin had long been proud of his reputation as a "xueba" – someone with stunning academic achievements. The 32-year-old actor was touted as having the highest  
academic qualifications in China's entertainment industry: a PhD from the Beijing Film Academy (BFA). He was getting his postdoc at the even more prestigious Peking University when the curtain fell on his shining academic record. Netizens had accused him of plagiarism.  
His case triggered a larger discussion over academic dishonesty and problems plaguing arts programs in higher education in China. With the rise of the web celebrity and the fan economy, the country witnessed soaring numbers of applicants to film schools, all seeking fame and fortune. As a result, shady acting courses sprung up that lowered the overall quality of the country's film education. At the same time, increasing numbers of art academies are launching  
doctoral programs in response to the central government's ongoing plan to cultivate world-class universities. In the mad dash to develop, many have emphasized research quantity over quality, and as a result are troubled by plagiarism and low-quality writing.  
"Zhai's scandal has been a wake-up call for art academies and also all higher educational institutions to strengthen regulations over academic management," Zhou Xing, professor with the School of Art and Communication at Beijing Normal University, told NewsChina.  
Acting the Part 
Zhai Tianlin started his bachelor's degree at the BFA's Performing Arts School in 2006. He received his master's in 2014 and doctorate in 2018.  
Zhai rose to fame on the reality show befittingly called The Birth of an Actor in 2017. He starred in more than 18 films and appeared on 17 reality shows. He is known for his academic reputation – a rarity in China's entertainment industry.  
The actor frequently boasted about his academic achievements on social media and the efforts he put into his research papers. On January 31, Zhai posted a photo of his acceptance letter to Peking University's Guanghua School of Management on Sina Weibo.  
His persistent grandstanding piqued the interest of netizens, who began digging for his academic papers. One of the actor's published essays proved their suspicions: The paper contained roughly 2,800 words, 1,646 of which were the same as an article by another actor from 2006. The similarity score between the two was 40.4 percent.  
Netizens also excavated more proof of the actor's academic misconduct: During a live broadcast last August, Zhai said he had never heard of the China National Knowledge Infrastructure (CNKI) – the largest and most widely used online database of academic literature in China.  
"I can't believe how he could not know what CNKI is? Nearly all Chinese graduate students, scholars and professors use CNKI for reference. How could someone with a PhD have never used it for writing his papers?" one netizen wrote.  
Zhai's management agency issued a statement on February 9 saying he was joking when he said he did not know about CNKI.  
One blogger also claimed that Zhai's doctoral dissertation could not be found in the CNKI database while those written by his classmates were uploaded there.  
The series of posts sparked a heated discussion online, with many saying it was unfair to students who worked hard to earn a degree. The incident went viral online and caught the attention of BFA and Peking University, both of which launched their own investigations into the accusations.  
The Ministry of Education condemned the actor's behavior on February 15 and stressed its zero-tolerance policy for academic misconduct.  
Within days, Zhai's academic career had unraveled. Peking University expelled Zhai from the two-year postdoctoral research program and suspended his supervisor's authority to further enroll post-doctorate students. The Beijing Film Academy's (BFA) Performing Arts School rescinded
Zhai's PhD. His former academic adviser, Chen Yi, was no longer allowed to teach doctoral candidates.  
'Vanity Fair' 
Following Zhai's scandal, a letter written 15 years ago by the now deceased film theorist and educator Zhou Chuanji went viral online. As film educator and former BFA president, Zhou had taught generations of leading filmmakers such as Chen Kaige and Zhang Yimou.  
In 2003, 78-year-old Zhou wrote a letter to his student Zhang Huijun, the newly appointed BFA president. In the letter, the elder professor bluntly criticized the latent problems of China's film academies and an industry bent on cranking out celebrities.  
"Nowadays even businesspeople who would only be considered average movie fans want a piece of film education. Their only goal is to manufacture stars. When it comes to film, all they talk about are celebrities and stars," Zhou wrote. "Everyone is trying to cash in with fly-by-night acting classes and doctoral courses in cinema. Maybe the Beijing Film Academy is to blame. Its acting department has increasingly become the epitome of a vanity fair," Zhou wrote.  
That year marked a turning point for Chinese cinema. Zhang Yimou's martial arts epic Hero (2002), arguably the Chinese mainland's first high-budget smash, ushered in China's age of commercial blockbusters.  
The long debate over the nature of film – whether as art or a commercial product – gradually died down, and the industries for cultivating stars and idols began to take shape. This commercialization had a profound impact on China's film education.  
Dubbed the cradle of Chinese talent, the BFA is the alma mater of many of the biggest names in Chinese cinema, from top filmmakers Zhang Yimou, Chen Kaige and Jia Zhangke to actors Zhao Wei, Xu Jinlei and Huang Xiaoming.  
Training a group of "outstanding performing artists who serve the people" has long been BFA's expectation of its students. But many arrived at the school with their own dreams and ambitions. 
Take BFA's Performing Arts School as an example. In 1999, apart from its undergraduate program, the school also offered a 40-slot vocational class with a relatively lower academic threshold. In 2003, there were 190 slots.  
Lower requirements gave students who scored low on the national college entrance examination, or gaokao, a scholastic shortcut. Arts enrollment has since soared from 32,000 in 2002 to nearly one million in 2018. Among all the arts programs, many see acting as the most direct route to the entertainment industry, fame and fortune.  
Zhai Tianlin took the gaokao in 2006 and scored only 19/150 in the math portion. In 2006, the BFA's Performing Arts School received around 6,700 applicants, 20 percent higher than the previous year. In 2019, 59,059 students applied to the BFA, with 10,454 competing for the 60-slot Performing Arts School.  
According to a report by China Education Daily in 2016, among the 2,000 colleges and universities in China, more than 400 had an acting department. However, the majority of these schools had no previous affiliation with the arts and specialized in other fields such as sports, mining, agriculture, engineering and economics.  
"China's film academies got themselves all mixed up. Too many people are trying to squeeze in and snatch up limited teaching resources. Academic quality can't be guaranteed as the enrolled students proliferate," Zhao Zhengyang, associate researcher at the China Film Art Research Center, told NewsChina.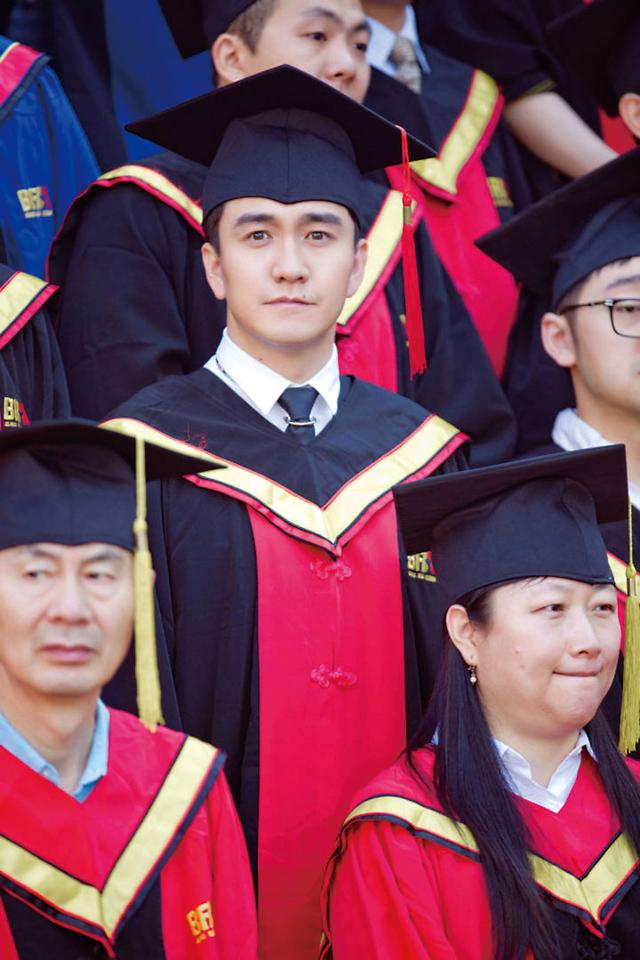 Zhai Tianlin poses for a graduation photo at the Beijing Film Academy in June 2018
The DFA Dilemma  
The Chinese government has aimed to elevate its higher education institutions to world-class standards as part of its Double First Class University Plan. Since it was announced in 2015, China has seen exponential growth in the number of PhD graduates to become the top annual producer of PhDs in the world today.  
In response to the plan, many of the nation's art academies and universities also set up doctoral programs in the arts.  
On February 14, Xie Fei, 77, renowned director and former BFA vice president, posted a long article on Weibo, China's Twitter-like service, criticizing what he saw as PhD mills in China's art academies.  
"I strongly opposed the [BFA]'s plan of opening doctoral programs at the time [in 2003]. As a professional college, the BFA's objective is to equip our students with professional knowledge and practical training. Training professional film talent is our goal. The aim of a doctorate program is to produce academic researchers, but I don't think the BFA can provide supervisors qualified enough to teach doctorates," Xie wrote.  
After graduating from the BFA in 1965 with a bachelor's degree in directing, Xie devoted the next five decades to filmmaking and teaching. "My creative and educational experiences qualify me to teach undergraduate and MFA courses. But I was required by the academy to supervise doctoral candidates as well, which I don't think I am capable of," Xie said.  
Xie believes that while it is necessary to train academic researchers in film studies, there is no practical use for producing Doctors of Fine Arts (DFAs) in disciplines such as directing, editing, acting, filming, recording, producing and animation.  
"Though the academy's doctoral programs have operated for years, we still haven't seen them produce any outstanding talent or doctoral dissertations... Instead, it's more often the case that candidates produce low-quality papers and resort to plagiarism," Xie wrote.  
In his interview with NewsChina, Zhao Zhengyang pointed out another problem concerning degrees in China's arts education: "In China, having a doctoral degree is a must for college teachers to attain a high academic position. What's unreasonable is that professional teachers who teach creative subjects in colleges and universities have to follow the same rigid requirements. Their teaching abilities are not evaluated by their professional skills but by how many academic papers they have published and whether they have a doctorate."  
Zhao said this creates a dilemma: "On the one hand, a number of people who have never worked in the arts before have got a DFA, while on the other hand skilled and talented artists have a hard time producing good-quality academic work," Zhao said. Zhou Xing, however, supports the idea of art academies training academic researchers in doctoral programs.  
Zhou, who appraises art courses for the Academic Degrees Committee of the State Council (ADCSC), said when any art develops into a mature subject, theory is necessary to support the subject's long-term development.  
"The truth is that if an art subject lacks comprehensive theoretical support, society will eventually view it with prejudice. People will generally equate art to entertainment and see it as nothing but acting, singing and dancing. That's why art needs theory," Zhou told NewsChina. "Take acting as an example. Most performers improve their acting skills by observing life and gathering experiences. But to systematically exalt acting to a theoretical level we need exceptional art theorists."  
"It is absolutely unwise for art academies to merely recruit painters to evaluate students' artworks or professional actors to judge students' acting. Professional artists and actors, even if they are skilled in their professions, are likely to make quick and rough judgments based on intuition and experience instead of following a consistent and systematic aesthetic criterion," Zhou said.