Chinese President Xi Jinping has vowed the country will continue to reform and open up to the world, but only on its own terms
D
ecember 18, 2018 marked the 40th anniversary of China's reform and opening-up launched in 1978 under the leadership of Deng Xiaoping, which has since propelled the miraculous development of the once-impoverished country. During a high-profile ceremony held in the Great Hall of the People in Beijing on the day where hundreds of officials, business leaders and diplomats gathered to celebrate the event, Chinese President Xi Jinping, who also serves as the general secretary of the ruling Communist Party of China (CPC), delivered a keynote speech.  
Coinciding with a sensitive period in which China has been challenged by a sustained economic slowdown exacerbated by the trade war with the US, which poses a major threat to not only China's economic growth but its overall relationship with the world's most powerful country, Xi's speech was closely watched by domestic and international observers.  
For many, after four decades of reform and opening-up, China appears to have arrived at a crossroads. Domestically, the past months have seen heated discussions and debates over the relationship between the State and private sectors. Internationally, many Western officials, diplomats and commentators have voiced increasingly strong complaints that economic development has failed to lead China to adopt Western-style values and political systems. Xi's speech provided important insights into China's future policies toward these challenges and debates. NewsChina examines some of its major highlights. 
Major Achievements
Offering a review of China's major achievements during its four decades of reform and opening-up, major achievements including enabling 740 million people to lift themselves out of extreme  
poverty and reducing the poverty headcount ratio by 94.4 percent, Xi called the reform and opening-up a "great revolution" in the history of China, juxtaposing it with the founding of the Communist Party of China (CPC) in 1921 and the founding of the People's Republic of China in 1949. 
Xi also linked the launch of reform and opening-up in 1978 to his iconic concept of "rejuvenation of the Chinese nation," calling it a "milestone" in achieving the goal. Reviewing the various achievements China has made in the past four decades, Xi declared that China has bid farewell to the problems that plagued its people for thousands of years, including hunger, shortages and poverty.  
Throughout his speech, Xi repetitively emphasized the importance of the Party's leadership during the reform and opening-up era and in the future. According to Xi, reform and opening-up is "a great reawakening" of the CPC, which nurtures "great creativity in both theory and practice" of the Party. Xi stressed that China's achievements over the past four decades have shown that the Party leadership is the most essential attribute of socialism with Chinese characteristics, and the greatest strength of this system.  
"It is by upholding the centralized, unified leadership of the Party that we have been able to achieve the historic transformation, usher in a new era of reform and opening-up, and embark on a new journey of great rejuvenation of the Chinese nation," he said. Xi then called for "continued efforts" to be made in order to "improve and develop the system of socialism with Chinese characteristics to harness and enhance the advantages of China's system." 
Stressing that China must maintain the Party's leadership over all the work of the Party," which he described as "a fundamental principle that bears on the Party and the country," Xi called on all Party members and all people to "maintain a high degree of self-consciousness in terms of thinking, political orientation and actions." 
Also, in line with Xi's pledge in 2013 to allow ordinary people to share the fruits of the country's development and to lead a life of dignity and prosperity, Xi said that the people-oriented approach must be adhered to and efforts should be made to keep delivering on the people's aspirations for a better life. 
"What has been achieved in economic, political, cultural, social and ecological fields must be shared among all the people," Xi said, stressing it must be ensured that "the people have a stronger sense of fulfillment and greater happiness, and feel safer and more secure in a more direct and tangible manner."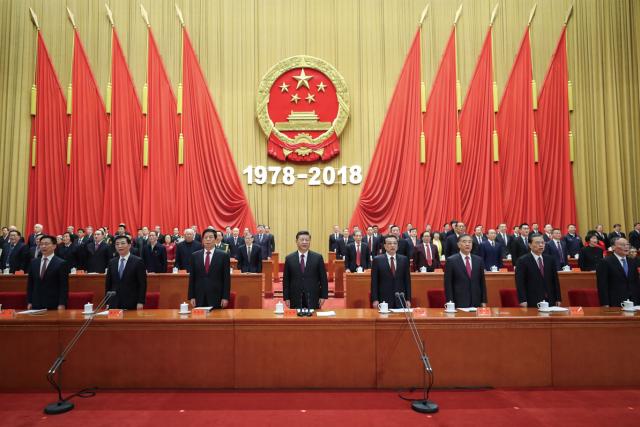 Leaders gather at a celebration to mark the 40th anniversary China's reform and opening-up, Beijing, December 18, 2018
Continued Commitment
Regarding future policies, Xi reiterated China's commitment to opening wider to the world. "The practice of reform and opening-up over the past 40 years has shown that openness brings progress, while seclusion leads to backwardness," Xi said. "China cannot develop itself in isolation from the world, and the world needs China for global prosperity," he added. 
However, Xi made clear that China will follow its own path. "All the theories and practice of the Communist Party of China in the past 40 years of reform and opening-up are based on the theme of upholding and advancing socialism with Chinese characteristics," which "provides a broad pathway for China to advance with the times and steer the course of development today."  
"For a country with over 5,000 years of civilization and more than 1.3 billion people, there is no textbook of golden rules to follow for reform and development in China," said Xi. "No one is in a position to dictate to the Chinese people what should or should not be done." 
Xi declared that "we will resolutely reform what should be reformed, and make no change where there should not be." Many take the rhetoric as a veiled response to the US, which has repeatedly pressed China to conduct "structural reform" during the ongoing trade war negotiations.  
Xi then went on to reiterate China's approach to global diplomacy. "China actively promotes the establishment of an inclusive world economy and shared future of humanity, as well as the reform of global governance. China is opposed to hegemony and power politics and is committed to providing Chinese wisdom, Chinese solutions and Chinese resources to world peace and development."  
In another apparently indirect reference to the US, Xi said that the world "must respect the rights of people of all countries to choose their own development path, safeguard international  
justice, advocate the democratization of international relations, oppose the imposition of one's will on others, oppose interference in other countries' internal affairs, and oppose bullying." 
Stressing that China's development over the past 40 years has effectively served the cause of world peace and development, Xi reassured that "no matter how far China develops, it will never seek hegemony."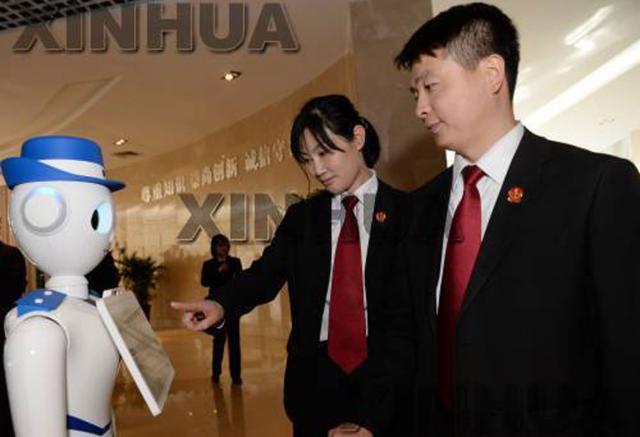 Staff look at a robot helper at the first Intellectual Property Court in northwestern China in Xi'an, Shaanxi Province, February 24, 2018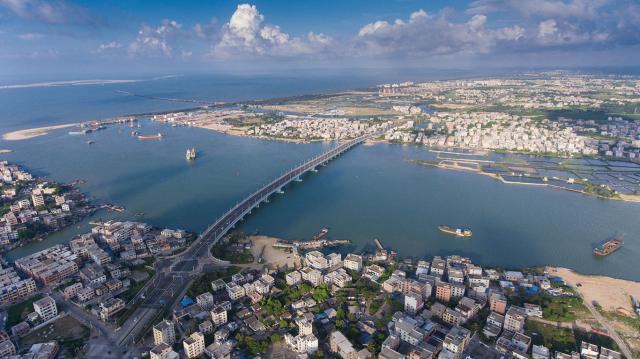 A bird's eye view of part of a pilot free trade zone in the southern island province of Hainan, June 3, 2018
"China's development has provided successful experience and offered a bright prospect for other developing countries as they strive for modernization, representing a great contribution of the Chinese nation to the progress of human civilization," Xi added.  
In the latter part of his speech, Xi highlighted the importance of further improving China's composite strength. It included a pledge to build a strong army which Xi said would not only safeguard China's sovereignty and national security, but was also commensurate with its international status as an emerging power. 
Reasserting the one-China principle and asserting that it is the nation's ultimate aspiration to achieve "complete unification," referring to the unification of Taiwan with the Chinese mainland, Xi said the country has"resolute political will and powerful capability to safeguard national sovereignty and territorial integrity." "Not an inch of the motherland's sacred territory can be broken up," Xi said.