As the market for conventional autos is slowing, automated and connected vehicles are beginning to take off in China, with traditional carmakers and internet giants behind the wheel together – for now
T
he market for automated and connected vehicles in China looks set to reach more than 100 billion yuan (US$14.4 billion) by 2020, Miao Wei, Minister of the Ministry of Industry and  
Information Technology of China (MIIT), revealed at the annual 2018 World Intelligent Connected Vehicles Conference, which took place from October 18-21 in Beijing. "A new era for automobiles is coming," Miao said.  
Expectations have been riding high for self-driving and smart vehicles, known as intelligent connected vehicles (ICVs) in China, in the last two or three years. These are vehicles equipped with advanced sensors (radar and cameras), which allow vehicles, roadside infrastructure and information terminals to communicate with each other via apps and the internet, enabling fully automated driving and a connected system of drivers and other devices that drivers want to  
connect to. It is expected to make personal mobility more efficient and safer.  
These bright prospects are in stark contrast with the overall gloomy auto market in recent months. In September, 2.39 million vehicles were sold in China, an 11.55 percent decrease from the same period of last year, the biggest fall since January 2012, data from the China Association of Automobile Manufacturers shows. 
But it is also regarded as a good chance for Chinese automakers to deploy new technologies to embrace new trends as capital continues to swarm into the largest automobile market in the world.  
Traditional automakers and technology companies hope to cooperate to steal a march on their competitors.  
Gold Rush
In Beijing alone, the market value for ICVs and associated industries is set to reach 100 billion yuan (US$14.4 billion) by 2022, according to a white paper issued by the Beijing Municipal Bureau of Economy and Information Technology and published at the October ICV conference. The city is upping measures to develop ICVs, allowing these vehicles to be tested on 44 roads in the capital, with a total length of 123 kilometers, by October. Thirty-five types of self-driving  
vehicles from eight enterprises possessing ICV test licenses have altogether been road-tested over distances of 63,000 kilometers without mishap. Now Beijing is home to over 200 companies related to ICVs, almost covering the full supply chain. The city plans to establish a 50,000-hectare pilot zone for ICV testing and earmark more than 2,000 kilometers of roads for testing ICVs by 2022. 
What is happening in Beijing is just one example of the national commitment toward developing ICVs in China. This development is regarded as being of strategic importance in terms of improving transportation safety, efficiency and relieving environmental pollution. There is consensus in the industry that the shift to electric and smart autos is the way forward for traditional automakers to upgrade and adapt to future market demand and competition. Since 2015, more than 16 pilot zones for ICVs have been built, including in Shanghai, Chongqing, Wuhan in Hubei Province and Hangzhou, capital of Zhejiang Province.  
Before being deployed in the real world, many important application scenarios, such as automated driving, intelligent parking, resource sharing, intelligent traffic networks and emergency simulation are being tested and evaluated in the pilot zones.  
Radio frequencies are needed to connect a moving car to the internet, so at the ICV conference, the MIIT announced special bandwidths would be dedicated for this purpose. The ministry also plans to develop a more suitable bandwidth frequency for the long-term demand for ICVs.  
"Currently, complicated electronic information products and auto electronic systems account for 30-60 percent of the cost of producing a car, which is also the main source of profit," said Wu Hequan, president of the Internet Society of China and an academician at the Chinese Academy of Engineering, at the conference. 
Wu says the global market value for automotive electronic systems is about US$168 billion a year and ICVs will add another US$130 billion, and that 80 percent of automobile innovation will be in electronic and internet connection systems in the future. 
Moreover, as China relaxes foreign ownership in the country's automaking industry and brings more competitive pressure to domestic brands, developing ICVs is regarded as a chance for Chinese brands to level the playing field with international auto giants
Open Cooperation
The potential for ICVs is generating increasingly close cooperation between Chinese automakers and internet technology companies, making China's automobile manufacturing unprecedentedly open, though today's partners could well end up as tomorrow's fierce competitors.  
On October 31, Tencent, a Chinese internet giant, and Chang'an Automobile, a Chinese automobile manufacturer, launched a new car equipped with Tencent's intelligent ecosystem, the first since the two companies signed a cooperation contract in April 2018.  
Chang'an plans to invest 20 billion yuan ($2.9b) in developing intelligent technologies by 2020. The company's partners in developing ICVs include car-related companies like Bosch from Germany and Chinese new energy car producer Nio and internet and information technology enterprises such as Tencent, Iflytek, Baidu, JD and Intel.
BAIC Group, a Beijing-based auto brand, has recently signed contracts with 12 companies in different fields, including parts firms and hi-tech companies, to develop ICV technology.  
Chinese tech company and search engine giant Baidu started researching self-driving vehicles in 2013. This October, its driverless minibus co-developed with King Long, a Chinese vehicle maker, started trials with passengers inside a park in the city of  
Wuhan, Hubei Province. Tencent is sharing its own intelligent system with five automobile makers, including Chang'an and Chinese automaker BYD, to build an intelligent ecosystem. 
"ICVs in the future will be a platform for open cooperation, because no one can do the job alone. It involves the internet, software and chips, which the traditional automobile industry can't handle," Kong Fanzhong, vice director of BAIC Group's research center, said at the 2018 World Intelligent Connected Vehicles Conference. 
Many new carmakers are piling into the sector, attracted by the potential profits. Focusing primarily on electric smart autos, these startups are known as the "new force in automaking," which refers to their rich internet technology background but low experience of manufacturing. They typically outsource their production to conventional automakers, though some of them have begun to build their own production bases.  
Wang Chuanfu, chairman of BYD, said at the conference that he regards openness as the key to developing ICVs. At present, the majority of the smart technologies can be shared among companies, so they can share resources and work together on innovation as long as enterprises are prepared to open their platforms. 
He Xiaopeng, CEO of Xiaopeng Motors, one of the new entries to the auto market, said during the ICV conference that developing smart cars will pose a big challenge for any ICV manufacturer as a "smart car is the only product that needs tens of thousands of parts [as hardware] and millions of lines of code [as software]."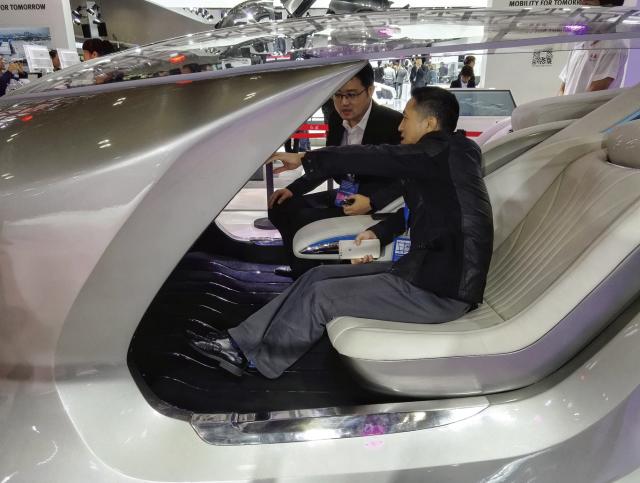 A display at the 2018 World Intelligent Connected Vehicles Conference, Beijing, November 11, 2018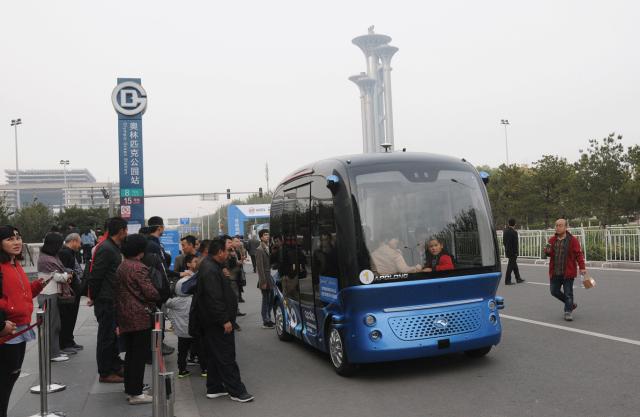 Visitors ride in an ICV near the conference venue, Beijing October 20, 2018
Hard Road
However smart they are, the core of an ICV remains auto manufacturing, and in this area, China still has some way to go to develop its own independent technology, observers point out. 
Wu noted that Chinese firms have relied on imported electronic systems for years. "Now it's time to update the automobile industry, a chance China should not miss," Wu said at the ICV conference. "If China doesn't develop its own automotive electronic systems, it will be hard to master the core technology for ICVs, and it won't be able to completely achieve intelligent transportation."  
"Big global companies began studying ICV technology 20 years ago… we have just started," said Dong Yang, vice director of the China Association of Automobile Manufacturers, at the conference.  
Waymo, Google's self-driving car project which started in 2009, has already become the first company in the world allowed to test fully driverless cars on public roads in California. As its next step, Waymo will open a commercial ride-hailing service that allows the public to hail the company's autonomous vehicles. 
In the rush to develop Chinese ICVs, some Chinese internet or technology companies have assumed car manufacturing is a simple thing, which might hinder them from putting due efforts into the field, insiders have pointed out.  
Li Shufu, founder and chairman of Geely Group, a Chinese car manufacturer, has repeatedly warned that developing a smart vehicle is not just a matter of equipping vehicles with smartphone-like functions. "Some companies think they're Apple and only need to make contracts with factories like Foxconn [the world's largest contract maker of electronics] to manufacture vehicles. They think autonomous driving is very easy," Li said at an innovation forum in Beijing in 2015.  
Manufacturing cars, which requires huge investment, cutting-edge technology and a complete industrial chain, is not easy. Even Tesla, the pioneer in electric intelligent cars, has been come up against repeated hurdles since it started 15 years ago. 
Experts have stressed the importance of technology accumulation in traditional auto manufacturing in developing ICVs, particularly when the role of the internet and intelligent technology is unprecedentedly emphasized. They point out that both internet giants and traditional automakers should be allowed to explore their own advantages in any future cooperation.  
Dong proposed there should be consensus that ICVs are primarily the business of the automobile industry and other industries should work to supplement this leading role. Internet companies should understand and respect the rule of technology development and the long production cycle in the auto industry to produce cars of solid quality.  
The rapid development of ICVs also raises higher requirements for the country's policies and laws that now lag behind. A national standard for ICVs is needed to ensure market regulation.  
ICVs provide an opportunity for Chinese automakers to catch up with international brands. Right now, there is unprecedented cooperation among industry players – before they start competing against each other.