China's coding education sector is heating up as parents eye an opportunity to help their kids stand out from the crowd. But qualified teachers are hard to find
C
hen Bin has been coding since 1996, when he was just 14 years old. At that time, computers were new to China and Chen found no proper textbook to use. He eventually taught himself by translating software user manuals. Despite his strong interest in coding, his father did not agree to buy him a computer until Chen had pleaded for a whole year. The computer cost his father half a year's salary, and made his family one of the few in China to own one.  
Things are utterly different today, of course. Chen's 10-year-old son has studied coding for more than a year, using Chen's self-compiled materials. Chen founded an online coding school two years ago and enrolled children throughout the country, the youngest aged six. Chen said some parents consulted him about coding when their child was only two years old.  
According to Chen, his online course was initiated when former US president Barack Obama's concept of STEM (Science, Technology, Engineering, Math) education was spreading to China. As computers, iPhones and iPads have become necessities for children from middle-class families and as AI is rapidly advancing across the globe, Chinese parents, especially elites, are increasingly embracing the idea that coding knowledge will be an important tool in the future information era.  
In this context, children's coding training quickly emerged and has been expanding in the Chinese market since 2014. While critics still doubt the necessity for a child to learn to program before school age, a group of pioneering parents are embracing it as a new way for their children to stand out in the entrance exams for top schools.  
To Chen Bin's peers who were born in the 1980s, coding was symbolized by a moving turtle. Back then, school computer classes taught students to make a turtle move with LOGO, a programming language invented by South African-born American computing scientist Seymour Papert in 1967.  
It was the world's first programming language for minors and remained an important chapter in Chinese coding textbooks through to the 1990s. However, at that time, computing or coding was pushed aside, and when painting, music, piano and mathematics were filling up children's spare time, it gradually faded from view.  
Only in 2014 did coding come back into Chinese parents' sight, with the American STEM concept going viral and exerting a big influence on elite parents who were convinced by Steve Jobs' remark that "Everybody in this country [The US] should learn to program a computer, because it teaches you how to think." 
After that, the Chinese government began to attach importance to coding education. In 2014, Zhejiang became the first province to add information technology (including coding) to the optional subjects for the gaokao, China's national college entrance exam. In 2016, China's Ministry of Education (MOE) issued its first scheme on the "education of information technology," putting it into the appraisal system for schools.  
The following year, China's State Council published a development program for new-generation AI, demanding that elementary and middle schools open AI-related courses and promote coding education. The document also encouraged individuals and non-government organs to develop coding-related learning software and games. Echoing the State Council, China's MOE issued a revised scheme on the "education of information technology" in April, planning to include information technology in middle school graduation exams.  
The policies acted as a powerful incentive, guiding more and more parents to delve into the coding training market. Data from China's biggest search engine, Baidu, shows the index for "children's coding" has risen 30 times over past two years. In 2015 the same index was close to zero.  
Astute investors quickly sensed business opportunities, with coding training institutions receiving a massive injection of investment since 2017. According to Chinese media reports, in 2017 at least 20 such institutions received investment, and the figure has continued to grow. "Codemao," a Shenzhen-based online education platform that teaches coding to children, received 300 million yuan (US$43.7m) in financing in 2018 following a 120 million yuan (US$17.5m) round last November. On September 12, all-dream.com, another children's coding training platform headquartered in Shanghai, announced it had received 120 million yuan (US$17.5m) in investment from two large foundations.  
"Our financing plan failed last year, but this year the market has boomed. We have now talked with more than 20 investors and accomplished our financing plan within two weeks," Chen Bin told NewsChina, revealing that his online coding school has received over 10 million yuan (US$1.5m) in preliminary investment. 
"Our [coding] students are either from international schools or from key [public] schools [in Beijing]," Zhang Lu, CEO of a Beijing-based teenage and youth training platform, told NewsChina. "They are all top students who have both the time and capability to learn quality-oriented courses like coding. Their parents are generally wealthy, talented and pioneering elites who care deeply about their children's education," he added. 
Logical Step
Si Pei, who has a doctorate in mathematics and computing, is one such parent. She took her eight-year-old daughter Mengmeng to a coding class during the summer vacation.  
According to Si, Mengmeng is a bit weak in her logical thinking – she believes that learning to code will help her improve. 
"Mengmeng was not so interested in the class at the very beginning, but she was soon attracted by the interesting games related to Scratch. Now she is very happy in the class," Si told NewsChina. 
A programming tool developed for young children by the Massachusetts Institute of Technology (MIT), Scratch is the world's most popular computer language for children to learn. It is simple and interesting in its operation. Even kids who do not speak English or know how to use a keyboard can learn the language by playing games.  
"The main purpose [of taking my daughter to the Scratch class] is to train her logical and independent thinking and teach her how to deal with problems step by step... I think this is much more important than getting a high score in the school exams," Si said. "Mengmeng has made great progress in coding. She has been able to make some small games with Scratch, and has had the forethought to make plans before she acts. She has also grown an interest in robots," she continued. 
"I will not force my daughter to learn [extracurricular] mathematics or other courses for entry to a good middle school, but coding is something I want her to keep learning," she added. 
Currently, coding training for children takes two forms: one is robot programming, such as Lego robots, which trains a child's hands-on skills by building and programming a robot, and the other is computer language, from the elementary graphics language Scratch to advanced ones such as Java, C++ and Python. Many professionals claim that simply setting up robots and using Scratch are rudimentary, and that real coding starts with much more advanced languages.  
For this reason, Qi Ming (pseudonym), a computer professor at a Beijing-based university, decided to teach his son to code in person. He skipped the Scratch phase, going straight to the university computer textbook for his son. After two years of study, Qi claims his son is now able to make games with Java.  
"The future will be fully informationized and intelligent, with humans surrounded by all sorts of intelligent equipment which they operate based on coding. So I believe it is necessary to help children adapt to the future as early as possible," Qi told NewsChina.  
Yet dissenting voices persist. Ouyang Rihui, deputy director of the China Center for Internet Economy Research, Central University of Finance and Economics, once told the People's Daily that he believed the training groups were "playing a psychological game" by marketing coding for children at an early age. "It is a marketing strategy for commercial training companies to emphasize developing children's abilities for the future and learning to programme from scratch. To a big extent, it conforms to the idea 'do not let kids fall at the first hurdle' and caters to parents' worries [about their children's future.] However, this does not mean that learning to code at an early age will do children any good," he said.  
His worries are shared by some parents who are reluctant to take their children to a coding class. "It is to advocate learning to code at such an early age... If kids learn to program when they are too young to know what their interests truly are, most of them will end up being a foil of the very few who climb to the top," one parent told the People's Daily.  
"Learning to program requires some basic mathematical knowledge. Don't you think it is a bit like urging children to learn to write before they can speak? Learning to paint is also helpful to train thinking and creativity. I worry that little kids might just be interested in playing games in [coding] classes," one parent who declined to reveal his name told NewsChina outside a coding training company in Beijing.  
Qi Ming disagrees. "What learning to program teaches is not creativity but analytical and critical thinking skills. The thinking a coder learns fits an engineer more than a scientist, but this skill is needed in all industries," he argued. 
According to Chen Bin, nobody can definitively say a child is too young or too old to learn to code – since children are different from each other. A perfect coding education system values logic rather than math, and is actually a process of training in logical thinking. "If children learn about coding at an early age, they could use it in the future earlier [than others.] They might be able to make scientific contributions as teenagers," he said.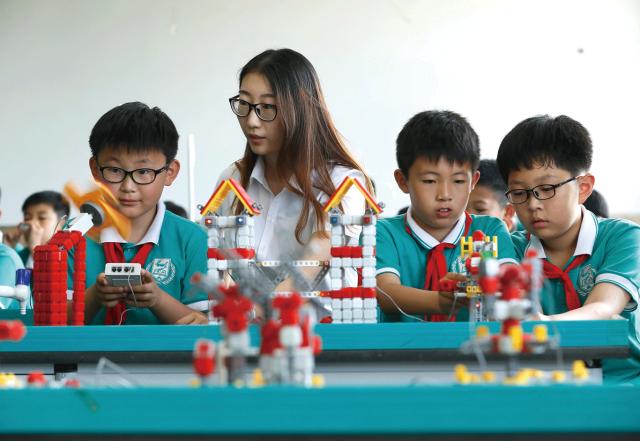 Students at an elementary school in Qingdao, Shandong Province, participate in a robot programming class, June 7, 2018
Compulsory or Not?
Controversies around coding education are also seen in developed countries. However, despite these controversies, many have poured funding into coding courses. The UK, for example, added coding to the compulsory curriculum for elementary and middle school students in 2014. Singapore launched a "funny coding" scheme in 2015, aiming to teach high-performing pupils and middle school students coding in interesting ways. In 2016, the US government announced US$ four billion in funding to promote coding education. The same year, Australia listed coding as a compulsory course, demanding every student learn it from the age of 10.  
Seen from this perspective, China is lagging behind. According to JingData, a data collection and analysis company based in Beijing, only one percent of Chinese students around the country are learning to code. Supposing each student spends around 6,000 yuan (US$874.6) per year to learn to program, the market amounts to 10 billion yuan (US$1.5b). Given demand for talent in computer technology is bound to grow in the information era, JingData estimates that the market will expand in value to 50 billion yuan (US$7.3b) within five years.  
Insiders are not that optimistic. They generally say the market has plenty of difficulties to overcome before it can reach such a size.  
A recent report on children's coding education by EO Intelligence, a private think-tank specializing in AI trends, big data and the mobile internet, claims that currently, children's coding education has four basic flaws: irregular teaching levels between different training groups, duplicated courses, blind competition and unstable student pools. 
"The number of teachers falls incredibly short of demand. Many training groups only have one or two teachers truly skilled at coding. This is the biggest problem of the industry," Zhang Lu told NewsChina.  
"True professionals can easily find highly-paid jobs in other industries, and most of the teachers in the training groups know little about teaching programming before they receive short-term training. Some groups try to fill the gap by recruiting university students majoring in computer technology, only to find they are neither experienced nor a reliable cohort. To tell you the truth, even if coding is defined as a main course, public schools cannot find enough qualified teachers to cover it," he warned.  
According to Zhang, the current popularity of coding education is partly hyped by investors. The truth is, coding still remains an unfamiliar subject for a majority of parents. Absent from the list of main courses, coding will eventually be pushed out for subjects on school exams like Chinese, English and math. 
Xu Yisong, a former owner of a children's coding training group, posted an article online in 2017 attributing his giving up his business to "lack of rigid demand" and "incontinuity." "Children's  
coding training gets busy during the summer and winter vacations, but once a new semester starts, the number of students declines sharply as coding has to give way to the school's main curriculum" he wrote.  
"Worse, when the short elementary phases finish, it is hard to extend the courses to advanced coding, where suitable teachers and students are both lacking." 
Chen Bin opposes the idea that coding has reached the same status as extracurricular math. "Children's coding training is more like art and music courses. Their demands concentrate on children under nine years old who are not busy at school," he said.  
Yet, in some parents' eyes, it is an advantage that coding is not as popular as extracurricular mathematics, since fewer participants mean less fierce competition. Qi Ming has now begun to teach his son algorithms using the C++ language. If his son can win a medal in a high-profile coding competition, it will give him more chance to get into a top middle school in Beijing. 
According to media reports, in 2018, 53 high school students skilled in coding and another 56 skilled in math were enrolled at Peking and Tsinghua universities without taking an entrance exam. However, there are only around 100,000 students attending such coding competitions each year, 10 times less than those who attend math competitions. In the eyes of many parents it is a clever "shortcut" to a good school.  
"The demand for children's coding training will explode once the teachers and teaching materials are ready and the education transforms into 'rigid demand,'" EO Intelligence's report concluded.