Amid Chinese government restrictions on online telemedicine, companies in the sector are struggling
W
ang Shuna, a working mother in Beijing, regularly uses medical apps to help diagnose and treat her four-year-old daughter's minor ailments, such as colds and trivial skin problems. Online medical services have saved her plenty of time that might otherwise have been wasted lining up outside hospitals, but she stresses she would not use them to manage a serious condition, given the uncertainties. 
"Online medical services should only supplement traditional hospitals where face-to-face inquiries and medical tests guarantee a much more reliable diagnosis and treatment, especially for serious diseases," she told NewsChina. 
Wang's beliefs match how Chinese officials intend to manage online medical services, also known as telemedicine services. Just two months ago, the government simultaneously issued three trial documents on the subject, stating that any group that provides online medical diagnosis and treatment should be put under or connected to a traditional licensed hospital. None are allowed to make a preliminary diagnosis.  
The documents are believed to be the most detailed policy on telemedicine management. They are intended to clamp down on fraud as well as reduce the likelihood of misdiagnosis. But the strict demands on the qualification of service providers and the ban on first diagnosis also sparked controversy, with opponents worrying they would hinder the free development of the new industry and even cause the companies involved to collapse. Given Chinese people are not accustomed to paying for the services beyond the range of diagnosis and treatment, it is hard to say whether or not online medical service providers will survive by shifting to other sectors of medical care as expected.  
Online medical services, many of which are smartphone based, emerged in China around 2011 and boomed in 2014, when investment in the field totaled US$700 million. The same year, iiMedia Research, a world-leading data collector and analyst, revealed that China's telemedicine market was valued at about three billion yuan (US$434m), nine percent of the world's total. 
Since then, online medical service companies and apps sprang up like mushrooms, accompanied by government documents on deepening medical reform and promoting online services related to big data and cloud computing. By the end of 2016, the scale of the market, according to data from Qianzhan, a Chinese market analysis institute, had expanded to 22.3 billion yuan (US$3.2b), a staggering 340 percent growth on 2011 figures, with the number of users  
reportedly hitting 195 million. According to NewTio, another Chinese market analysis company, Chinese telemedicine maintained average compound growth of 38.7 percent between 2012 and 2016. 
Bubble Burst
But the craze did not last long enough for the industry to deliver its investors a return. Profits were hard won, and online diagnosis and treatment came under scrutiny amid accuracy and reliability doubts. Investors fled. In 2017, more than 1,000 online medical service providers quit or were eliminated, leaving the remaining 50 or so struggling to find an exit strategy.  
The government added fuel to the bonfire when it began to tighten regulation of the industry. In early 2018, a leaked but unverified official document began spreading among insiders which said the government planned to force all online medical service companies to reregister and would forbid them from providing any diagnosis or treatment besides contracted services for chronic diseases.  
The leaked document led many newcomers to suspend their investment and caused existing ones to collapse. Many exclaimed that the document was no less than a death sentence for the industry, and Wang Shiyue, CEO and founder of Medlinker, an online social platform for on-the-job doctors to share experiences and exchange ideas, reportedly described this period as "the darkest time" for the Chinese online medical service. 
Luckily, documents that were ultimately published were a much softer touch than expected and only banned preliminary diagnosis. "We feel that the government still holds an open and tolerant attitude toward online medical services. Many companies were invited to join in the discussion about the new policies and parts of their suggestions and advice were accepted... [Compared to the leaked document,] the formal ones were a compromise that encouraged the companies to try new things," Li Tiantian, founder of DXY, a leading Chinese online medical service provider, told NewsChina.  
Light Treatment Challenged
Several years ago, when online medical services were just sprouting in China, they were seen as highly promising, and Zhang Rui, founder of another leading online medical service platform Chunyu Doctor, even suggested that the services would disrupt traditional medical care. Zhang would not live to see this dream realized – he died suddenly of a heart attack in October 2016. On the contrary, the "light treatment," a kind of online medical service reportedly initiated by Chunyu Doctor that enables users to consult online doctors and ask them for diagnosis and treatment, was the subject of growing controversy.  
At a dialogue program hosted by financial portal aicaijing.com in 2015, Zhang was heavily challenged by Wang Shan, president of Peking University People's Hospital, who totally vetoed "light treatment." "You will see big problems arise when people go 'see' an online doctor," Wang warned. Wang said medical quality and patient safety should always be the top priority of medical services and traditional doctors and hospitals were core guarantees of those two priorities.  
Zhang spoke far less than Wang, but continued to argue that services focus on meeting a wider range of consumer demands. He did not convince Wang. Following the program, Zhang complained that traditional hospitals were not in the same channel of thinking as online service providers and that his status in the fierce argument represented the status of internet medical service against traditional ones.  
However, as internet medical services were being poorly managed at the time, problems did arise in line with Wang's concerns – users complained that many "online doctors" were fake or that they were just using the platforms to sell medicines and medical devices. Others scolded the online doctors for not replying in a timely manner or even asking their interns to do the work.  
This negative coverage was nibbling away at people's trust in online medical service platforms and discouraging both users and investors from being involved.  
In March 2017, Wang Lang, a delegate to China's highest legislative body the National People's Congress, and president of Longmaster, a Guizhou-based company which offers remote medical services, predicted a "winter" for the market. He revealed to the press that telemedicine had gained little attention from investors since the end of 2016. "Telemedicine services are not purely an internet thing, but an integration of all sorts of social resources. Besides, in contrast to other online services, they are a matter of life and death, and are highly risky if they lack management and regulation," he told news website finance.china.com.cn.  
His words explained why the government has now peeled diagnosis and treatment off from the other online medical services and rolled them into "core services" which are not allowed to launch before they are connected to a traditional hospital.  
It is quite understandable and reasonable, according to Cao Jian, a researcher at the Research Center for Healthcare Management, Tsinghua University. "There is no trivial thing in the field of medical care," he told NewsChina. "Take the flu for example. It has very similar symptoms to an ordinary cold and is hard to correctly diagnose online without tests in a traditional hospital, especially when the patient intentionally or unintentionally understates or ignores some of his/her symptoms," he added. 
The government has now tried to place responsibility on online medical services by compulsorily binding them to traditional hospitals, he explained. "An 'internet hospital' will jointly bear responsibility with the traditional hospital it connects to. They have mutual responsibility, we can say. That's how we can unify the management of online and offline hospitals [which is easier to implement]," Jiao Yahui, deputy director of the medical care policy and management bureau under the National Health Commission, said at a press conference for the new policies. "It is a challenge for us to supervise internet hospitals since fakes and frauds flourish in the virtual world. But if there is no supervision, we can neither deal with medical malpractice arising from online medical service nor ensure medical security," she added.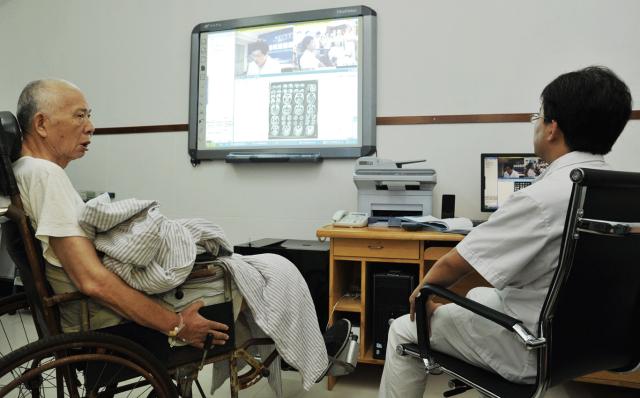 A doctor from the First Affiliated Hospital of Zhejiang University consults with an 80-year-old patient via an online medical platform, August 31, 2010
'Tool' of a Traditional Hospital?
According to Cao Jian, the new policies aim to turn online medical service into a "tool" of traditional hospitals. "The new documents have emphasized 'internationalizing traditional hospitals' and 'constructing infrastructure for internet hospitals' many times. The government actually hopes that existing internet medical services will become a tool to upgrade [existing] medical care models, optimizing resource distribution and raising their efficiency," he told NewsChina. 
However, the so-called "tool" is neither the primary business of current online medical service providers, nor what they expected.
AliHealth, an online medical service platform run by Alibaba, for example, has been building an informationized platform for traditional hospitals for many years. But a person in charge, who did not want to reveal his name, told NewsChina that they were still exploring a proper way to cooperate with hospitals and they have not yet turned a profit from it so far. "AliHealth has been concentrating its efforts on building an informationized platform, trying to realize medical AI. Yet, not every internet company has the resources and money to do so... This is a big, costly business which demands advanced technology, and the returns remain unclear. I don't think it fits most online medical service providers," said the anonymous source.  
There is a bigger headache. Even companies that can afford the kind of heavy investment required will be forced to contend with a lack of cooperation from hospitals. When the government issued the new policies, several online medical companies announced they had signed contracts with top hospitals to cooperate on big data collection and digitalization, but none have revealed how their business models will turn a profit. 
"It is easy to sign contracts but hard to get resources," said Tsinghua researcher Cao. "Most of the current cooperation between traditional hospitals and internet companies has turned out to be superficial... When the technology is immature and the government guidelines are vague, hospitals generally take a very conservative attitude toward data sharing, partly to protect their core advantages and partly to protect the privacy of their patients," he explained.  
Li Tiantian agreed. "Traditional hospitals have the advantage when it comes to bilateral cooperation but they aren't generally willing to share their core information and resources with other companies. So much of the cooperation is merely in online registrations and inquiries. Being kept away from the core business [of traditional hospitals], internet companies can't set up effective business models, regardless of how many contracts they get," he said.  
New Direction?
Following the government's new policies, iyiou.com, an information service provider which aims to introduce new concepts and technologies to the traditional economy, said in an editorial that the new policies have actually supported already advantaged public hospitals while further squeezing the profit space of internet and private hospitals. As there is little motivation for traditional hospitals to truly cooperate with internet ones, these have themselves shifted to what the government calls "non-core" businesses such as healthcare consultations, post-treatment care and sales of healthcare products. 
According to Frost & Sullivan, a global market and industry analysis company, online healthcare consultations rose from 29.8 million in 2012 to 148.4 million in 2016. Meanwhile, China's expenditure on medical and healthcare grew from 2.8 trillion yuan (US$405.8b) to 4.6 trillion yuan (US$666.7b) over the same period. Frost & Sullivan's report predicted that online healthcare consultation will cover an expanding group of users in China and keep rising at an average annual compound growth rate of 39.8 percent to 4.2 billion consultations by 2026.  
Like Frost & Sullivan, many analysts and insiders believe that China's telemedicine market still has great potential, despite the burst bubble and government restrictions. Before the polices were issued, some industrial pioneers like DXY and Chunyu Doctor were already shifting their focus.  
"The people outside hospitals have growing demands for healthcare. They have powerful consumption potential but are not well served yet," Li Tiantian said. 
Iyiou's commentary, however, argued that potential will not create profit unless people are willing to pay. When "light treatment" was prevailing and not restricted, Chunyu Doctor's former CEO Zhang Rui revealed to media that he had overestimated users' willingness to pay. Chunyu Doctor began collecting membership fees from January 2016, only to find that the volume of inquiries on the platform dropped drastically from 30,000 to 3,000 within one month. Zhang had believed it would be a good time for the change given his platform's 99 percent satisfaction rate among users.  
The powerful AliHealth is another example. Its 2017 financial report showed that most of its revenue came from sales of healthcare products and devices, while the costly business related to innovative health services returned little.  
No online medical service provider wants to stop at being a salesman, however. That's why Li Tiantian appealed for the government to loosen controls on "light treatments," or at least not to impose the ban on every department and disease.  
"In my opinion, the value of online medical services should lie in solving the problems that traditional medical services cannot. They should be allies charging for different businesses which form a whole, complete industrial chain together," he said.  
Yet, iyiou.com argues that policy is not the solution. "The plight of online medical services will not change as long as Chinese people are still highly dependent on traditional public hospitals and unwilling to pay for services outside medication and treatment," warned the article.  
"The market is far from reaching its peak, but if enterprises cannot repair their defects [compared to traditional hospitals] and users do not change their idea of healthcare consumption, no innovation in this field will prosper, even that supported by policy," it added.