Thousands of private small- and medium-sized enterprises are looking to break into China's import market. But are Chinese consumers convinced by their products?
F
or nearly 12 years, Colin Yang from Beijing has been trying to sell Chinese products to consumers overseas on behalf of several companies. In 2017 he founded his own business in Beijing which helps Chinese companies expand their international operations through exports or outbound investment. However, he has become a buyer of foreign products recently – for both his business and his family. 
At the Chinese International Import Expo (CIIE) in early November, believed to be the first of its kind in the world, Yang bought a US medical check-up machine for babies, a German 3D printer, a German frying pan and two Japanese air purifiers. He will sell the first two pieces of equipment to domestic hospitals and use the other two for his family and office before becoming a distributor for the brands in China. He signed an agreement with a Finnish producer of air purifiers. He has also found equipment for several other Chinese companies. As he told NewsChina, he has been paying close attention to China's import policy for the past two years when China repeatedly declared its willingness to import more from the rest of the world. Like the country itself, he wants to shift from export-oriented growth to a balance of imports and exports.  
Raven Wu, an overseas sales manager for Guangdong Cheerson Hobby Technology Co. Ltd., a small drone maker in Shantou, Guangdong Province, did not buy anything at the Expo. Instead, he took home his impression of some new technology trends in the industry, and has more  
confidence in starting his own business importing consumer goods like health supplements and cosmetics.  
China's private companies, the majority of which are small- and medium-sized enterprises (SMEs), have played a crucial role in China's rise as the world's largest exporter by integrating into the global supply chain of multinational corporations, thanks to China's policy of encouraging exports and low labor costs following its reform and opening-up. Their exports surpassed those of China's State-owned enterprises (SOEs) in 2006 and foreign-funded enterprises in 2015.  
China's trade surplus in daily consumer goods, for example, reached US$405.6 billion in 2017, contributing 96 percent of the country's total trade surplus that year. Sixty-two percent of exports in this category were generated by 216,000 private companies, according to a report issued at the CIIE by the China Chamber of Commerce for Import and Export of Light Industrial Products and Arts-Crafts.  
The cases of Yang and Wu suggest the same could happen in the country's import market. China's private enterprises have to date been buying half as much as their foreign-funded peers in China, and about the same as SOEs. Huge contracts were signed between Chinese giants and internationally established brands during the one-week CIIE in Shanghai. However, the potential of private Chinese SMEs should not be overlooked. Their increasing demand for imports also means opportunities for foreign brands, whether established or unknown in China.  
More importantly, what Chinese consumers and private SMEs are interested in buying from the rest of the world are not just better goods and services, but also a broader vision of the world. 
Chain of Change
One of the major purposes of China's commitment to import more is to upgrade its industries to move up the global value chain. To achieve this, installing better equipment, such as robots, is a necessary step. Xing Houyuan, deputy president of the China Outsourcing Institute of the Ministry of Commerce of China, found in her field research that large- and medium-sized private manufacturers in South China's Pearl River Delta area – a manufacturing powerhouse – began to do this to improve their efficiency in 2009 in the aftermath of the global financial crisis. She believes this trend will move north toward the coastal Yangtze River Delta and the Bohai Economic Rim.  
As Raven Wu told NewsChina, deploying new technologies and equipment is typically started by leaders and then followed by smaller operators along the supply chain of an industry. 
This ripple effect seems to be turning into a reality. Mr Li, who runs an electronic product manufacturing company with about 500 staff in Central China's Anhui Province, already has some imported equipment from the US, Japan and Italy. He told NewsChina he found some new equipment at the Expo that may help upgrade his factory.  
Dr. Frank Beermann, Chief Operating Officer and President of DMG MORI China, a German-Japanese machine tool supplier with global operations, said like in other markets the majority of their Chinese clients are SMEs. The company brought their products and services to China 20 years ago. In the past 10 years, Chinese manufacturing SMEs have increasingly demanded quality machine tools with a higher accuracy and longer life. "The time of low-end machines for Chinese manufacturing SMEs is over," he told NewsChina at the CIIE.  
Actually, even some small manufacturers have to buy imported high-end special purpose equipment if they want to make a particular part, for instance, a valve for a water pump, Wang Guiqing, vice president of the China Chamber of Commerce for Import and Export of Machinery and Electronic Products (CCCME) told NewsChina at the CIIE. Christian Dong, sales manager of the East China area for France Robvalve Group, said right now their clients are big SOEs, but he received some inquiries from small Chinese companies during the CIIE.  
Another purpose of China's new import policy is to have more supplies of consumer goods for the domestic market. As the stories of Yang and Wu show, small distributors are already seizing the opportunity. Bi Jianwei, an official with the Shandong provincial delegation, said small companies such as local fruit wholesalers need this kind of opportunity to meet foreign suppliers more than big ones do. 
New Menus
Xing Houyuan hopes Chinese companies will import more services, including R&D and design and consultancy, to improve manufacturing processes. This will bring opportunities for foreign service providers, especially those yet to build their presence. Dr Lu Jiahui, innovation and strategy Asian lead with Cambridge Consultants, which provides solutions for companies with technical problems, said they have very big clients in the US and the EU, but are still unknown in China. One of their recent projects in China was helping a local startup turn ideas into a visible product on a very tight schedule. Lu's team is pooling engineers in the UK and Singapore, and seeking Chinese manufacturers to do this. She said China was somewhat like Silicon Valley where excellent ideas and funding abound, but tech-savvy startups do not know much about how to translate their ideas into something marketable and how to promote their products on the market. Foreign SMEs are also seeking a presence in the China market. Kevin Chung, managing director of More than Media, an outdoor advertising firm from London specializing in billboard and digital events management, which grew from a small startup with about six staff to 200, is happy to have received a lot of inquiries about their 3D holographic device shown at the CIIE. It will be installed in late November at an IFS shopping mall in Chengdu, Sichuan Province in China's southwest. Their first China office is scheduled to open in Shanghai in January 2019. As Xing said, exports are often the first step which paves the way toward investment, particularly for foreign SMEs. 
Smaller countries are improving their profile. "What is Bangladesh?" asked several visitors at the country's pavilion at the CIIE, where tea and bags made of jute, as well as jeans and bedding for international brands were on display. Some visitors bought the tea. The country presents itself as "Asia's low-cost production base." Abu Lahel, assistant manager of the Bangladesh Economic Zones Authority, repeatedly stressed to NewsChina that they want to attract high-tech oriented investment, such as automaking, as the textile sector is saturated. Most of the inquiries they received from Chinese investors were nonetheless in the textile sector.  
Foreign foods may have much more chance of profiting from Chinese consumers than any other product. China's food imports reached over US$60 billion in 2017, with a 15 percent annual increase on average in the past two decades, according to a report released during the CIIE by the China Chamber of Commerce for Import and Export of Foodstuffs, Native Produce and Animal By-products. The value was more than China's exports of foodstuff that year.  
The US is the largest source of China's food imports. Dairy products were the third-largest category of American food imported into China in 2017. However, there is no US milk in China. Jaime Castañeda, US Dairy Export Council Trade Policy Senior Vice President, told NewsChina at the CIIE that regulators of the two countries are working on detailed rules of their agreement on food safety for liquid milk, and US milk producers are very keen to enter the China market.  
China's imports of daily consumer goods, though lagging far behind its exports, have been rising fast in recent years. Li Wenfeng, vice president of the China Chamber of Commerce for Import and Export of Light Industrial Products and Arts-Crafts, noted at a press conference during the CIIE that China mainly imports mid-range and high-end consumer goods from the EU, the US and Japan. In 2017, Swiss jewel exports to China soared, making Switzerland the largest source of China's consumer goods imports that year.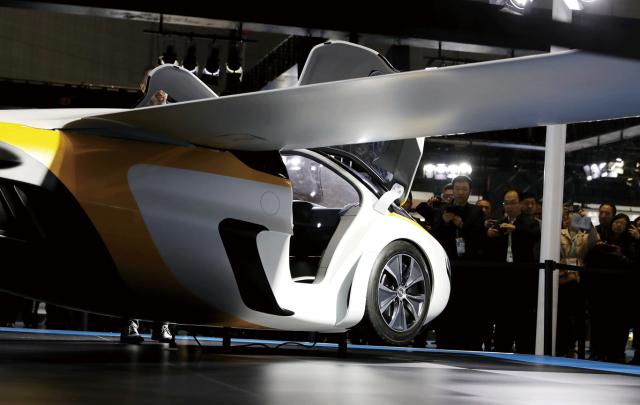 People examine a "flying car" from Slovakia displayed at the China International Import Expo in Shanghai on November 8, 2018
New Tastes
Chinese individual and corporate buyers not only value the quality of imported products but their link to the wider world. "I was a worker before I retired, so I wanted to see what today's industrial technology looks like; the advanced technology shown at this Expo is very impressive; I wish I could have the chance of operating a machine tool again!" said a lady in her 60s surnamed Li in the hall displaying high-end and intelligent equipment. Personally she is most interested in "green foods," which are free from pollution.  
Although SMEs rarely replace new machines until they find doing so is worth more money than hiring more workers, those following the new trend have much more chance of winning in future competition than those ignoring it, Raven Wu said. Zhang Meizhen, deputy president and secretary general of Zhuhai Chamber of Commerce of Importers and Exporters told  NewsChina that most of the 400 or so members of her delegation to the CIIE were SMEs that wanted to "learn" from the world's industrial development.  
The learning curve may also apply to foreign brands. It is not realistic to expect imports will flood into China right after the Expo. Xing stressed that the demands of Chinese consumers are highly diverse, and suppliers have to win their hearts with things that are worth money. Ms Wang, a senior in her 60s, told NewsChina: "Chinese people are more used to woks than pans."  
Rita Ai, who is responsible for brand operations at Euroeat China, a Finnish startup promoting Finnish food and consumer products in China, found their licorice sweets attracted many students with their "bitter and weird" taste – they used them to play tricks on their friends. She told NewsChina that her team has to convince their Finnish brand owners to be patient in expanding into the China market.  
Navigator: Made for China, a report released at the CIIE by international banking giant HSBC, highlights that "understanding local business culture and adapting to local tastes is the top challenge faced by foreign companies." At a forum at the CIIE, Tony Domingo, senior vice president of Nestlé Greater China Region, described Chinese consumers as "global consumers" who are shopping for brands from around the world. 
The Chinese market is increasingly competitive. Zhao Genglai, general manager of Zhuhai Shunxin Electric Equipment (Bus Duct) Co. Ltd said domestic equipment makers were also improving their products and services, so foreign suppliers have to offer something really good and unique to succeed in China.  
Many consumers, even in a metropolis like Shanghai, cannot afford expensive brands. While the booth of a German cookware brand was crowded, several local visitors said they would not buy a pan worth more than half their monthly pension.  
While consumers need higher incomes to afford better goods and services, either home made or imported, SMEs need more incentives and resources to invest in moving up the value chain. SMEs and analysts have called for a stable regulatory framework, including standards of environmental protection and labor conditions. There is wide concern that sudden sweeping crackdowns on substandard environmental protection and labor conditions without a grace period would either cause massive shutdowns or leave SMEs struggling for survival, with little consideration for long-term strategy. Better protection of intellectual property rights is also urgent to encourage innovation, analysts and market insiders say.  
Chinese consumers and private firms will continue to underwrite China's growth. Their potential is yet to be further unleashed.