What started as a celebrity spat has embroiled Fan Bingbing, one of China's best-known and wealthiest movie actors, in a tax evasion scandal that is threatening to engulf China's entire entertainment industry
S
ince Fan Bingbing, one of China's most famous movie stars, disappeared from public view in June, speculation has been rife as to her whereabouts. Much of that speculation was that she had been detained by the authorities under suspicion of tax avoidance.  
Finally, after more than 100 days, both the authorities and Fan herself broke their silence. On October 3, the State Administration of Taxation (SAT) released a statement saying that it had completed a tax probe into Fan and had found that she and companies represented by the superstar had evaded taxes of 255 million yuan (US$36.8m). The SAT issued a fine of 596 million yuan (US$86.1m), and ordered Fan to pay a total penalty of 882 million yuan (US$127.4m), including back taxes, overdue penalties and fines. If Fan makes the payment by an undisclosed deadline, she will be exempt from criminal punishment, said the statement.  
On the same day, Fan, who topped Forbes 2017 list of high-earning Chinese celebrities, with an annual income of US$43 million, issued a statement via social media apologizing for the tax evasion. "For a long time, I have failed to recognize the rightful relationship between national interest, social interest and my personal interest... I am deeply ashamed and guilty [about what I have done]." Fan said she accepted the punishment and will pay the back taxes and fines in due time.  
Fan's tax evasion scandal has touched on sensitive issues of income disparity and taxation inequality between China's rich and poor. While the total penalty of 882 million yuan is a huge amount, the fact that Fan has effectively escaped a harsher punishment, such as jail, has met with criticism from the public. For many, it is a classic example of how China's super rich obtained their wealth, evaded taxes, and then got away with it even when they were caught red-handed.  
Others drew comparisons to the case of 1980s actress Liu Xiaoqing who was convicted of tax evasion of less than two million yuan (US$289,000) in 2002. Liu was fined 7.1 million yuan (US$1.03m) and served one year in jail, leading people to ask if the law had been applied fairly in Fan's case.  
But for the various players in the entertainment industry, the storm appears to have just started. In its statement, the SAT requested others in the entertainment industry pay taxes owed by end of this year to obtain an amnesty from further punishment. For many, the rhetoric suggests that the authorities may expand the tax probe within the entertainment industry, though how serious the threat is remains unclear.  
Yin-Yang Contracts
The tax probe was triggered in a quite sensational fashion by a feud between Feng Xiaogang, an award-winning film director, and Cui Yongyuan, a former TV host, that had been simmering since 2003. That year, Feng helmed the Fan Bingbing-starring blockbuster Cell Phone, which saw Fan playing an editor at a publishing company who was having an affair with a hypocritical TV host called Yan Shouyi, played by actor Ge You.  
Due to perceived similarities between the fictional TV host and Cui, many thought the character was based on him, although Feng denied this was so. Nevertheless, Cui, best known for hosting a show called Tell It Like It Is at the time, was infuriated, demanding Feng and his team apologize – which was not forthcoming.  
When it was announced in early 2018 that Feng would make a sequel to Cell Phone to be released in 2019, which would also star original cast members Fan Bingbing and Ge You, the feud between Cui and Feng that had simmered for a decade and a half erupted again.  
Cui, who has styled himself as a truth teller following his high-profile campaign against GM foods and a massive documentary project focusing on China's WWII veterans in past years, declared that he would embark on a personal crusade to bring Feng and "his gang" down.  
In early May, filming began on Cell Phone II, and on May 28, Cui published screenshots on Weibo, China's equivalent of Twitter, of a contract that purported to show Fan being paid the sum of 10 million yuan (US$1.4m) and various other demands, including script approval and access to two luxury cars, for just four days' work on the movie.  
More explosively, Cui then posted a second contract showing payment of 50 million yuan (US$7.2m) for the exact same work. Known as yin-yang contracts, with one setting out the real payment (the yin), and the other yang contract showing a smaller amount to be shown to the authorities for tax purposes, the practice has long been used as a clever means to evade tax in many sectors. They are believed to be widely used in the entertainment industry in China.  
While Fan denied the allegation, the exposure sent shockwaves through China's entertainment market, with the ramifications felt far beyond Fan and Feng. Many were shocked at how much China's celebrities are making, and how much tax they may have been evading. As the public outcry spiraled, Chinese authorities released a decree that put a cap on screen performers' salaries at 40 percent of the total production costs, with lead actors receiving no more than 70 percent of the total wages of the cast.  
In the meantime, the State Administration of Taxation responded that it had ordered the relevant bureaus to investigate the issue. These moves immediately caused shares in some of China's biggest film studios to plummet amid fears that the investigation would reveal more scandals. Hundreds of entertainment companies and studios shut down their operations, apparently to avoid possible tax investigations.  
Chinese media reported that in Khorgas, a small border city in the Xinjiang Uyghur Autonomous Region bordering Kazakhstan, more than 100 entertainment companies and studios have been de-registered. Among them were companies associated with some of the biggest names in China's film circles, such as Xu Jinglei, known for films Go Lala Go! and Somewhere Only We Know, and Vincent Zhao (Once Upon a Time in China), as well as three companies in which Feng was a major shareholder. 
Khorgas has been used as a tax haven by the entertainment industry for a long time, as it not only offered tax exemption for five years and a subsidy accounting for a big portion of the business tax collected after the five-year period, it also offered to reimburse a portion of the personal tax collected by the national government. Other similar tax havens to have attracted filmmakers include the cities of Xuzhou and Wuxi in Jiangsu Province. Fan has three entertainment companies registered in Wuxi. According to a report from sina.com.cn, one of these companies reported revenue of 34.7 million yuan ($US5m) in 2015, but paid no tax at all for the fiscal year. 
The tax probe into Fan Bingbing coincided with China's ongoing tax reform. In July, authorities announced that China's provincial and local taxation offices would be merged into the national taxation system, which analysts said would put a stop to local authorities' lax taxation practices. Following the SAT's statement on Fan's case, the agency declared on October 8 that it held the provincial tax bureau in Jiangsu Province accountable for its poor management. It also announced that as a result of the investigation, a number of officials at the office have been disciplined. The SAT also declared that it has launched a campaign to regulate tax payments in the film and TV industry, as well as targeting violations and dereliction of duty by tax officials. 
As for Feng Xiaogang, so far the only blowback seems to be that he has been cut out of some films he also starred in, including the Jia Zhangke-helmed Ash is the Purest White, which premiered with him in it at the Cannes Film Festival this year. There has been no confirmation of a connection between the tax scandal and his roles being cut, however. He has been widely quoted in media reports as saying that Cell Phone II would be released on schedule, although NewsChina could not establish on what occasion Feng apparently said this. There has been no other official statement from the film's producers, nor indication whether Fan will still have a role in it.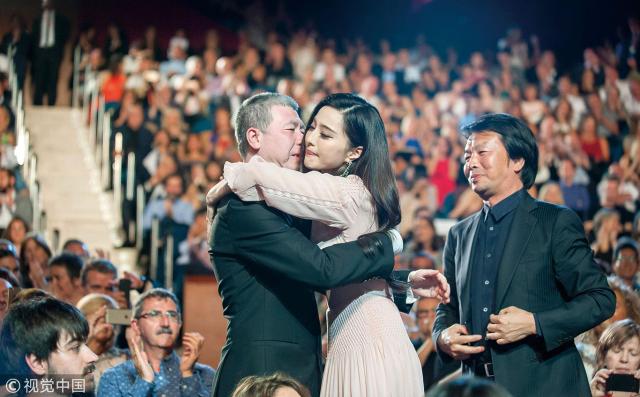 Fan Bingbing (C) hugs film director Feng Xiaogang before receiving the Silver Shell award for Best Actress during the 64th San Sebastian International Film Festival closing ceremony on September 24, 2016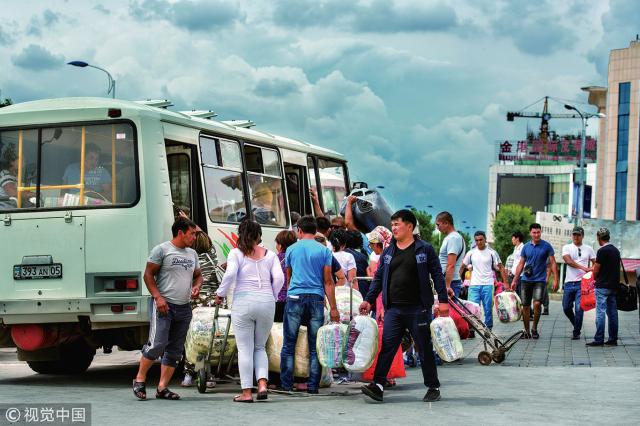 A street scene in Khorgas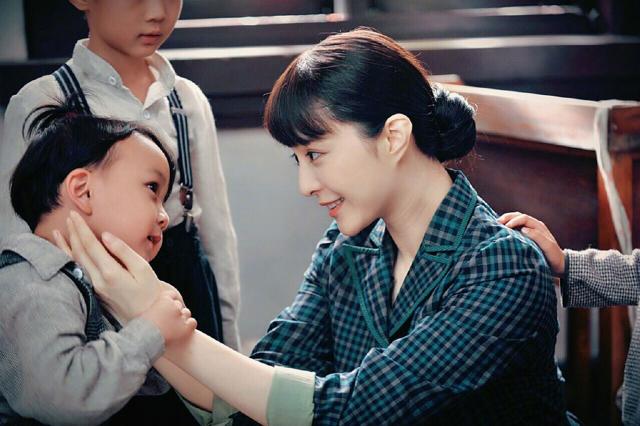 A scene from the movie Unbreakable Spirit, starring Fan Bingbing and Bruce Willis. The movie's scheduled October release in China has been canceled
End or Beginning?
But despite the authorities' tough rhetoric, many are doubtful about how far the tax probe will go. Since the tax probe was triggered, there have been numerous reports and discussions on the dark side of China's booming movie industry. As China's annual gross box office increased from 3.3 billion yuan (US$476.6m) in 2007 to 55.9 billion yuan (US$8.1b) in 2017, the industry is said to not only be awash with serious problems of tax evasion and fraud, but also to have  
become a hotbed for money laundering.  
As the current investigation has only resulted in the punishment of Fan Bingbing, who even escaped criminal charges, many are disappointed over the scope and the scale of the investigation.  
Cui Yongyuan, who triggered the investigation, is among the most disappointed. Acknowledging that he received a reward of 100,000 yuan (US$14,430) from the authorities for his whistle-blowing, a tiny fraction of the fines levied on Fan, he wrote on social media that he was deeply disappointed that only Fan had been targeted. "How come a hand of good cards brought this result?" Cui asked, apparently referring the documents he handed over to the authorities.  
In previous online posts, Cui said that the documents he submitted to the authorities included many related to the Huayi Brothers, China's largest media conglomerate and producer of both Cell Phone and Cell Phone II. In his post, Cui suggested that the tax evasion practices are so widespread within the entertainment industry that it is impossible that Feng and executives at Huayi Brothers were not involved. "It had to be a gang crime," Cui alleged.  
Saying that he now faces threats from "all sides" and that he himself had been investigated by tax officials and police as part of the inquiry into Fan, Cui then turned his ire onto the police, particularly investigators in Shanghai.  
Accusing Shanghai police of taking bribes during the investigation, and pretending to be tax officials and summoning him for interrogation, Cui said the police appeared to be more interested in how he obtained the evidence than the tax case itself. "My answer is that I found them in garbage bins," Cui said.  
The publicity surrounding Cui's comments prompted Huayi Brothers to release a statement denying all the allegations, insisting that all its contracts were drawn up in accordance with the law.  
Shanghai police responded on social media that they had formed an investigation team to look into Cui's complaints, but had not been able to reach him, a response he immediately ridiculed.  
"Why couldn't you reach me after your thorough investigation of my companies?" Cui retorted.  
This time, Cui went further, directly naming the official who should be investigated. "You can start by probing the deputy head of [Shanghai's] Changning district's economic crime investigation department, Peng Fen, whose son's name is Peng Mingda." 
According to reports emerging on social media, Peng Mingda, also known as Frank Peng, 27, is currently the president of Auckland-based New Zealand Chinese TV (NCTV), and he was said to be the head of the Shanghai Hehe Film and Television Investment Co before he left China. It is alleged that Peng Mingda was a major player in a high-profile financial fraud case in 2015 in which he used revenue from the 2015 blockbuster Ip Man 3 to raise funds through various crowdfunding platforms.  
The allegation claims that for more than six months, Shanghai police refused to investigate the case after investors reported fraudulent activities to them, which allowed Peng Mingda to flee to New Zealand with the collected funds. NewsChina cannot independently verify these allegations.  
After attacking the Shanghai police, Cui turned to the Beijing police, accusing them of ignoring death threats made against him. Cui said he has received numerous death threats from several netizens and the private information of his daughter, who is studying abroad, was also published. "I reported the threats to the police station five times, but police have not taken any action." 
So far, the authorities have not responded to Cui's new allegations. But as Cui's new revelations have led to renewed discussions and publicity, it seems that the storm he brewed in China's movie industry is far from over.