While other food documentaries might take a more holistic approach, The Story of Chuan'r focuses on skewered, roast morsels, telling the story of China's most popular street food in a down-to-earth style
A
pile of steaming skewers on a grill in front of a shabby street stall, several small tables surrounded by all sorts of people biting and munching meat and gulping down beer, the stall owner standing in the swirling smoke, greeting regular customers as they call out their orders. It's a familiar scene on streets all over China, especially on hot summer nights. After a day of hard work or study, many long for a delicious but casual dinner, and shun the idea of a big feast in a fancy restaurant in favor of a few chuan'r (the Chinese term for skewered food) from an outdoor stall. A new Chinese documentary, The Story of Chuan'r, examines this "yanhuoqi" chuan'r culture. 
Yanhuoqi literally means "the atmosphere of smoke and fire." Smoke and fire are indispensable for cooking the food on which humans persist, and those near to it are grounded in the real world, as opposed, perhaps, to those who have others cook for them out of sight. 
Chuan'r are the perfect metaphor for yanhuoqi, says Wang Hailong, the executive producer of The Story of Chuan'r, not only because fire and smoke is the physical feature of chuan'r, but because they evoke a natural and lively atmosphere. The distance dissolves between people as they sit around a table munching chuan'r together, with little regard for each others' dress,
posture, appearance or identity – chuan'r are a great leveller.  
Unlike other Chinese food documentaries like CCTV's A Bite of China which focused on grand stories, The Story of Chuan'r remains down-to-earth, and presents food and the people eating it in a simple style intended to appeal to everyday people.  
According to statistics from Bilibili, which broadcasts the documentary, it gained more than 30 million views when the sixth and final episode aired in late July, and on Douban, China's version of Rotten Tomatoes, it is rated nine out of 10. 
Chinese chuan'r cover a range of foods – nearly anything that can be skewered and roasted can be one, from pork legs to chicken hearts, lamb chops to lamb testicles to beef brisket. Vegetables, fruits, eggs and even insects are on the menu. As the documentary shows, it's a fine art balancing materials, tools and techniques: the skewers, the grill, the heat control – all demand precision to avoid wrecking the flavor.  
Due to the varied tastes, low cost, and the relaxed and lively dining atmosphere it creates, chuan'r can be found in nearly every corner of China. But as urban management and pollution control efforts accelerate, outdoor chuan'r stalls are in decline. Although some have moved indoors, some diners feel that they are less authentic, and less yanhuoqi. 
Wang says this is his main reason for making the documentary series. "Chuan'r may disappear one day, and nobody would have ever recorded them," he told NewsChina. He invited Chen Yingjie, a CCTV documentarian and a lover of chuan'r, to collaborate on the project. Over several months the production team visited nearly 500 chuan'r stalls in 32 provinces and municipalities, choosing 30 stalls to make a six-episode documentary. Each episode is themed, such as "kebabs," "skewered vegetables," and "chuan'r with bones." 
"We wanted to do something different, not the stereotyped shooting and narration that other similar documentaries do," chief director Chen told NewsChina. "So we took some risks in selecting the directors of each episode. Working experience was not as important as having directors from inside the world of chuan'r, who had a clear idea of the distribution of varied chuan'r and their characteristics," he added.  

Screenshots from the documentary series The Story of Chuan'r
The directors did not disappoint. Using unique narration and shots, they convey the characteristics of chuan'r over a cool soundtrack. The "bones" episode stands out – directed in a hard, sharp style which made the process into a competition, using rock music and many close-ups to create a feeling of tearing and gnawing. Even the narration was full of strength.  
"It makes you forget the whole world, and nothing but the chop greets your eyes... You put your head down and gnaw on it... You will not feel at peace until there is only a clean bone left," the voiceover said of a stall selling lamb feet and chops in Ningxia Hui Autonomous Regions in China's northwest.  
When shooting a hard-to-find chuan'r stall in an old shabby street of Harbin, in Northeast China, the director created retro scenes with an abundance of dark colors and grave music, leading the viewer to say they felt like they were watching a 1930s spy movie.  
There are many interviews with diners. "It feels like returning home... When I am away, I only miss my mother and chunks of meat," one young man says of the pork skewers sold at a street stall in Daliangshan, Sichuan Province. 
"They [the interviewee and the chuan'r] are like an old couple. I really miss it if I'm away for a couple of days," said a middle-aged man at a stall selling hand-made tofu skin (sheets of bean curd) in Jinzhou, Liaoning Province. 
"You pull off one arm of the crayfish, and suck up the juice inside in one go. OK, no need to talk about other foods," said one diner, explaining how to eat a roast crayfish at a stall in Fuzhou, Fujian Province. 
Another man, who frequents a stall selling beef brisket in Yueyang, Hunan Province, goes into even more detail. He describes how the chuan'r makes him feel as it enters his mouth, as he chews it, after he swallows it, as though describing an expensive perfume's top, heart and bottom notes. 
There was much audience interaction. Audience comments shown instantly on the screen included "I'm hungry," "It was so stupid to watch this documentary at night," "I'm drooling" and at the end of each episode, "Thank you for the meal." 
But some asked whether the scenes and diners' words were intended as advertising.  
Chen rebutted this, saying they impose strict quality requirements on their subjects – their stalls must have stood the test of time and the owners must have persistently pursued quality. "We would sniff out these stalls like a detective tracking down tiny clues to break a case, and some of the stalls made it to the screen purely due to luck," he said.  
At one point, the team was running around Hongluo County, Liaoning Province, in search of a stall selling hand-made tofu skin. They were guided to a remote village known for the food, but were left unsatisfied with the sanitary conditions there. About to give up hope, a master tofu skin maker appeared when Chen's wife happened to ask an elderly man passing by her car "who is the most skilled at making tofu skin here?"  
"Me," he answered.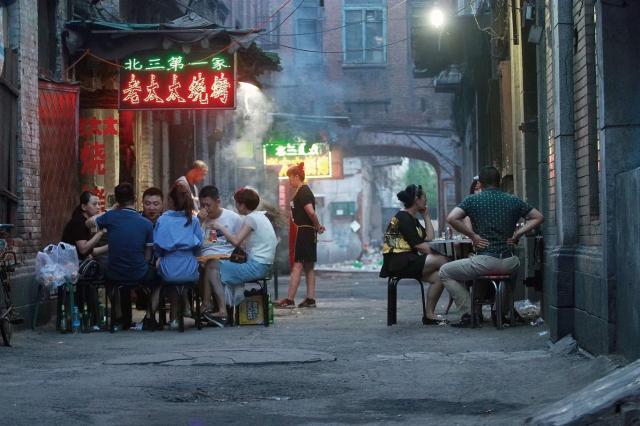 People eat chuan'r on the street as a waitress waits for orders
'Treat It as Your Enemy'
Chen Yingjie describes the stall owners as "grass-roots heroes." It is a phrase colored by jianghu, a Chinese term originating in martial arts which describes the world outside of government and officialdom, where people follow a set of natural rules and value justice, persistence, loyalty and brotherhood. 
This jianghu world, like the world of chuan'r, is characterized by yanhuoqi. The food is inexpensive but delicious and provides a place for diners to deepen their kinship and "devour meats and gulp drinks" like a gallant swordsman in a Chinese kung fu novel.  
The production team thus opted for a jianghu-style voiceover, and they also replaced the professional narrator they had originally intended to use with Chen, whose voice is low and husky. 
"The professional voiceover was too clean and plain," explained Wang Hailong. 
The narration, too, is unique. "To eat chuan'r together is like a revelry following a rush between ganglands," "Brother Biao [a chuan'r cook] is the quietest man in the neighborhood, but he can roast anything," "Brother Wu's roast crabs make a temporary truce between diners who suck the juice with joy," and "You have to gnaw the lamb chop with hatred. Treat it as your enemy."  
Describing how a stall in Changchun, Jilin Province, whisks its potato skewers out of a big furnace to avoid being over-cooked, the documentary resorts to martial arts language. "The long hook is the arm and you must make the hook and your body one single unit for speed." 
"Wow! That is the zenith of kung fu just as a swordsman integrates himself with his sword," one audience member commented in real time.  
"The voiceover is amazing," "The narration is so impressive and magical," "Who wrote the words for this voiceover? Marvelously talented," were the comments scrolling throughout every episode.  
In the jianghu of chuan'r, the cooks are like martial arts masters, while the diners are like roaming swordsmen or ordinary people. Chinese people often describe those who work outside the hometown as "drifting in jianghu." 
"In my eyes, every swordsman in elegant, flowing white clothes [the typical Chinese image of a jianghu hero] should hold a kebab in their hand," a diner joked at a stall next to a middle school in Yangzhou, Jiangsu Province. According to the documentary, the stall has been there for more than 30 years, witnessing groups of student diners enter the school, graduate, experience love and break-ups and even get involved in gang fights. According to the diner, they hold strong affection for chuan'r, not only for their taste, but for the long-lasting memories.  
"Chuan'r is not simply food to fill an empty stomach. It adds flavors and memories to a diners' life," the fourth episode opens. Imagine when all the shops are closed and blacked out in the deep night, chuan'r stalls remain for drifting jianghu people who gather and "gulp down depression and dismay." Little wonder then that the production team praises chuan'r as a good healer of heartbreak at night and claims it plays a role so central to Chinese society that those who eat chaun'r together share a yuanfen, or predestined relationship. 
Skewering Perceptions
Chuan'r also connect diners to the cooks. Many chuan'r stalls shown in the documentary have been around for several decades and time has reinforced that bond. The stallowners remember their regular customers, sometimes individualizing their orders based on their preferences. Some will even come out of retirement occasionally to cook a few chuan'r for a cherished customer.  
Concerned that they might disrupt the lives of their regulars, many stall owners stay in the same place and never change their phone numbers, regardless of the other big changes that rock their lives.  
"I have to guard this stall," a crab skewer seller in Jinzhou known as "Brother Wu" told the filmmakers, referring to his daughter's suggestion he should move and open a new store elsewhere.  
The phrase struck a chord. "The word 'Guard' shows his persistence, I think, his responsibility to his chuan'r and his stall," remarked one viewer online. "I understand the documentary's name now [the Chinese name is Rensheng Yichuan, literally "Life Skewers"]. "We taste chuan'r and also taste life," remarked another. 
That is exactly the point. Seventy percent of the shots are food, 20 percent are people, and 10 percent are stories," Wang Hailong said. One of the directors, Zhang Yueming, agreed. "People's stories are like chuan'r seasoning, and too much would seem too sentimental," he said. "Chuan'r is a simple food which does not match grand, sentimental narrations," he added.  
The producers try to present life as it is. A cook's obsession with the quality of their chuan'r, a Sichuan couple's persistence in the face of dwindling business, a Fuzhou stallowner's decision to keep his mobile stall operating despite pressure from the local government, and another claiming he dreams of being the "King of Chuan'r." 
"They are ordinary people leading an ordinary life that brings both happiness and sadness," Zhang said. 
"Their striving is touching, and it is not necessary to purposely show the sadness which they did not tell us," Chen said. According to him, most of the stall owners did not think that their lives were worthy of documenting. But the way Chen sees it, he is doing a service by highlighting ordinary food and ordinary people.