After petering out at the start of the year, China's #MeToo movement has again gathered steam with a wave of accusations against prominent figures. But how much long-term impact it will have on China's patriarchal culture and legal framework remains unclear
F
or a time in early January 2018, it looked like the #MeToo movement would take hold in China, just as it had in many other countries. A number of sexual misconduct allegations made by former and current university students against their professors kickstarted what many referred to as China's #MeToo moment.  
The most prominent was an allegation by Luo Xixi, an alumnus of the Beijing-based Beihang  
University and currently a software engineer in the US, who spoke out in January about having been assaulted by her thesis adviser Chen Xiaowu.  
But as Chen and other implicated academics were dismissed by their schools, the nascent movement appeared to have lost steam in the following months amid some media articles which appeared to claim that China did not need such a movement, as sexual harassment was not prevalent. Nevertheless, July saw a new wave of sexual misconduct allegations on China's social media, and the movement has spread outside university campuses, as dozens of public figures in a number of sectors ranging from charity, media and religious institutions, to businesses, have fallen into disgrace.  
Tide of Allegations
One of the first sexual misconduct allegations was made against Lei Chuang, founder of YiYou Charity Center, a prominent anti-discrimination non-government al charity for hepatitis B sufferers. On July 23, a former volunteer at the charity accused Lei of raping her three years ago. Since then, more than 20 women have come forward with allegations of sexual misconduct against him. Lei admitted the allegations and stepped down from his post, but later claimed the relationship with his accuser was consensual. 
On the same day, Feng Yongfeng, an environmental activist who had set up more than 10 environmental organizations, was also accused of harassing and assaulting a number of charity workers.  
The case was then followed by accusations of sexual assault against several other activists, including a senior employee of the Chinese branch of the World Wide Fund for Nature (WWF). 
The movement soon spread to the media and publishing sector. A few days later, a 27-year-old legal worker posted an article accusing Zhang Wen, a veteran journalist, of raping her after a banquet in May, which prompted six other women, including well-known writer Jiang Fangzhou, to accuse Zhang of sexual harassment.  
In a separate case, Chun Shu, a young female writer, accused another writer, Zhang Chi, and Sun Mian, founder of New Weekly, a news magazine, of raping her when she was 23. On the same day, Xiong Peiyun, a well-known writer, and associate professor at Tianjin's Nankai University was accused by Zhao Sile, a media professional, of sexually harassing her.  
In the following week on August 1, two supervisory chancellors of Beijing's Longquan Temple, one of China's most famous Buddhist monasteries, in a 95-page open letter detailed how Shi Xuecheng, 51, the temple's abbot, had allegedly been sending sexually suggestive messages to six nuns. One nun has accused him of rape. On August 15, Shi resigned from his position as president of the Buddhist Association of China. The temple denied the allegations against Shi.  
Tip of the Iceberg
Other figures accused of sexual assault include a senior manager of bike sharing platform Ofo, a famous State television anchor, two badminton coaches, an educational corporation chairman, a university teacher and other staff, and the list is growing longer with each passing day.  
As the movement gained traction, it has led to unprecedented heated discussion and debates on an issue that has been long avoided in China's still male-dominated society. But for many activists, the recent allegations are just the tip of the iceberg.  
An article published by online media platform People on July 26, said that when it started to solicit personal stories of sexual assault from its readers through WeChat, China's leading social media platform, more than 1,700 stories were submitted within 24 hours.  
According to a 2014 survey conducted by the All-China Women's Federation in 15 universities in China's major cities, 57 percent of female students surveyed said they had experienced some sort of sexual harassment. A more recent survey conducted by the Guangzhou Gender and Sexuality Education Center (GGSEC), a women's rights NGO, in 2017 among more 6,500 university students and new graduates showed that 70 percent of them had encountered some sort of sexual harassment.  
Another survey jointly conducted earlier this year by GGSEC and NGO ATSH (Anti-Sexual Harassment) on workplace sexual harassment and assault among 416 young female journalists showed that more than 80 percent had experienced sexual harassment, and many said they had been sexually assaulted and raped, often by their superiors. Among those surveyed, 22 had to quit their jobs, 29 went through a sustained period of depression, and 10 became suicidal.  
While the sample is relatively small, the prevalence and severity of sexual harassment and assault encountered by female journalists, a group who are deemed to have more access to social resources and legal aid than other female groups, is a worrying sign for the wider population.  
The reasons behind are thought to be cultural, political and legal. Despite progress in gender equality over the decades, China remains a mostly patriarchal society with few women ascending to the highest political offices or corporate positions.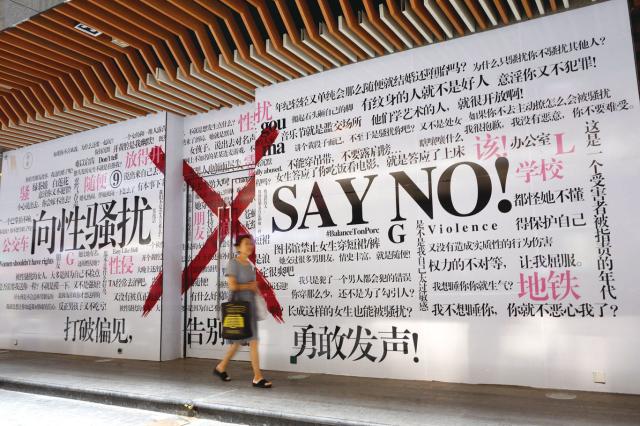 A woman walks past a mural of messages against sexual harassment in Xi'an, capital city of Shaanxi Province, August 9, 2018
Legal Inadequacies
Under China's legal system, references to sexual harassment lack specificity. Only two pieces of legislation mention the concept – the Law on the Protection of the Rights and Interests of Women and the Special Rules on the Labor Protection of Female Employees. They both fail to define what constitutes the actual offence or give clear guidance on how perpetrators should be punished. 
The result is that law enforcement authorities tend to treat workplace harassment not as a criminal offense but as a labor dispute, so it is very difficult for victims to take sexual harassment or even sexual assault cases to court. 
According to research on court rulings on cases related to workplace sexual harassment, released on June 13 by Beijing Yuanzhong Gender Development Center, a gender equality NGO, only 34 cases of sexual harassment reached the courts throughout China during the period between 2010 and 2017.  
Among the 34 cases, none were criminal cases, with more than half filed by the alleged perpetrators challenging disciplinary actions taken by their employers. Only five cases were filed by alleged victims. 
It is not just law enforcement authorities that tend to adopt a hands-off approach. When it involves prominent public figures, especially those associated with the authorities, police and prosecutors also tend discourage victims from pressing charges.  
In an article written by an intern, who has not revealed her name, with State broadcaster China Central Television (CCTV), which accused well-known CCTV anchor Zhu Jun of attempting to grope her in a dressing room, the woman said she had reported the incident to the police, but was pressured to withdraw the case considering the "positive influence" of the host and the TV station.  
Zhu Jun, who has hosted China's most-watched program, the annual Spring Festival Gala and influential arts program Artistic Life, in a statement through his lawyer on August 15, denied the accusations of sexual assault and said a lawsuit had been filed in a Beijing court against the intern for spreading rumors, and they would continue to take actions against other social media users who spread her post.  
Even in cases related to rape, criminal investigation procedures are not victim-friendly and often serve to deter accusers. In explaining why she did not call the police after the alleged rape by journalist Zhang Wen, the young legal worker, who called herself "little spirit," said that she had sought advice from her friends, lawyers and police officers included, and all advised her not to go to the police. 
"They told me that [if I called the police] I would be subject to several rounds of detailed questions, which would be torture for any victim of rape." She said that her friend at the police even held a simulated interview. "I almost collapsed," she said. 
Where to Now?
With all the publicity surrounding the #MeToo movement, the question for many experts and activists is whether it can bring sustainable results to address the issues. Earlier this year, it was reported that lawyers and women's rights groups submitted at least three proposals on the subject of sexual harassment and assault at this year's legislative session held in March. But many feel pessimistic about any major legislative reform on the issue in the foreseeable future.  
"It took 16 years for lawmakers to enact China's first anti-domestic violence law, since legal circles starting calling for such a law in 2000," Li Yue, a veteran activist who was actively involved in campaigning for the law, told NewsChina.  
"And when the law was enacted in 2016, it didn't mention sexual violence at all," Li added.  
This is perhaps why an article written by Liu Yu, a female associate professor of political science from Beijing-based Tsinghua University, in which she argued that the #MeToo movement has become a trial by media that was contrary to the principle of the rule of law and that victims should seek to address their complaints through legal means rather than through social media, triggered a widespread backlash from activists.  
"It shows that mainstream intellectuals like Liu have become so detached from the reality that they are either unwilling or unable to grasp the essence of China's gender issues," said Zhu Xi, an outspoken social worker.  
Zhu told NewsChina the real significance of China's #MeToo movement lies in that China's young generation has shown that they are far less fearful of speaking out than older generations.  
"Brought up in a more independent and prosperous environment, China's post-90s generation is not beholden to any particular establishment both mentally and materially," said Zhu, "And they do not take the patriarchy for granted." 
"The #MeToo movement sends a strong message to women and the rest of society that it is not OK to accept the status quo and to keep silent," added Zhu. While nationwide legislative reform may take a long time to come, she argued that what is more tangible is to foster the introduction of anti-harassment mechanisms at the local, organizational and corporate level. 
Zhu said that as long as the movement keeps the flame alive, there will be progress, as many charities, media outlets and Chinese corporations have started to introduce anti-harassment training.  
On August 6, a district-level educational bureau and local prosecutors in Hangzhou, capital of Zhejiang Province, jointly released a guidance document on preventing and handling sexual misconduct in schools, the first of its kind to be released by local authorities.  
According to Zheng Xiaojing, another Beijing-based activist, the #MeToo movement has at least prompted open discussions and debates on definitions and key concepts, such as what constitutes sexual harassment and what is consensual sex. 
"Speaking up is the very first important step to address the problem," Zheng told NewsChina, "Without acknowledging the prevalence and severity of the problem, there is no way that it would lead to a solution."