New national regulations give legitimacy and oversight to China's nascent ride-hailing app industry and tear down long-held restrictions on the traditional taxi sector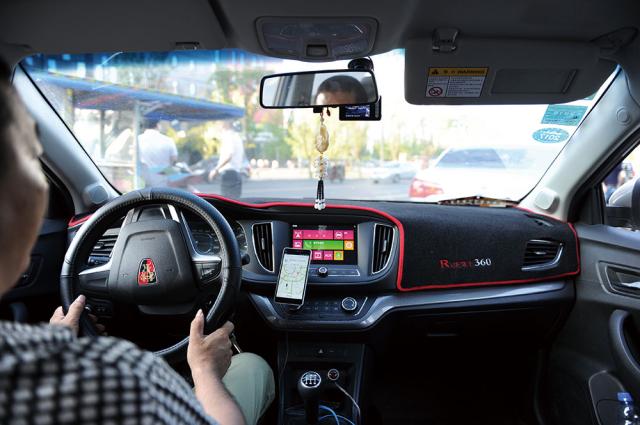 Photo by IC
"
This is the world's first national regulation on online ride-hailing services," declared Liu Xiaoming, China's vice minister of transport, at a July 28 press conference in Beijing. That same day, reform guidelines for the taxi sector were officially on the books. They included new regulations for both app-based ride-hailing cars and conventional taxis. As Liu explained, this means that online ride-hailing has become a legal business. After all of the debates and conflicts between drivers, passengers and experts since the service first charged into China in July 2014, the dust has finally settled. 
The market is never short of surprises. On August 1, Didi Chuxing, the largest operator in China, confirmed it would acquire the China operations of its archrival, Uber. The two will also become minority shareholders in each other's companies through a cross-shareholding arrangement. This has brought uncertainty back into the future of the market landscape. The vocal faction that strongly supported granting legal status to ride-hailing services has now started to call for putting the acquisition deal under the scrutiny of China's Anti-monopoly Law.  
Events that occurred before and after the new rules were hammered out also indicate there are increasingly diversified and complicated interests involved in the process of transforming China's economy into a more market-oriented system.
Under the new legal framework, online ride-hailing cabs are categorized as "online ride-booking taxis" to distinguish them from conventional "roaming taxis" that find their customers on the road. Ride-hailing cars are free from some of the restrictions placed on traditional taxis. For example, unlike conventional cabs, they are not required to report a write-off after eight years of service as long as they have not driven more than 600,000 kilometers. Ride-hailing companies are not subject to government-imposed price controls, and they can choose to sign flexible labor contracts with part-time drivers.  
In the first draft of the new regulation, which was released last October for public comments, all of these restrictions were applied to conventional cabs' app-based counterparts. That draft launched "customized strikes against online ride-hailing services," said Xue Zhaofeng, co-director of the Institute for Law and Economics under Peking University's National School of Development (NSD), at an NSD forum a few days after the draft's release. The final version is widely appreciated by experts, including Xue, as open and innovative.  
Several cab drivers told NewsChina that what they fear the most about the new policy is that online ride-hailing platforms will continue to offer lower prices and better cars for passengers, two of the reasons trouble between the blocs originally began to brew. However, those who are close to the end of their contracts with taxi companies expressed interest in jumping to app-based platforms afterward, the same platforms hated by taxi drivers worldwide. 
To protect conventional taxis, the new rules forbid online ride-hailing cars from soliciting new customers on the road, and require them to offer better, different services to passengers. The online cab-booking platforms are specified legally as "carriers," not just information providers, so they will be held responsible for passengers' safety and will pay corresponding taxes.
While regulating online platforms was important, changing the entrenched taxi franchise system has been thought to be the long-awaited crucial step that would break down the core issues of the sector. Operators of conventional taxis will no longer have to pay franchise fees, and thus will enjoy a more level playing field with online ride-sharing platforms, Liu Xiaoming explained on August 1 during an online chat with the public on the State Council's website.  
It also means these conventional taxi companies do not have a reason to transfer the cost of franchise fees to their drivers any more. The government, which no longer has a financial stake in the matter, will act as a mediator between taxi companies and their drivers when they negotiate their monthly contract fees. Online ride-hailing platforms, now legal, will give taxi drivers new job opportunities. As a result, traditional cab drivers will have more bargaining power in negotiations, said Wang Hao, an official with the Ministry of Transport's Research Institute of Highway, in a China News Service article published July 29.
The monthly contract fees are paid by taxi drivers to their companies. They cover not only the company's profits, but also the company's operational expenses, including the now-defunct franchise fee, car purchasing, car maintenance, drivers' social insurance and managerial costs.
In the past, as there were only a few big, licensed taxi companies and municipal governments decided how many taxis could be in use at one time, taxi drivers had no say in the amount of their monthly fees. They have complained about this heavy financial burden for years. In Nanjing the monthly fees were so high that even after a strike in early 2015 forced the municipal government to reduce taxi drivers' monthly fees in April, the lowest fee bundle for ordinary taxis remained higher than the average local income.  
At the same time, passengers had to deal with a limited taxi supply and at times poor customer service given by angry taxi drivers. In recent years, researchers and the media joined the throng of voices calling for change in the government-underwritten franchise system and market monopoly. However, little progress had been made. Then, when app-based cab services emerged, taxi drivers found themselves suddenly stuck between a crushing monthly fee and strong competition. Liu Xiaoming said in the August 1 interview that taxi drivers' incomes last year shrank by about 30 percent as a result in the cities that the Ministry of Transport researched. Taxi drivers launched strikes and protests, and some even attacked their new competitors, clamoring for reduced monthly fees and a ban on online ride-hailing services. However, this time they got much less sympathy from passengers than before. Their customer base was generally fed up with conventional cab drivers' mediocre service and now had new transportation choices. This feedback loop triggered more calls to reform the franchise system and break up the government-underwritten monopoly. This time, the calls finally elicited a response.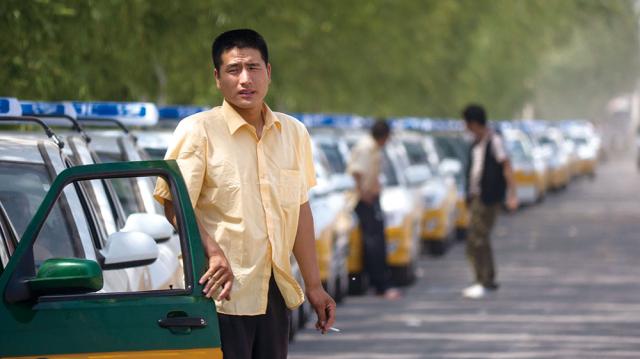 Drivers of conventional "roaming cabs" have lamented the competitve pressure of their app-based counterparts since the new industry took off in China two years ago. Photo by IC
Liu Xiaoming's remarks at the Beijing press conference highlighted two forces behind the original draft's transformation and the breakthrough in the long-stalled franchise system reform. Firstly, the final version is based on more than 10,000 comments from the public, field research in 21 cities and nearly a hundred meetings with industry experts and other relevant parties. Secondly, the authorities behind the country's nationwide technology push known as Internet Plus highlighted this as an opportunity to upgrade the conventional taxi sector and regulate online ride-hailing services.  
Both forces have been driven by and reflect market dynamics. Online ride-hailing platforms were introduced to China just two years ago; at that time, Tencent-backed Didi and Alibaba-backed Kuaidi were the two main players. The new businesses immediately latched onto the huge base of customers whose demands were not met under the old taxi system. Besides offering passengers more choices, app-based taxi services had another trick up their sleeve – using wads of investor money to attract more drivers and passengers. In this way, they were able to expand their business quickly and price out competitors. A Didi driver told NewsChina recently that when Didi first launched in 2014, the subsidies drivers received were three times the amount of the revenue earned from customers. Generous coupons to entice more potential passengers were often distributed via social media, particularly the ubiquitous chat app WeChat. Didi founder and CEO Cheng Wei disclosed in a March interview with qq.com, Tencent's news portal, that the company had put aside US$4 billion in 2015 to "educate the market by changing our potential users' traveling practices, and investing in technologies." He did not give a specific timeline for when their business would make a profit. Uber had been doing the same. A month earlier, Uber CEO Travis Kalanick acknowledged during a "fireside chat" organized by Canadian technology platform BetaKit that Uber has been losing US$1 billion a year in China. Other market players later threw their hats into the ride-hailing services ring. 
The new companies' cash-burning tactics worked in changing customers' patterns of behavior and, thus, the market. Didi Chuxing announced on its website that in the first quarter of 2016, 14 million registered Didi drivers were in operation in more than 400 Chinese cities. In those three months, 300 million passengers rode with Didi.  
Partly due to the competitive pressure from the new online ride-hailing services, some city governments began relaxing restrictions on conventional cab companies well before the national rules were issued in July. More than 10 cities, mainly in prosperous Zhejiang, Jiangsu and Guangdong provinces, had already canceled taxi companies' franchise fees. Some had even announced plans to throw out the monthly fee bundles that weighed conventional cab drivers down.  
This does not mean the entangled interests in China's taxi industry have completely unraveled, satisfied with a handshake and a level playing field. Local governments still have the power to control some key details, such as the registration process, types of cars used and driver qualification requirements, so there are calls for national unified standards on all these details to avoid distorted implementation at the local level.
As for ride-hailing app companies, there are increasing complaints about a recent decline in service quality, such as drivers showing up in cars that were not the ones booked online. There have even been cases drivers sexually harassing passengers, threatening passengers by phone, or even stalking riders if they refused to give the driver a five-star review. Each time one of these incidents was reported by a media outlet or circulated on social media, debates over the potential regulation of online ride-hailing businesses intensified. These conversations will continue to put the platforms' reputation at stake, and probably even more so, now that they have been recognized by the law.  
The recent deal between Didi and Uber has aroused concerns over a potential industry monopoly, which could make companies less motivated to improve services and efficiency. Passengers are already asking whether a recent price hike is the result of the anticipated monopoly. Passengers understand it is simply impossible to enjoy subsidized prices forever, but reducing or stopping subsidies because of a monopoly is something else altogether.  
Analysts are divided on whether the national anti-monopoly authorities should step in to put the deal under review. Some argued that the market is fully open to new competitors and the innovative industry should be protected in this early stage. Others insisted that the law cannot be enforced in such a selective way, and passengers' interests would be compromised in the long run.  
At an NSD-sponsored forum on the new regulations held on August 3, the NSD's Professor Zhou Qiren said he believes the arguments and conflicts that have thrived both before and after the rules were finally set reflect a new phase for Chinese reform that will last for some time. He explained that in the early years of reform, when China was just beginning its market economy transition, deciding on changes was relatively simple – everyone benefited from more freedom. But as China's economy has grown more and more complex, solutions need to evolve as well. This is why he believes it might be preferable to leave the detailed implementation of the new taxi rules to local authorities, rather than rush to define a national standard. He stressed that many of China's past reforms have begun as the bold experiments of grassroots communities or local governments.  
While these new regulations are a huge leap forward for the cab industry, there are still several issues that have yet to be ironed out. Both conventional cabs and app-based taxis need to brace themselves for whatever's around the bend.