Hospitals in Wuhan are struggling to overcome the Covid-19 outbreak amid a shortage of beds and essential medical supplies, and as exhaustion and stress undermine frontline workers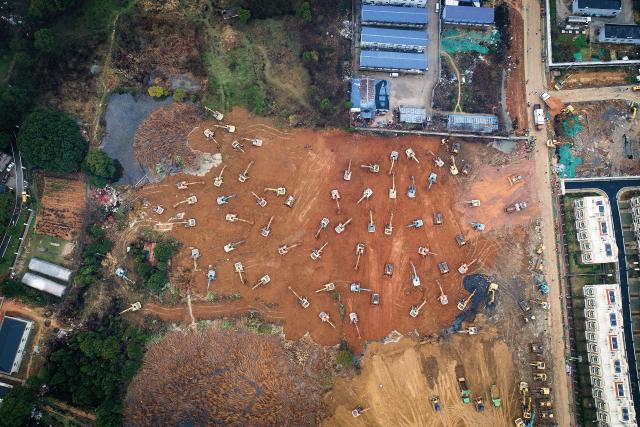 An aerial view of the construction site for Huoshenshan Hospital in Wuhan designed for patients suffering from Covid-19, on January 24, the second day after construction began. The livestream of the build became a hit on the Chinese internet, as many people were quarantined with little else to do over the extended Spring Festival holiday
O
n December 31, 2019, Wuhan Municipal Health Committee announced that 27 patients in the city were found to be infected with an "unexplained pneumonia."    
On January 20, Zhong Nanshan, a respiratory expert who heads China's National Health Commission, told China Central Television (CCTV) that a neurosurgical patient at the Wuhan Union Hospital of China had infected 14 medical workers, the first confirmation that the novel coronavirus, now called SARS-CoV-2, could be transmitted between humans, causing a disease with the official name of Covid-19. The real picture of the epidemic began to surface. The public finally realized that it had already developed into an irreversibly grave situation.    
Horrified by the deteriorating situation, people exhibiting the symptoms of fever and cough rushed to hospitals to seek a diagnosis and treatment. Faced with extreme shortages of hospital beds, medical equipment and protective gear, the healthcare system of the city was for a period, on the verge of breakdown.
"I couldn't register at the outpatient department at all. There were too many patients waiting in front of me," Zhang Xin, an associate senior doctor at the ophthalmology department of the Renmin Hospital of Wuhan University, told NewsChina. On January 22, she developed symptoms, alternately feeling feverish and cold.    
She called her colleagues at the outpatients department to ask about the test requirements, prepared the test sheets and sent the results to her colleagues through WeChat. After her colleagues wrote down a prescription containing several antiviral drugs, she bought the medication from the pharmacy.    
"As a medical worker, at least I could find ways to treat myself with the assistance of my colleagues. I can't imagine how helpless ordinary patients would be," Zhang said.    
From January 23, Wuhan adopted a "seven plus seven" model – to choose seven second-class hospitals near the city's seven large hospitals as designated hospitals which would be fully utilized to treat suspected and confirmed cases.    
As one of the designated hospitals, Wuhan Red Cross Hospital, acting in support to the Wuhan Union Hospital of China, is near the Huanan Seafood Wholesale Market which is widely considered to be the source of the Covid-19 outbreak.    
On January 22, Wuhan Red Cross Hospital reconfigured its main building: the first and second floors were entirely transformed into an outpatient department for dealing with fever, the third and fourth floors are for patients on drips, the fifth floor is a sterile zone, and the sixth to 15th floor consist entirely of isolation wards.    
But the hospital found it extremely difficult to bear the heavy patient flow. On January 29, Xiong Nian, director of the Wuhan Red Cross Hospital, told NewsChina that due to the lack of beds, there were nearly 100 suspected cases still in the outpatient department. On January 29 alone, the outpatient department took in 130 patients under observation.    
"It was hard to find a bed across the entire city," Xiong said. "Though local hospitals were ordered to take in as many patients as possible, in reality, that was not the case. Not a single hospital could successfully do that."   
"Since large hospitals were too full of patients to offer a single bed, more and more patients crowded into community clinics. However, as community doctors have no ability to distinguish whether a patient has been infected or not, many undiagnosed patients, having waited for three or four days, finally become severely ill," Xiu Ming, director of the Beijing-based Fuxing Hospital affiliated to the Capital University of Medical Sciences, told NewsChina.    
To alleviate the pressure, city authorities announced they were building two emergency specialty field hospitals in response to the worsening situation. Having opened on February 2, Huoshenshan Hospital, which was constructed in 10 days, provides 1,000 beds and 1,400 medical staff. Leishenshan Hospital, which opened on February 8, can provide 1,500 beds.    
Starting on the night of February 3, the city was working to convert its sports stadium and two convention centers into quarantine centers for Covid-19 patients with mild symptoms. Offering a total 3,800 beds and 2,000 medical staff, the three makeshift hospitals have been treating patients since February 4. Ten more venues were in the process of being transformed into quarantine centers to provide more than 114,000 beds.
Vulnerable Health Workers
Dr Li Wenliang was an ophthalmologist at Wuhan Central Hospital. On 30 December 2019, Li saw a patient's report which showed a positive result with a high confidence level for a SARS-type coronavirus. "Seven confirmed cases of SARS were reported to hospital from Huanan Seafood Market," he wrote in a private WeChat group for his classmates. Later, his WeChat messages were shared on social media and gained attention. On January 3, 2020, Wuhan police summoned and admonished him for "making false comments on the internet."    
As one of the first to warn of the virus, Li was seen as a hero by the public. He did not believe that he would also end up as a victim of the novel coronavirus he had tried his best to warn about. The 33-year-old doctor died on February 7, leaving behind a pregnant wife and a son. His death came as a heavy blow to the public, and sparked widespread mourning.    
On January 31, in an interview with NewsChina, Li explained how he might have been exposed to the virus. "Since at the time the authorities hadn't yet confirmed the virus could be transmitted between humans, as an ophthalmologist, I was so careless and thought the 'unexplained pneumonia' was still quite far away from me. So I didn't wear an N95 mask."  
On January 8, Li treated an 82-year-old woman with glaucoma. At the time, the patient had not yet developed a fever and Li did not inquire about her contact history with Huanan market. The next day she began to have symptoms of fever and loss of appetite. After being examined, it was suspected she was infected with the "unexplained pneumonia." On the evening of January 9, a relative who was with the patient also developed a fever, a sign of human-to-human transmission.    
Soon Li started to have similar symptoms. He immediately moved out of home and quarantined himself at a hotel, away from his wife and 5-year-old son.    
"Two colleagues at the ophthalmology department were infected after me. Afterwards all my colleagues started wearing N95 masks," Li said.    
"In the beginning, we vaguely knew about the potential threat of the virus, but we didn't have protective equipment or a reliable diagnosis method or related guideline. We didn't know how to effectively quarantine and treat such patients and how to protect ourselves. Not until Zhong Nanshan's January 20 interview did people finally realize the gravity of the situation," another infected doctor at the Central Hospital of Wuhan told NewsChina.    
"Many health workers did not take precautions during that period. They didn't wear a mask when they saw patients," Xiong Nian told our reporter. By January 21, Xiong indicated, 35 medical workers at the Wuhan Red Cross Hospital were suspected to have been infected. By January 29, more than 80 had fallen ill with a fever, among whom 30 had been tested for the novel coronavirus by nucleic acid detection, the standard test. One-third tested positive.    
Xiong said that on January 21, there were only 13 protective suits in the entire hospital, which could only be distributed to a few doctors in the fever outpatient department and emergency department. Most nurses attended patients without any protection.    
Dr Zhang of Renmin Hospital told NewsChina that many anesthetists wore swimming goggles due to a lack of protective eyewear. Later, even swimming goggles were nowhere to be bought.
Under extreme stress due to the tremendous workload, the lack of supplies and the high possibility of being infected, more and more health workers are suffering from psychological pressure. Breakdowns are becoming common. Social media feeds show clips of frontline medical workers weeping uncontrollably. "They are just like platoons of weaponless soldiers who have to go to the [battle] front," Zhang said.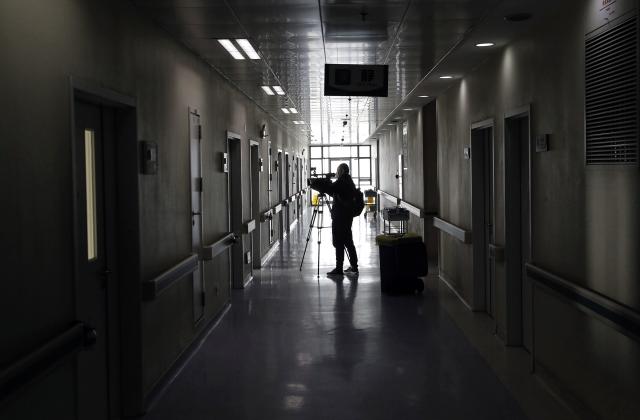 Wuhan Union Hospital of China has renovated its structure and created a new inpatient area to provide 700 beds to treat fever patients. The new wards started admitting patients on January 29.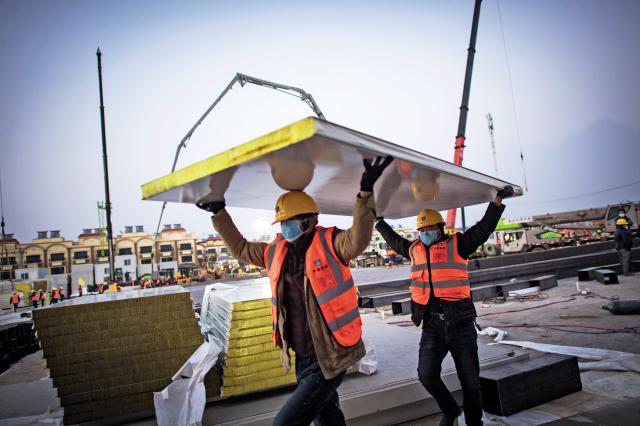 On January 28, workers from the China Construction Third Engineering Bureau press on with the building of Huoshenshan Hospital. It took only five days to build the basic structure of the hospital
Wuhan Union Hospital of China is a major battleground for the outbreak with more than 2,000 staff members. A senior director of the hospital told NewsChina that the extreme shortage of essential supplies has driven doctors and nurses into a corner.    
A protective suit usually should only be used for four hours and should be instantly disposed of when taken off. To prolong the use of the protective suit, some doctors and nurses chose not to drink water for an entire day to avoid going to the toilet. Some health workers were reduced to wearing rain jackets or sewing their own face masks while treating virus patients because of a lack of protective gear. Other reports claim medical workers are using diapers so they do not have to take the suit off during their shift.    
Out of desperation, on January 23, more than 20 hospitals in Wuhan, bypassing the approval of the authority, directly solicited medical supplies, such as protective suits, N95 masks and protective goggles from the public.    
People in China and overseas responded to the call. Billions of yuan in aid and tons of relief goods poured into Wuhan.    
Concerning shortages of supplies, Wang Jiangping, Deputy Minister of the Ministry of Industry and Information Technology, said on January 26 at a press conference that the productivity of enterprises was compromised during the Spring Festival holiday. Though manufacturers urgently resumed production, it was still only up to 40 percent.    
On January 29, Wuhan Union Hospital of China once again made a cry for help, seeking donations from the public.    
Zhang Xin indicated that after the city was put into lockdown on January 23, individuals, businesses and civil institutions around the country donated money and supplies, but many of these donations did not reach the intended hospitals due to failures in the delivery process.  
"Hospitals are not allowed to directly receive donations. What they can do is to report their needs. It is the Red Cross Society that takes charge of receiving and distributing donations. Hospitals have to follow the procedure," Zhang told NewsChina. Donations from overseas are required to be inspected through customs.    
To solve the pressing need, health workers sought ways to buy protective equipment by themselves. In bypassing the Wuhan Municipal Health Commission and directly seeking help from the public they hoped to relieve their situation. "It was nothing but a desperate attempt of the helpless hospitals," Zhang said.    
Netizens were outraged after finding that the donations that had poured in from across the nation had failed to ease the deficit. The anger boiled over after it was noticed that the local branch of the Red Cross Society of China (RCSC) had allocated just 3,000 surgical masks to Wuhan Union Hospital, the major battlefield to fight the outbreak. In the hospital's appeal, it asked for at least 5,000 N95 masks and 8,000 surgical masks. In comparison, two other smaller private hospitals which played no role in fighting the epidemic received six times as many surgical masks.    
The RCSC Hubei Branch attributed the misallocation and inefficiency to being short staffed.  
In an interview with NewsChina, Zhang Qin, then full-time deputy director of the RCSC Hubei branch, said, "The main problem that challenges us is that we are understaffed. Some staff members left Wuhan during the Spring Festival and couldn't come back due to the ockdown. Currently, only 21 are on duty."    
An investigation by the provincial supervisory commission showed that some officials with the RCSC Hubei branch had failed to take responsibility when receiving and distributing donated funds and relief goods. They were also found to have violated regulations and were responsible for information disclosure errors.    
On February 4, Zhang Qin was removed from office for dereliction of duty in the fight against the epidemic. He was also dismissed from the leading Party members group of the RCSC Hubei branch committee of the Communist Party of China, and given a serious intra-Party warning as well as a serious administrative demerit, according to the notice from the provincial supervisory commission. Chen Bo, a member of the leading Party members group of the RCSC Hubei branch committee of the CPC, was also given a serious intra-Party warning and a serious administrative demerit. Gao Qin, chief of the RCSC Hubei branch committee of the CPC and also the executive vice director of the RCSC Hubei branch, was given an intra-Party warning.    
Meanwhile, the toll on frontline medical staff continues to climb. Neurologist Liu Zhiming, director of Wuhan Wuchang Hospital died of Covid-19 on February 18, aged 51. As of press time, more than 1,700 health workers are reported to have been infected with the coronavirus, and at least six have died.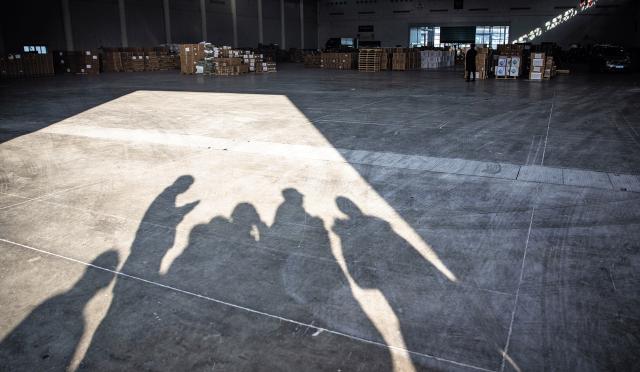 Wuhan International Expo Center was requisitioned to store relief supplies. On January 31, dozens of health workers from hospitals, community health centers and other medical institutions designated to treat patients suffering from Covid-19 waited to be allocated medical supplies