If talks with the US continue to stall, North Korea's new strategic shift from military first to economic development may have nowhere to go
I
m Ui-ung, manager of a shoe company in Pyongyang, is brimming with confidence. "Our target," he told NewsChina, "is to sell our products overseas by 2020." The factory is one of a couple dozen factories visited by North Korean leader Kim Jong-un in recent months. Like many other businesses in the country, Im said the factory has suffered major power outages. But after Kim announced his new policy that focuses on economic development in 2017, Im said the power supply has improved and production at the factory doubled.  
While Im's optimism about the factory's future in the international market could be genuine, given Kim's recent efforts to steer the country toward a new strategic goal of economic development, the prospect of being able to access it by 2020 may just be pie in the sky as negotiations on denuclearization have stalled in the wake of the high-profile summit between Kim and US President Donald Trump in Singapore in June.  
Kim's New Focus
In the last two years, Pyongyang has severely strained its relationships with not just the US and its regional neighbors including China after a series of nuclear tests and missile launches, which has resulted in several rounds of increasingly strict sanctions on the country.  
But starting in late 2017, Kim Jong-un has repeatedly pledged that North Korea will shift its strategic focus from its military first policy to economic development.  
Following a keynote speech in 2017 that stressed the importance of economic development, Kim officially declared in his New Year speech, delivered in January 2018, that the goal of his "parallel" policy – developing the economy and nuclear weapons, which he announced in 2013 – had been achieved and that his party would now concentrate all efforts on "socialist economic construction."  
In the meantime, Pyongyang appears to have drastically changed its stance on the nuclear issue. In the following months, Kim held a total of six top-level meetings with leaders from the US, China and South Korea, including two summits with South Korean President Moon Jae-in in April and May, the summit with Trump on June 12 and three meetings with Chinese President Xi Jinping.  
With a new strategic shift and a pledge to commit to the "complete denuclearization of the Korean Peninsula" made during his summit with Trump, it is clear that Kim has tried to soften the international and bilateral sanctions to help with its new economic development strategy. Following the summits, Kim embarked on tours of some 20 factories, farms and construction projects. During many of these visits, Kim lashed out at poor management of the facilities,  
according to North Korean media reports. This was in sharp contrast with reports on Kim's visits in previous years, which tended to focus on showcasing the country's prowess and achievements.  
Analysts believe that Kim's recent visits and the message he delivered during these trips have both empirical and symbolic significance, and that he has both the domestic and international audience in mind. Domestically, Kim's visits and criticism may serve to change the decades-long doctrine that prioritized military buildup at the cost of economic development which was central to North Korea for so many years.  
It is estimated that North Korea's military expenditure in past years consistently amounted to more than 20 percent of its annual GDP. By lashing out at the way domestic industry is managed, Kim may be sending a strong political message to his people in order to push forward his new policy agendas. When NewsChina visited Pyongyang in August, many of the propaganda slogans that previously focused on political and military agendas displayed on the streets had been replaced by those exhorting economic growth.  
Kim's economic growth agenda was also frequently mentioned by the North Korean minders that accompanied NewsChina reporters during their visit. Even a military officer stationed at the Panmunjom Truce Village in the Demilitarized Zone (DMZ) between the two Koreas, stressed that the DMZ has now become "the starting point of peace and prosperity," echoing Kim's words when he met Moon in Panmunjom in April. 
Moreover, Kim's selection of facilities to visit also highlighted the sectors prioritized under his new policy. For example, one of Kim's most salient visits was to a hydroelectric dam under construction in July, where Kim reportedly became furious after learning that after 17 years, construction was still unfinished. For years, North Korea has suffered from nationwide power shortages. During his keynote speech in 2017, Kim highlighted that an adequate power supply is the "prerequisite" for economic growth, and would be given top priority under his new policy.  
For many analysts, Kim's recent frequent field trips and repeated rhetoric on the importance of economic development also serve to send a signal to international society that Pyongyang is serious about making compromises on its nuclear programs, provided that the right incentives, such as the lifting of sanctions and financial support, are offered. "Kim is trying to show that he is a rational player that can make rational deals [with the US]," Zheng Jiyong, a professor and director of the Center for Korean Studies at the Shanghai-based Fudan University told NewsChina.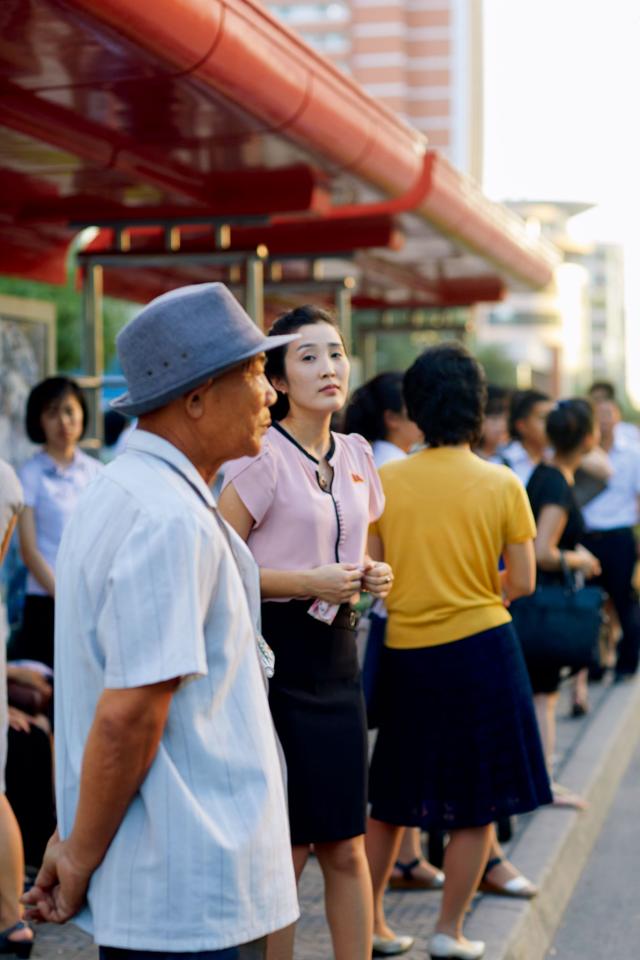 People at a bus station in Pyongyang, North Korea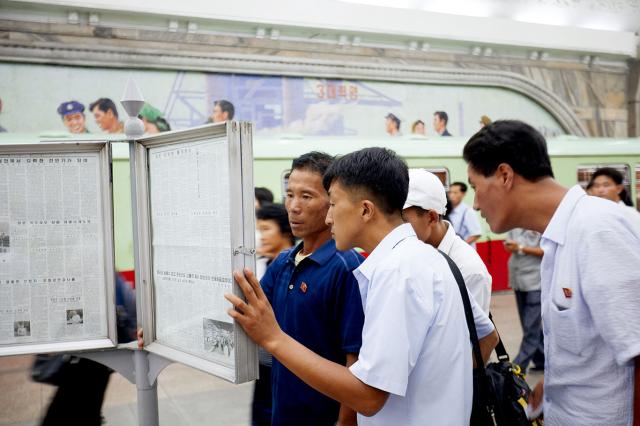 Passengers read newspapers at a subway station in Pyongyang, North Korea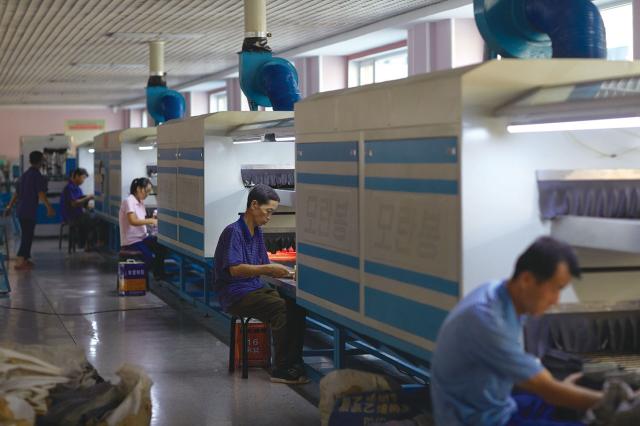 Workers at a shoe factory in Pyongyang, North Korea
Autonomous Development?
But so far, Kim's efforts have not been matched by concrete results, at least from the US. On August 24, Washington abruptly canceled Secretary of State Mike Pompeo's planned visit to Pyongyang.  
With the prospect of a deal with the US remaining a distant possibility, Pyongyang has been trying to increase cooperation with other players in the region, particularly South Korea, in areas outside the scope of the UN sanctions.  
Tourism in particular, has been emphasized. In the first half of 2018, Kim twice visited Wonson, a seaside city on the east coast some 180 kilometers from Pyongyang. Kim's visits were highlighting the importance of a major tourism project under construction that aims to build the coastal city into a resort town. However, without cooperation with other countries, the prospects for tourism are limited. In 2015, North Korea set an ambitious goal to attract one million foreign tourists in 2020, and two million in 2030. But the reality is that only about 100,000 foreign tourists, mostly Chinese, visited the country in 2017.  
Following the April Kim-Moon summit, during which the two sides agreed to work toward bringing a formal end to the Korean War (there is still only an armistice agreement), North Korea called on the South to resume their earlier economic cooperation at the Mount Kumgang resort, near the border, and the Kaesong Industrial Region near Panmunjom. The Mount Kumgang resort was built by South Korea's Hyundai Group in 1998 for foreign tourists, mainly South Koreans who would stay in a strictly designated area. But after receiving about a million tourists, the program was terminated in 2008 when a 53-year-old female tourist from the South was shot dead by a North Korean soldier guarding the resort when she wandered into a forbidden area. The resort has been abandoned ever since. The joint Kaesong Industrial Region was launched in 2002, but was also closed by South Korea under the administration of former president Park Geun-hye in 2016, after Pyongyang conducted a hydrogen bomb test in January 2016.  
Pyongyang's efforts to resume economic cooperation with Seoul immediately raised alarm in Washington. It was reported that at a meeting in June, Mark Lambert, the US State Department's special director for Korean affairs, warned Hyundai Group executives that South Korea should not resume economic cooperation. Possibly under US pressure, the South Korean government turned down an application filed by 153 entrepreneurs to visit North Korea in July.  
In the meantime, the US is also exerting pressure on other countries in the region that are seeking to improve ties with North Korea. Not only has Trump again accused China of undermining the US talks with North Korea, Washington has reportedly showed irritation over an alleged "secret" meeting between North Korea and Japan held in Vietnam in July.
Although there may be a glimmer of hope if a second Kim-Trump summit does take place, Kim's next planned meeting with South Korean leader Moon Jae-in may offer some new hopes. Moon is set to visit Pyongyang from September 18-20, the third meeting between the two this year. Unlike the Trump administration, whose policy toward Pyongyang is preoccupied with denuclearization, Moon's  eighbor in a more general sense.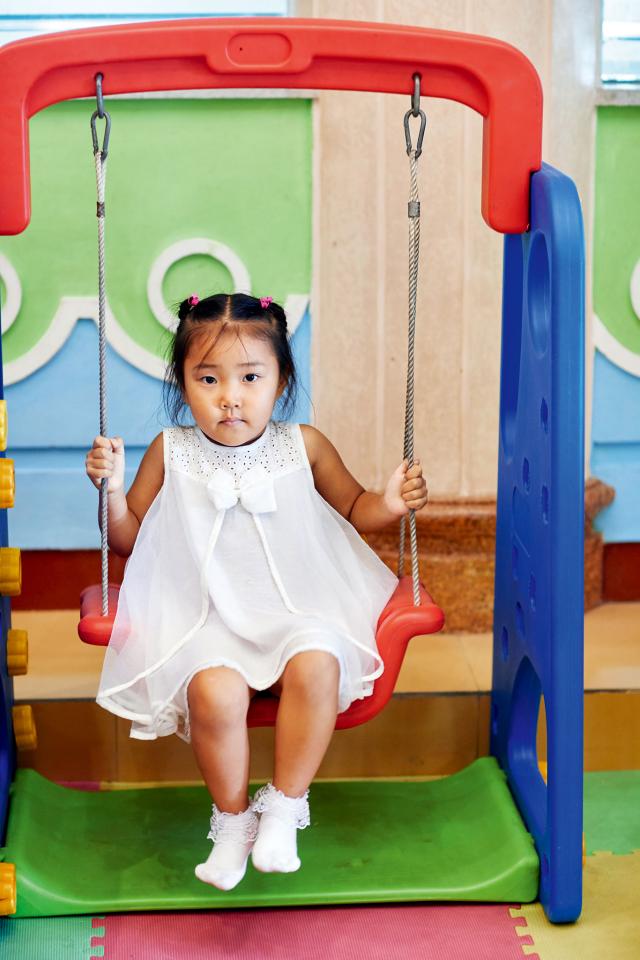 A girl on a swing in a kindergarten in Pyongyang, North Korea
South Korea's Role
South Korean President Moon himself has also shown strong commitment to pushing forward the talks between Pyongyang and Washington. In a speech on South Korea's Liberation Day on August 15, Moon projected a bright future for inter-Korean cooperation. Citing research by a South Korean State-run organization, Moon said that inter-Korean economic cooperation could generate at least 170 trillion won (US$151.5b) over the next 30 years.  
Specifically mentioning the two joint projects that Kim called on Seoul to resume, Moon said the two countries will benefit from "reconnected inter-Korean railroads and certain natural resource development projects, in addition to the resumption of the operation of the Kaesong Industrial Complex and Mount Kumgang tours."  
Regarding his third meeting with Kim, Moon said on September 5 that the summit offers high expectations for the denuclearization of the Korean Peninsula, and that he hoped that "talks between North Korea and the US to achieve that goal could be facilitated." 
But despite Moon's efforts, he is unable to solve the fundamental gap between the principal rationale adopted by Pyongyang and Washington during their talks. While North Korea has insisted on a phased approach, demanding the US offers reciprocal rewards for every step it takes in the denuclearization process, the US has refused to lift any sanctions before major progress has been made, following its approach of a "complete, verified, and irreversible" denuclearization.  
It was earlier reported that US Secretary of State Pompeo has demanded Pyongyang provide a list of nuclear sites and a timeline for denuclearization, something North Korea has rejected. According to North Korea's reciprocity principle, a timeline for denuclearization would have to be met with a timeline of rewards such as lifting sanctions. From this perspective, the results from the third Kim-Moon summit may be very limited.  
In its grand military parade to celebrate the 70th anniversary of the nation's founding on September 9, North Korea decided not to display its nuclear missiles, which it had done several times in previous parades. Praising North Korea's decision, the White House also said that it had received a "warm letter" from Kim and that negotiations on a second summit were underway. While it offered new hope for concrete progress in the nuclear talks, few analysts are as optimistic as they were before the first Kim-Trump summit.  
According to Zheng Jiyong, as long as the international and bilateral sanctions imposed on North Korea are still in position, there is very little that Kim's new economic policy can achieve. "[Without the lifting of sanctions,] North Korea's economy can only be maintained at an above starvation level at best," Zheng said.