Soaring demand for prettier faces has created a large underground market for cosmetic surgery – what's known in China as medical cosmetology. But many of the 'surgeons' have no professional qualifications, and leave customers mutilated and scarred
Y
ang Jinwen's decision to undergo cosmetic surgery at her regular hair salon must have seemed like a good deal at the time – but it left her nose rotting on her face. A beautician convinced the Shanghai woman, who had long desired a higher nose which is considered a sign of beauty in China, to have her face ­injected with a type of acid used in facelifts. Soon after the procedure, Yang noticed the injected area was bleached white.  
When she asked, the salon told Yang this was a normal reaction to the procedure, and that her nose would heal after several days. But when the pain became too much to bear, Yang rushed to hospital, where a professional plastic surgeon told her that her nose had been disfigured. 
"It was discolored and had started to rot from the inside when I saw her," the surgeon, Wang Jigeng, told NewsChina. "We had to do an operation to cut open her nose and get the injected material out. But since the injection had already penetrated into the nose tissue, the operation could not avoid impacting her appearance," Wang said. 
Wang concluded that whoever administered the injection had wrongly injected it into her bloodstream through a nose capillary, instead of into the tissue.  
Yang's operation went smoothly but left her a large, obvious scar on her nose which would not fade for a year. The major operation required Yang to take plenty of bed rest, and she ultimately lost her job at a large bank. Yang has suffered from depression and anxiety since the incident.  
She's not alone. Numerous media reports have revealed ­women being disfigured as a result of underground cosmetic surgery. Experts say few customers are aware that a range of cosmetic ­procedures, including many that don't involve a surgeon's scalpel, ­constitute medical treatment and should only be performed by a l­icensed doctor at a licensed hospital or clinic. "We have too many underground cosmetic clinics and salons," said Wang. "Too many." 
Alarming Rise
Wang, who graduated from a military medical university of the ­People's Liberation Army in 1984 and has been engaged in plastic ­surgery for more than 30 years, says medical cosmetology is ­expanding at an alarming rate. This unique Chinese term refers to all medical means, including medication, surgery and injections, employed to improve one's appearance.  
"When I graduated, there were few dedicated hospitals and those who worked in the plastic surgery departments of big, public hospitals only took patients who had been disfigured in accidents or disasters," Wang said.  
"Few thought that plastic surgery should be done on healthy ­people. Plastic surgeons were looked down upon by other surgeons at that time," he added.  
Wang sees the growth of the industry as a result of China's ­reform and opening-up, which got in full swing in 1992 when Deng Xiaoping, during his Southern Tour, emphasized in a speech that marketization was not the essential difference between capitalism and socialism, and encouraged the Chinese economy to more aggressively open up.  
Private businesses sprang up like mushrooms and government organs also tried to get a piece of the pie. In the year of Deng's speech, Beijing-based Huangsi Plastic Surgery Hospital, the first hospital Wang worked at, established a cosmetic clinic and saw crowds of people queuing for appointments. "It's my turn! It's my turn!" rang out across the clinic each day, Wang recalled, and at peak times, he performed more than 30 cosmetic procedures in a day. 
"Public hospitals and clinics do not usually serve healthy people, so medical cosmetology emerged to fill the gap. Given social medical insurance did not cover it, there was a lot of space for commercialization from the very beginning."  
In 2000, Wu Jianwei, a businessman from Putian, Fujian ­Province, set up China's first private cosmetic clinic and made a pot of ­money from the introduction of Amazingel, an injection used mostly for ­surgery-free breast enhancements. "Amazingel sold for 25 yuan (US$3.9) per milliliter then, and a breast enhancement needed several hundred milliliters," Wang recalled. 
Wu's fortune attracted floods of enthusiasts and before long ­Putian was a medical cosmetology hub. Although Amazingel was later ­revealed to have terrible side effects, including causing ­inflammation and even deformities, and was banned by the government, the ­medical ­cosmetology craze did not abate. Instead the available ­procedures ­advanced and diversified. According to a 2017 report by SoYoung, a popular Chinese medical cosmetology App described as a plastic ­surgery marketplace, the industry has grown an astounding 40 ­percent each year since 2015, much higher than the global average of seven percent. A report issued the same year by US pharmaceutical ­company Allergan found Chinese women's monthly spending on medical cosmetology had doubled the global average level, and the China Association of Plastics and Aesthetics once predicted that China's medical cosmetology industry would expand to be the world's third largest – valued at around 800 billion yuan (US$123.1b) – by 2019.
Practicing on Chickens 
The rapid expansion is said to be in part due to Wu Jianwei's ­troubling innovation – the position of the "cosmetic consultant." At first, those seeking medical cosmetology were received by the doctors who would perform their surgery. For professional ­liability ­reasons they tended to lay out the risks, which inevitably scared many ­customers away. "Cosmetic consultants" thus came to take over the reception work – different from surgeons, they treat medical ­cosmetology as an ordinary product to be sold, and tend to exaggerate its effects while holding back on potential risks and side effects.  
"Medical cosmetology is a kind of medical treatment, and all medical treatment has risks," Wang said. "For example, injecting acid into blood vessels can cause tissue injury and even blindness. One side-effect of double eyelid surgery is chronically dry eyes, and in ­extreme cases patients may be unable to close their eyes. Meanwhile ­liposuction can cause cardiovascular disease." 
However, as these so-called consultants deliberately hide the risks, many customers are misled and think medical cosmetology, especially seemingly minor procedures, are risk-free and safe. That all changes when they find themselves disfigured and forced to repair their faces at a proper hospital.  
Jin Qi, who works in a plastic surgery department at a Beijing-based public hospital, told NewsChina that one-third of his patients were in for these repairs – whether for restoring function or i­mproving cosmetic effects.  
Wang and Jin both claim cosmetic malpractice remains at a low rate – much lower than ordinary medical malpractice – but  unlicensed clinics and surgeons have contributed to a rise in incidents.  
"During my time at Huangsi Plastic Surgery Hospital, I saw many doctors from other departments shift to medical cosmetology, many of whom were even older than me," Wang told NewsChina.  
Experts say a professional plastic surgeon should have at least 10 years' training before they can independently perform cosmetic surgery. Unlicensed ones typically receive 10-15 days of training and are said to practice their skills on chickens. 
Worse, as the actual number of licensed cosmetic surgeons falls far short of demand, many clinics secretly rent professional licenses from real surgeons to meet the requirement of applying for a ­business license. This means the actual number of licensed, professional  
cosmetic clinics is even lower than official statistics suggest. All of these have increased the risks of dodgy medical cosmetology. A 2015 report by The Mirror, a Beijing-based legal paper, revealed that in the past 10 years when the sector was growing rapidly, customer  
complaints about failed medical cosmetology totaled 200,000 – meaning 20,000 Chinese people were disfigured or wronged by medical cosmetologists every year.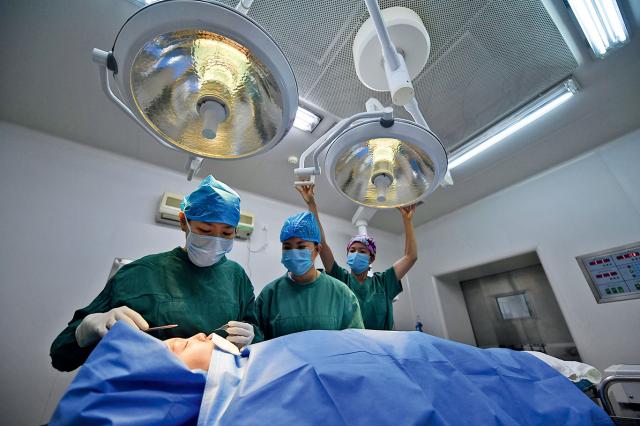 A young woman from Shandong Province live-broadcasts her rhinoplasty in Beijing to crowdfund money for the procedure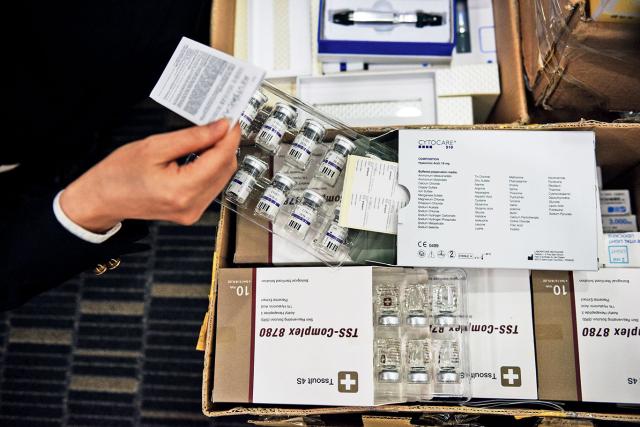 Customs officers in Shenzhen, Guangdong Province, show off smuggled cosmetic surgery injections, October 29, 2015
Irrational Expectations
According to Wang, a professional surgeon is liable to refuse ­excessive or unworkable demands from customers, but many ­surgeons have been swept up in the pursuit of profits. "Few would shake their head in the face of money, especially given the pressure to ­perform... and customers can simply turn to other surgeons if one refuses them," Wang said.  
Li Zhanqiang, a plastic surgeon who works at the same ­hospital as Jin Qi, echoed the sentiment. He said most customers are so ­determined to become more beautiful that they will not give up ­easily. "This group of people are generally hypercritical and place high demands on themselves... They have irrational expectations of medical cosmetology, thinking it will transform them into [Chinese superstars] Huang Xiaoming or Angelababy after one small procedure. It's impossible," he said.  
On his public WeChat account, Li once listed 10 sins of those who expect too much of medical cosmetology. They include being conceited, skeptical, greedy, unrealistic, and eager for quick success.  
"Medical cosmetology is actually against nature," Li wrote on his WeChat public account. "You pay for going against the nature – not just with money, but in pain, scars and various possible long-term conditions brought about by procedures."  
Li Bin, president of BeauCare Clinics, a large Chinese medical ­cosmetic chain-clinic, however, has a different point of view. "­Cosmetic surgeons should be professional and experienced enough to tell which are the customers with excessive demands," he said.  
"Issues seldom arise at licensed clinics, as the surgeons communicate with customers about their demands, psychology and the purpose of the surgery. Seen from this angle, cosmetic consultants are unreliable and cosmetic clinics should bear full responsibility for failures and surgeries gone bad," he told NewsChina, adding that overtreatment is rampant in the industry where many clinics coax customers into ­undergoing unnecessary treatments or altering their faces significantly, regardless of the potential risks.  
Customer education is Wang's solution to the current crisis in ­medical cosmetology. "It should be publicized that even minor ­procedures that do not need a scalpel, such as injections and photorejuvenation, are potentially risky and should always be performed by a licensed surgeon at a licensed clinic. No matter who works the reception, patients should have a clear idea about who is going to perform ­surgery on them," he said.  
"People tend to find an experienced and reputable doctor when they have a disease, but when it comes to medical cosmetology they care more about price. Medical cosmetology is not an everyday ­product, but one in need of a set of medical solutions," he added. 
Poor Regulation
Guo Shuzhong, director of the Plastic Surgery Association under the Chinese Medical Association, says the abnormal development of the Chinese medical cosmetology market is part of the problem.  
"The market is overheated," he told NewsChina, "Investment is pouring in, even if only one-third of private clinics are actually ­making money." 
A leading cause of such low returns is believed to be the high cost of advertising, especially on China's biggest search engine Baidu, which has been criticized for taking payments from companies to increase their search rankings.  
Baidu was listed fourth in advertising revenue in Zenith Media's Top 30 Global Media Owners for 2017, with medical cosmetology representing a large portion of its takings.  
A 2017 report by Caixin, a Chinese financial magazine, cited a study by Guosen Securities which found marketing took up 50 percent of the total cost of medical cosmetology, with clinics spending on average 6,000 yuan (US$923) to attract each customer. Although a batch of medical cosmetology apps have emerged in recent years, the search mogul Baidu still plays a decisive role.  
In reality, apps have further increased competition, becoming yet another platform for advertising medical cosmetology. Many people, some allegedly employed by cosmetic clinics, post their photos before and after procedures, luring more customers to go under the knife, and to pay more attention to their appearance. Medical cosmetology is now so common that many live-streaming stars have their faces surgically altered before they sit down in front of their webcams.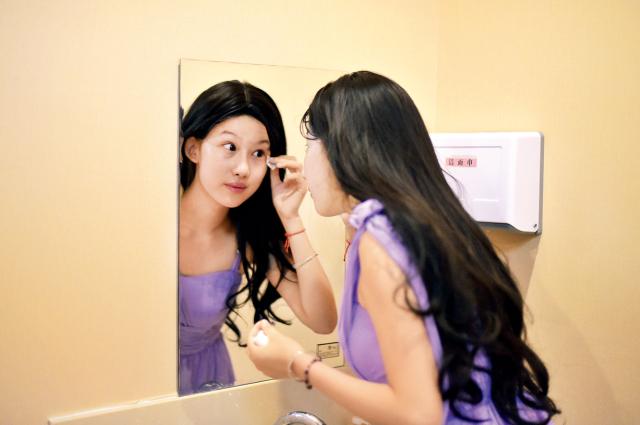 A 19-year-old girl in Qingdao, Shandong Province, prepares for her plastic surgery which she hopes will make her look like Chinese actress Liu Yifei
"Mercantilism has created a money-worshipping society where good-looking people are more popular, gain advantages and make money... With such fierce social competition, many hope they will improve their prospects by improving their appearance," Guo said.  
However, the Chinese government has been caught off guard by the burgeoning demand for cosmetic procedures. According to a 2017 report by GengMei (literally, more beautiful), another Chinese medical cosmetology app, only 9,500 clinics in China have l­icenses – about one-sixth of the estimated number of clinics. Hiding in beauty ­salons and even homes, the unlicensed ones are thought to see around two and a half times as many customers as licensed ones, and employ around 150,000 unlicensed surgeons.  
In May 2017, six government departments launched a joint crackdown on unlicensed cosmetic clinics and surgeons, but the punishments meted out were a soft touch. Typically, surgical instruments were confiscated and companies fined no more than 20,000 yuan (US$3,100). This did little to dent the growth of unlicensed clinics.  
"We have to tighten up the punishments," Guo emphasized during the interview. "The underground market can be regulated if the relevant departments want to do so." 
According to Guo, China has a number of large, high-quality ­licensed cosmetic clinics and many, like Li Bin's, hope to fight the industry's reputation for putting profits above people. However, with the government missing in action on guidance and management, these efforts will likely be too weak to reign in the chaos.